Jump to Footer
Alumni Profiles
---
See what our grads are doing!
James Faraci, Class of '21
---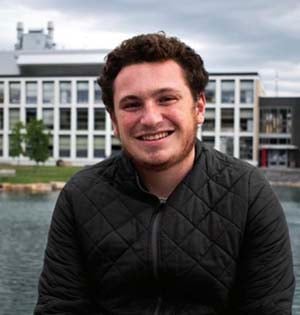 Lake Erie College of Osteopathic Medicine
"Plattsburgh has afforded me many opportunities to grow into the person I am today. From getting to start microbiology research my second semester freshman year to the individualized attention I received from nearly every professor during my time. As I go on to medical school and the military, I can say with confidence, that wherever I go and whatever I do, I owe it to my time at SUNY Plattsburgh."
James won a full scholarship through the U.S. Army Health Professions Scholarship Program and is also a recipient of the 2021 SUNY Chancellor's Award for Student Excellence.
Tatyana Barlow, Class of '20
---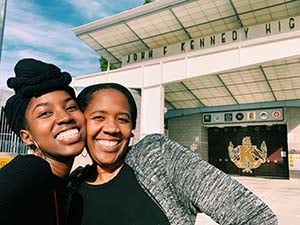 SUNY Plattsburgh, B.A./M.S.T.
Tatyana Barlow (left) pictured with her mom, Tange, at John F. Kennedy High School, Granada Hills California where she has just begun her new career teaching biology and marine biology.
Tatyana is also part of the medical magnet school and GLEAM (Global Leadership and Environmental Action Magnet) program at JFK High.
Hannah Walsh, Class of '19
---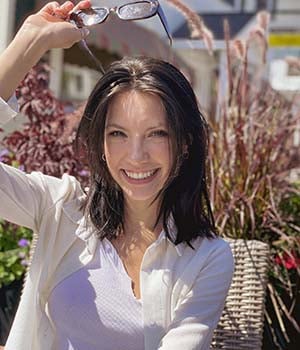 SUNY Downstate, Master of Public Health
"I transferred into SUNY Plattsburgh's biomedical science degree program fall of 2017. At that moment in time, I was entirely unsure what I wanted to do with my future. In the process of obtaining my degree, I was able to take some incredibly thought-provoking classes, taught by some outstanding professors. I was also able to participate in teaching assistantships and parasitological research. All of these opportunities have helped me determine my next step in life — pursuing my master's in public health. I will always be grateful for my time at Plattsburgh and the support I continue to receive. "
Patrick Boyea, Class of '19
---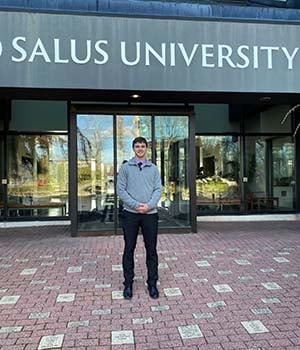 Pennsylvania College of Optometry at Salus University
"SUNY Plattsburgh's biomedical sciences degree gave me the opportunity to fulfill all of the prerequisite requirements I needed when I applied to optometry school. With the knowledge and experience I gained from the biology and chemistry department at SUNY Plattsburgh, I was able to go into my new profession with the base of knowledge and confidence I needed to succeed.
"You are really able to get to know your professors which goes a long way in your education and experience at SUNY Plattsburgh. I want to thank all of my professors along the way for the enjoyable yet challenging environment that pushed me to continue an education in the health sciences field."
Abigail Hearns, Class of '19
---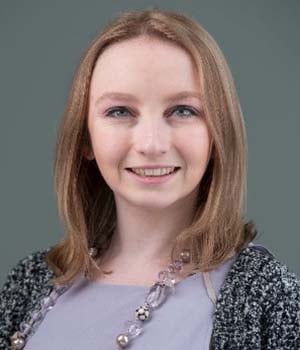 SUNY Upstate, Physician Assistant
"When I started out as a biology major, it was because I knew I wanted to do something in the field of medicine. I quickly learned that what the biology department had to offer was more than I ever thought possible. I found the professors to be creative, supportive, and well versed in such a wide range of topics and career paths. I always felt comfortable going and asking any questions.
Mya Stone, Class of '19
---
Albany College of Pharmacy and Health Sciences branch campus in Colchester, Vt., Pharm.D.
"At SUNY Plattsburgh, the professors are dedicated to their teaching and always willing to answer my questions, no matter how tired of me they may get! A Pharm.D. degree can be done in five years, but I think taking the extra two years to earn a bachelor's degree will be more beneficial in the long run. All of the sciences courses that I've taken have provided me with a solid background of knowledge for topics that will be covered in more detail during pharmacy school."
Haley Aubertine, Class of '18
---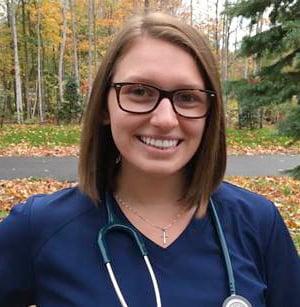 "SUNY Plattsburgh offered me opportunities to gain firsthand experience in the medical setting before I even graduated. I was able to volunteer in the Emergency Department at CVPH, which was an unforgettable experience. The science curriculum prepared me immensely. From my experiences in A&P class and then as a teaching assistant, I became familiar with the human body systems and their functions. Plattsburgh gave me a strong foundation of knowledge that I am confident I will be able to build upon as I work toward becoming a physician."
Jonathan Gamboa, Class of '17
---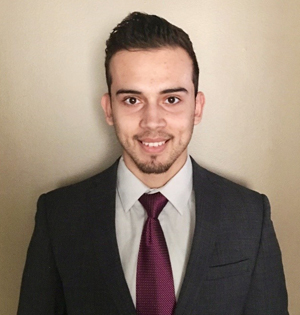 New York Medical College, Physical Therapy
"The curriculum taught by the experienced faculty at SUNY Plattsburgh challenged and pushed me out of my comfort zone to grow into the scholar I am today. The professors and the learning center provided the assistance I needed along the way. I could not have done it without SUNY Plattsburgh!"