Jump to Footer
Community H.U.B. & Events
---
A center dedicated to promoting, celebrating and embracing diversity. Home to the Community H.U.B. and Title IX.
Sexual Assault Awareness Month
---
April Events
April is recognized nationally as Sexual Assault Awareness and Prevention Month. The goal of the month is to promote awareness around prevention and to provide resources for victims and survivors. Please join DEI and our community as we work to increase awareness and support survivors. Take your awareness and advocacy to the next level by attending one or more events.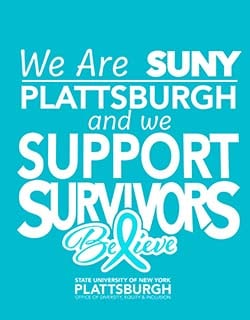 Plattsburgh Supports Survivors
Join DEI for our community kick-off event as we "Teal the Quad". Teal is the color that signifies awareness and support for survivors.
Free and open to the public.
Tuesday, April 4 from 3 – 4:30 p.m.


Amitie Plaza (the Quad) of Angell College Center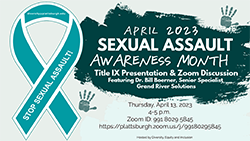 Title IX Presentation & Discussion
Featuring Dr. Bill Boerner, senior specialist at Grand River Solutions.
Thursday, April 13 from 4 – 5 p.m.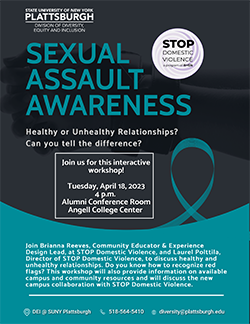 Sexual Assault Awareness Presentation
Healthy or Unhealthy Relationships Can You Tell the Difference?
An interactive workshop with Brianna Reeves, community educator and experience design lead at STOP Domestic Violence; and Laurel Polttila, director of STOP Domestic Violence. We will talk about recognizing healthy and unhealthy relationships.
Tuesday, April 18 at 4 p.m.


Alumni Conference Room, Angell College Center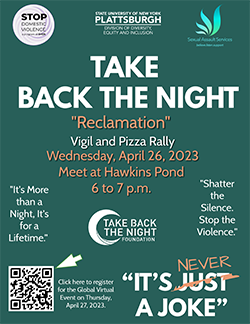 Take Back the Night — "Reclamation"
Join us for a vigil and pizza party as we work to "Shatter the Silence. Stop the Violence."
Wednesday, April 26 from 6 – 7 p.m.

Take Back the Night Global Virtual Event
Join in a free international event of healing and sharing.
Black History Month
---
Join the Office of Diversity, Equity and Inclusion and our collaborative partners as we celebrate Black History Month!
Weekdays all throughout the month, we will be hosting film screenings, music and speeches at the H.U.B. in addition to a full slate of events and activities throughout the campus and community. View events below and follow the daily email digest for more information and updates. For questions about the events or more information, please contact [email protected] or call 518-564-5410
About the H.U.B.
---
In Spring 2019, the college opened a new space in the Angell College Center. This renovated area along the main hallway houses the new Center for Diversity, Equity and Inclusion. It encompasses the Community H.U.B. (Honoring, Uniting, Belonging) and Title IX.
The H.U.B. is open to all students, faculty, staff, alumni — even members of the local community — and creates an all-inclusive space that engages diverse experiences, intentional education, awareness initiatives, and social justice practices. Our goal is to promote a unified SUNY Plattsburgh community based upon equitable practices and integrity. In addition to enhanced capacity-building on campus, we want to enrich partnerships with the surrounding community.
The Office of Diversity, Equity and Inclusion continues to support and engage with students, staff and faculty. Please continue to stay updated on our website and check out DEI, the H.U.B, and Title IX on Instagram @platts_dei and @h.u.b__sunyplatts for continued updates and resources.