Jump to Footer
Center for Diversity, Equity & Inclusion Staff
---
Dr. Michelle Cromwell
Vice President for Diversity, Equity & Inclusion
Chief Diversity Officer
At the risk of sounding overly simplistic, my work is to demonstrate that people matter. As VP for Diversity, Equity and Inclusion, I pride myself on being a servant leader. In that role, I strive to facilitate that varied members of SUNY Plattsburgh's community feel seen, and know that they matter. This requires that I inspire, encourage, and challenge us as a college to have programs, policies and practices that embrace everyone's humanity. For this reason, I say that my work is truly centered on demonstrating that all people and their range of human experiences matter. That said, I am aware of and responsive to the suffering and injustices that continue to plague members of our community who exist in the margins and are marginalized. Even in current times of volatility, uncertainty, and complexity I am committed to helping this college community to be inclusive, just, welcoming, and responsive.
Brittany Varin
Project Coordinator
As coordinator, I work closely with the Vice President for Diversity, Equity and Inclusion, Dr. Michelle Cromwell and the other team members in the Division of Diversity, Equity and Inclusion. To be able to work with students, whether it be our interns within the office of DEI, or communicating with students throughout campus, it is inspiring and it is promising.
In this coordinating role, I try to embody empathy. With empathy, we can recognize the depths of our society and by doing so, create social change.
Sean Rice
Coordinator of Multicultural Initiatives
To know me, is to recognize my passion for connecting with students, diversity and inclusion, fostering relationships, and building community. In my role as the coordinator of multicultural initiatives, my goal is to empower openness, expression, and create a space where students, faculty, and staff can call home.
I am excited for my SUNY Plattsburgh experience, for where this institution can go and the opportunity to build relationships with all of you!
Thank you and feel free to stop by the H.U.B. where we can begin relationship building.
Tryphena Quaicoe
Graduate Assistant for Multicultural Initiatives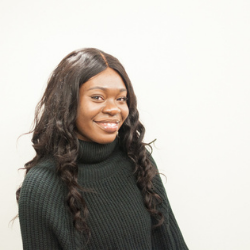 As the graduate assistant for multicultural initiatives in the H.U.B, my purpose is to support the DEI team and the coordinator of multicultural initiatives in implementing diversity, equity and inclusion throughout the campus community.
I look forward to celebrating, collaborating and meeting students at the point of their needs. I also anticipate growing and gaining a greater understanding, sensitivity and appreciation of the history, values, experiences and lifestyles of everyone.
Title IX
---
Butterfly Blaise Boire
Title IX Coordinator
Professionally and personally, I value the importance of honoring the experience of those around me from both a holistic and intersectional perspective. It is a privilege to be given the opportunity to support people through some of the most difficult times of their lives and it is my life's work to ensure that I do so with integrity, congruency, authenticity, and from a position of understanding and learning. Each day I stand on the foundation that the only true experts of human experience are the individuals themselves living through their experience. The importance of honoring, celebrating, validating, and including people through all the parts of their life and identity is something which is important and I am committed to upholding each and every day. Even if I am standing alone, I will work to not just speak out, but actively participate against inequity, inequality, and fight to actively change systems of power which continue to be structured in ways which push some individuals into the margins. Every person deserves to be seen, heard, valued, and lifted up through both their brightest and darkest times. The work of serving others will never truly be done — but I believe the work must be centered on changing a culture where we work to eliminate systems which support discrimination, harassment, violence, and limit the freedom of some. To that, I am all in every single day.
Autumn Bennett
Title IX & Non-Discrimination Investigator
As a longtime member of this community, I am committed to seeing it develop into a place where everyone feels they belong. I am dedicated to my role as Title IX and non-discrimination investigator, which holds me accountable to being equitable in my daily practices. Delving down for the truth is a priority for me in both this role and all other aspects of my life. As a white woman who was raised in this area, an area that has lacked diversity in many ways, I feel responsible for acknowledging and confronting my own biases and doing all I can to bring those actions to my life, both on and off campus. This work is not simply a job I perform, but a lifetime commitment that I am making to a more just world. If I am to hold others accountable for their actions and behaviors, I must also embrace being held accountable for my own.
Zyaijah Nadler
Violence Prevention Education & Outreach Coordinator Investigator
What I stand for is the prevention of violence, harassment, and discrimination. The commitment to my work centers around opening up conversations to reduce stigmas by debunking myths, going beyond statistics, and sharing experiences. These conversations then motivate you to not only support victims and survivors but to stand up for them. In order to do that we must flip the pervasive culture of violence that is established so that it no longer exists. Motivated, heard, and supported that is how you will feel leaving the Title IX office. That being said, this work is better when we do it together. Care to join me?