Jump to Footer
Undergraduate Research
---
Undergraduate research opportunities in biology are available with our faculty members. Students regularly travel to and present their research findings at regional, national and even international meetings.
Projects range in areas of interest from ecology to cell and molecular biology. Students who engage in undergraduate research gain valuable skills in experimental design, laboratory protocols and field studies. Such experience is highly advantageous to students applying to graduate school or entering into the job market.
Recent Student Research
Kerri Corcoran
---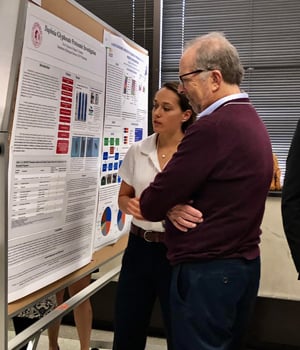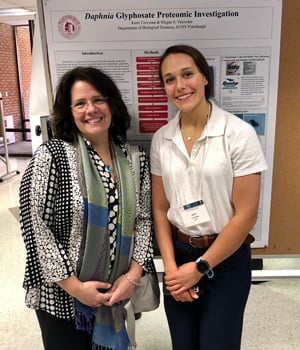 Daphnia Glyphosate Proteomic Investigation
Mentor: Megan Valentine
Kerri is investigating the effects of the weed-killer RoundUp on the fresh-water microcrustacean Daphnia pulex. RoundUp, a popular domestic and commercial gardening product, contains the herbicide glyphosate. Not easily broken down, glyphosate may be entering our waterways and affecting the organisms that reside there.
To better understand these effects, Daphnia were exposed to two different concentrations of RoundUp and compared to Daphnia that were not exposed. The proteins were collected and identified using liquid chromatography tandem mass spectrometry. The proteins in the Daphnia exposed to RoundUp are then compared to the proteins from the unexposed Daphnia to look for differences in the amount of proteins being expressed and for differences in the types of proteins being expressed.
"Undergraduate research with the Biology Department of SUNY Plattsburgh is a one of a kind experience and one of the highlights of my undergraduate experience. Not only did I gain a passionate, engaging mentor that has challenged me and guided my development as a scientist, but I had the opportunity to take ownership of an independent research project and explore my interests in the field of science. Overall, this experience has been extremely enriching and valuable as it has set me up for success in my future scientific endeavors."
Abrianna Mihalkovic
---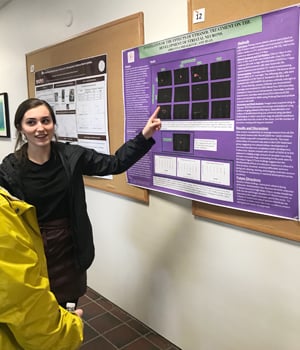 Psychology major and neurobiology minor (Graduated 2019)
Graduate student in the Behavioral Neuropharmacology and Neuroimaging Laboratory at the Clinical Research Institute on Addictions, University at Buffalo
Mentor: Amy Ryan
Hebron Abraham
---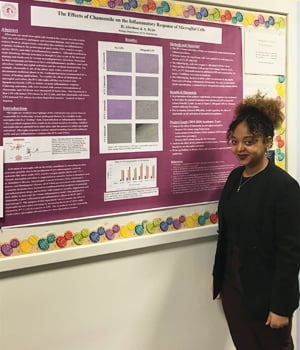 Biomedical science major; anticipated graduation in Spring 2020
Mentor: Amy Ryan
"Through research, we can delve into the untapped areas of subject we want to better educate ourselves on. I believe doing research will foster more interest in the area of your study and helps get a more hand on experience. While doing research you apply your knowledge in the real world, which helps get a better understanding of the subject matter. It also provides answers for existing questions within the field. It creates a means in which we can test ourselves to challenge our normal views, try different things and think outside of the box in general."