Jump to Footer
Exercise & Nutrition Sciences Department
---
Exercise and nutrition are vital to human health and well-being. Our department offers you the unique opportunity to study the sciences of exercise and nutrition while immersing yourself in the practical application of fitness and wellness.
We administer three programs and three minors:
Experienced Faculty & Preparation for Health-Related Professions
---
Our programs are designed to support the diverse needs of our students as future practitioners and academics. Full-time faculty from FWL and nutrition serve as your advisors and mentors. Whether face-to-face to remote, advisors are available to walk you through individualized academic plans, but will also provide recommendations for future plans upon graduation. Combine our majors and minors with pre-health professions programs such as pre-medicine, physical therapy, occupational therapist, physician assistant or pre-pharmacy program, or for entry into post-baccalaureate accelerated nursing programs. Employment opportunities in nutrition, fitness and healthcare are much higher than average for all jobs.
Facilities include a personal training teaching laboratory and a spacious food laboratory. You may also elect to participate in our successful student research program, become a teaching assistant, work in the fitness center and the school garden, or with our athletic trainers and campus dietitian.
Located in a small, vibrant city surrounded by Lake Champlain and the Adirondack Mountains, there are numerous interesting locations for field internships and experiential learning.
Resources for Students
---
Nutrition Program Accreditation
---
The SUNY Plattsburgh Nutrition Program is fully accredited through June 2023.
The SUNY Plattsburgh Nutrition Program is a Didactic Program in Dietetics that is accredited by the Accreditation Council for Education in Nutrition and Dietetics (ACEND) of the Academy of Nutrition and Dietetics.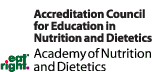 ACEND can be contacted by
Email:
[email protected]
;
Phone:
800-877-1600, ext 5400;
Mail:
120 South Riverside Plaza, Suite 2190, Chicago, IL 60606-6995.
Note to Prospective Students
Effective January 1, 2024, the Commission on Dietetic Registration (CDR), will require a minimum of a master's degree to be eligible to take the credentialing exam to become a registered dietitian nutritionist (RDN). In order to be approved for registration examination eligibility with a bachelor's degree, an individual must meet all eligibility requirements and be submitted into CDR's Registration Eligibility Processing System (REPS) before 12:00 midnight Central Time, December 31, 2023. For more information about this requirement visit CDR's website. In addition, CDR requires that individuals complete coursework and supervised practice in program(s) accredited by the Accreditation Council for Education in Nutrition and Dietetics (ACEND). Graduates who successfully complete the ACEND-accredited DPD program (such as at SUNY Plattsburgh) are eligible to apply to an ACEND-accredited supervised practice program. In most states, graduates also must obtain licensure or certification to practice. Get more information about state licensure requirements.
Get more information about educational pathways to become a RDN.
Nutrition Program Goals & Outcomes
---