Jump to Footer
Fitness & Wellness Leadership Master's
---
100% Online Master's Program
Our master's degree in fitness and wellness leadership addresses the challenge of busy working professionals or for those who have limited time to attend courses at a traditional on-site campus.
What Will I Learn?
---
Advanced exercise science and training
Learn business management techniques
Our courses were created with input from industry professionals, internship affiliates, and national organizations. The program is for both those starting a career in the emerging fitness, health, and wellness industry and those who are already actively involved in the industry. Our coursework integrates exercise science (biomechanics, physiology, exercise program design), resistance/strength training, certification preparation, and fitness management/business concepts (accounting, marketing, and management) — synthesized into a logical, progressive learning sequence.
The graduate program specifically addresses the needs of the public and employers by combining the fundamentals of exercise science with the essential components of a business curriculum to prepare students for careers as personal trainers, sports performance and strength/conditioning instructors, directors, general managers, health and fitness business owners, wellness consultants or future college faculty members.
You will have the opportunity to prepare for ACSM-certified personal trainer, NSCA-certified strength and conditioning specialist, MFA-fitness facility director, senior fitness certifications, and others.
This curriculum has blown me away and broadened my knowledge on all aspects of human physiology. The classes offer a holistic approach to being a health-fitness professional which allows you to adapt to the industry the way you see the path your career is taking you.

---

Michael Cruz
What is Unique About Our Program?
---
We require no class-time on campus. All 13 courses are 100% fully online, allowing you to live anywhere while completing the degree. In addition, you can choose to do an optional internship that allows you to work with faculty on selecting a site that matches your area of focus, close to your home or city of interest.
All courses can be completed online to fit your busy work and personal schedule
Only 10 courses are required to complete the degree
Choose to study part-time or full-time
Most students graduate in 1 to 1.5 years
The program has rolling admission and you may start the program during fall, winter, spring or summer semester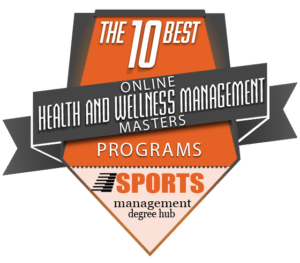 Top Ten Online Fitness & Wellness Management Master's
Our program has been named one of the 10 best in the nation by Sports Management Degree Hub.
What Are My Career Opportunities?
---
The program combines a theoretical framework with training skills that are necessary to prepare you for certification testing from national organizations such as ACSM, NSCA, and others.
Graduates may work in organizations that include:
Medically-based fitness facilities
Gyms/health clubs
Personal training studios, yoga and Pilates studios
Physical therapy clinics
Strength and conditioning specialists
Spas and wellness facilities
Corporate fitness and wellness centers
Senior centers
Sports performance facilities
College/university recreational centers
YMCAs and other non-profit fitness and health sites
Alumni Spotlight
---
Randy Ashe, Class of '19
Body Coach, TB12's Sports Therapy Center
"Upon graduating from SUNY Plattsburgh, I was able to earn a job at TB12's Sports Therapy Center. TB12 is owned by New England Patriots Quarterback Tom Brady and does an incredible job helping their clients walk out the door feeling better than they walked in, and part of that is because they take more of a holistic approach to health and wellness. With the opening of a new TB12 location this summer in Boston, it gives me the opportunity to see a variety of different clients and continue to improve my trade. I hope to continue working as a body coach with TB12 as the company expands and reaches more and more people.
"The online master's in fitness and wellness leadership is a great opportunity to earn or build on a career in the fitness and wellness industry. The combination of functional anatomy and physiology classes with classes involving business and leadership strategies can really compliment a variety of undergraduate degrees. The online format provides a level of convenience to be able to do the work on your own time, but still provides a social interaction with classmates and fitness professionals in the community. The program has helped me grow and mature in my field and ultimately led me to securing a job that I hope to continue with for a long time."