Jump to Footer
Alumni Profiles
---
Meet a few of our alumni!
Caroline Noia, Class of '23
---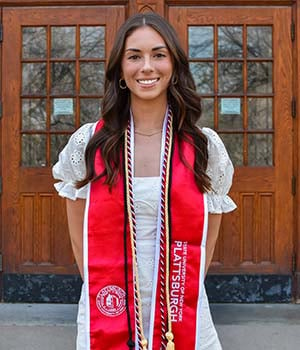 B.S. in Accounting, SUNY Plattsburgh

Audit associate at PKF O'Connor Davies, Woodcliff Lake, N.J.
"As busy as I was with two majors and a minor, while playing a sport, I had much support throughout my four years. Plattsburgh allowed me to balance sports, school and social life. I decided to have accounting as my major because I had a lot of interest in numbers and the logistics of accounting. I knew that with accounting, I could work in various industries and roles with good pay and a lot of different opportunities.
"The professors and advisors of the business school at Plattsburgh were constantly there for me and helped give me the resources to succeed. Through on-campus internships, I learned more real-world experiences outside of the classroom. One of the biggest lessons I learned is not to be afraid to ask for help because many people want to help you. SUNY Plattsburgh prepared me to take on the real world with plenty of knowledge. You also need to take ownership of your own success. I did two summer internships which I found through my own connections. I was offered a full-time position after my summer internship at PKF O'Connor Davies, which let me enjoy my senior year, knowing I already had a job when I graduated. Overall, I am very grateful for the professors, people, and my experience with SUNY Plattsburgh accounting department and could not have imagined myself with any other major or school."
Yasmina El-Gendy, Class of '22
---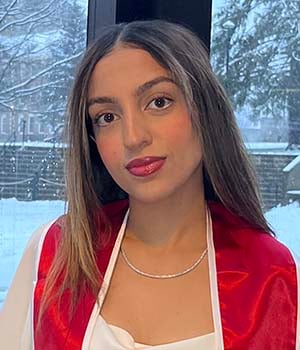 B.S. in Accounting, SUNY Plattsburgh

Financial analyst at Kiewit, Rodeo, California
"Plattsburgh stood out to me due to its reputable faculty, vital academic programs and vibrant campus community. I chose accounting as my first major because I have always been intrigued by the world of finance and numbers. Accounting, being the language of business, fascinated me with its ability to provide insights into any organization's performance. I recognized that an understanding of accounting would be a strong foundation for a successful career in the business world. Moreover, Plattsburgh has been my home for over four years, and I would never trade those years for any other university.
"Being an international student at SUNY Plattsburgh, I've always felt as if it's my second home. I found my chosen family here. I want to express my heartfelt gratitude for all the guidance and support my professors, especially Dr. Gaber, have provided throughout my academic journey."
Max Thompkins, Class of '21
---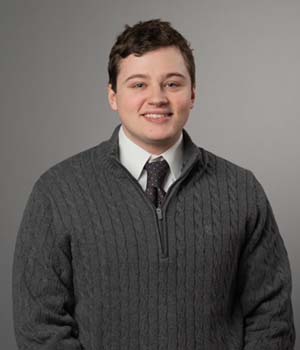 B.S. in Accounting, SUNY Plattsburgh

KPMG audit senior associate
"SUNY Plattsburgh's accounting department was the best department I could have asked for. All the professors had real-world experience, which was shown in their lessons. The accounting department supports all its students, and it shows. Every professor was willing to lend a helping hand when asked. The network of the business school is unmatched. From the career fairs to the alum network, there is always someone willing to give career advice or help you through the whole job hunting and interview process. You will not find a better department to guide and prepare you for the professional world. Their support is what made me the accountant that I am today.
"SUNY Plattsburgh was also a great middle ground between a small school and a larger-sized university. I knew I wanted to meet many new people and learn about the world around me. Plattsburgh allowed me to learn about new cultures and perspectives from my peers. I will be forever grateful to gain such a fantastic experience from Plattsburgh. The culture of inclusivity that Plattsburgh nurtures makes Plattsburgh a great place to learn and live.
"Leaving Plattsburgh was tough, as I thought I was alone, but that wasn't the case. To this day, I still talk to faculty members at SUNY Plattsburgh about job opportunities or for advice. Attending SUNY Plattsburgh and going through the accounting program was the best decision of my life."
Hanna Whitney, Class of '21
---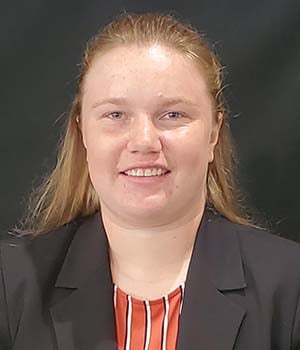 B.S. in Accounting, SUNY Plattsburgh

Senior accountant at Bonadio, Albany, N.Y.
"In the college search, SUNY Plattsburgh was the last college I visited and I am glad I did. It made the choice easy. The campus was just what I wanted — perfect size, location and plenty to do in the area. I was also lucky enough to have the opportunity to play on the women's basketball team. SUNY Plattsburgh was the obvious choice.
"I chose to study accounting at Plattsburgh, knowing that the career opportunities after graduation are unlimited. It is a field where you constantly learn and grow as a professional. There are endless career opportunities in a wide range of fields allowing you to create a career that fits your interests.
"Today, I have Plattsburgh (and, more importantly, the professors) to thank for my career, the foundation of my knowledge in accounting practice and the preparedness I feel every day. The Plattsburgh network got me to where I am today — literally. One of the professors (Dr. Gaber) sent my resume to the firm I currently work for. I completed an interview, job offer and acceptance well before graduation. One of the things I am most grateful for is the connections I made during my time at Plattsburgh."
Mariam Barghash, Class of '20
---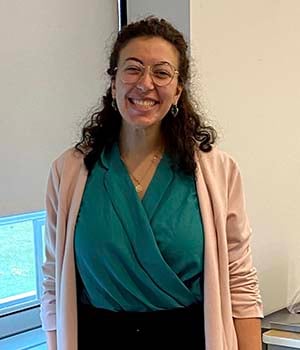 B.S. in Accounting, SUNY Plattsburgh

M.S. in Data Analytics, SUNY Plattsburgh, Class of '21

Business analyst, North America Marketplace Operations at Nike
"While searching for a school to transfer to from Egypt, I was looking for a university that would challenge me academically and provide an environment for personal development and networking. Through a recommendation from a friend who was SUNY Plattsburgh alumni, I researched and felt that SUNY Plattsburgh was the right fit for me. I found it to be a very supportive and enriching environment, with excellent academic programs, dedicated faculty, diverse extracurricular activities and numerous opportunities for personal and professional growth.
"I was challenged academically in ways I never expected. The professors here are experts in their fields and genuinely care about their students' success. They encouraged critical thinking, creativity and a passion for learning that has stayed with me long after graduation. I traveled on alumni networking trips for upper-level students with some of the faculty and was still supported by them beyond graduation during my job-hunting period. Besides academics, the diversity of the student body and the inclusive campus community was essential in shaping my perspective, sense of belonging and understanding of different cultures and viewpoints."
Kate Levins, Class of '19
---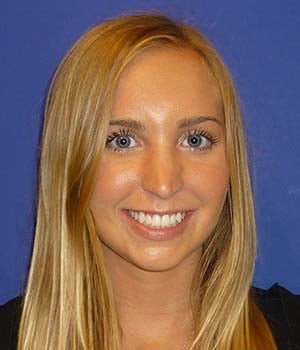 B.S. in Accounting, SUNY Plattsburgh

Auditor-investigator at the New York State Attorney General's Office
"The SUNY Plattsburgh accounting program was crucial in securing my position with the New York State Attorney General's Office. During freshman year, I entered college undecided about my major but knew I wanted to pursue something related to business. It was after taking my first accounting class that my interest was immediately sparked. I distinctly remember meeting with Dr. Gaber, who provided tremendous support and answered all my questions. The program's comprehensive curriculum and expert faculty gave me a strong accounting foundation. Beyond academics, building connections with peers and professors in the picturesque Adirondack location made my college journey memorable and rewarding. Moreover, the program's emphasis on practical learning through internships and projects bolstered my analytical abilities and prepared me to pursue the CFE certification after graduation. This certification has been vital in my career, particularly during investigations and court testimonies. The SUNY Plattsburgh accounting program has shaped my academic journey and paved the way for a successful and fulfilling career in public service and forensic accounting."
Spencer Jackson, Class of '16
---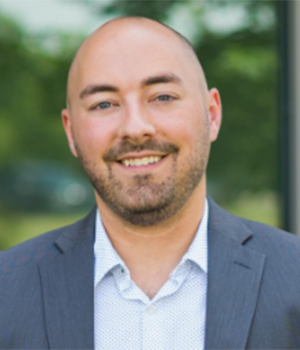 B.S. in Accounting, SUNY Plattsburgh

Senior manager, transaction advisory services, Gallagher, Flynn & Company, LLP
"I guess you could say I'm a "townie" as I grew up about 20 minutes outside of Plattsburgh. While growing up, I had planned to attend college somewhere much farther and warmer, but I was drawn back to Plattsburgh after speaking with some friends who had shared glowing reviews of their experiences here; a great mix of work-hard, play-hard opportunity in the campus life with faculty that truly cared about the professional advancement of their students. As a bonus, the SUNY tuition seemed like a terrific value relative to some of the other out-of-state options I had considered.
"The education I got at Plattsburgh was a major factor in the success I've had to date. The learning experience here was not just head-down textbook learning, but real-world preparation for the type of work and challenges that I've encountered on a day-to-day basis. I also utilized some of the excel workshops, resume and interview preparation classes, and CPA exam preparation courses that really helped hit the ground running post-graduation in both technical and soft skills. Lastly, from both my experience in school and also now on the recruiting side, I can say that the career development team does an incredible job in helping connect students with prospective employers, including opportunities through valuable internships (like ours at GFC!) and through the numerous career fairs."