Jump to Footer
Events
---
The SUNY Plattsburgh English Department invites you to attend the following events. All are free and open to the public — please join us!
Fall 2022
---
Stratford Shakespeare Festival
Attend the festival, watch plays, meet actors, get a backstage tour.
Contact Dr. Elaine Ostry at [email protected] for more information
Spring 2022
---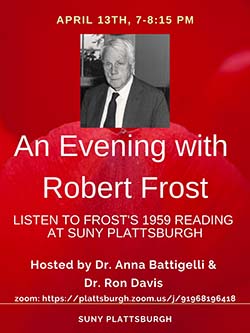 An Evening with Robert Frost
Listen to Frost's 1959 reading at SUNY Plattsburgh. Hosted by Dr. Anna Battigelli and Dr. Ron Davis.
Join us via Zoom:
Wednesday, April 13 from 7 – 8:15 p.m.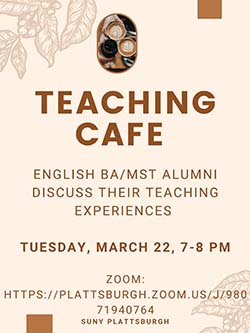 Teaching Cafe
SUNY Plattsburgh alumni discuss and share their teaching experiences. Join us via Zoom:
Tuesday, March 22 from 7 – 8 p.m.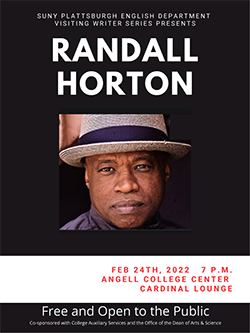 Visiting Writer Series
We are pleased to present:
Randall Horton

February 24 at 7 p.m.
Cardinal Lounge, Angell College Center
Fall 2021
---
Opening Reception and Tour of Champlain Valley Hall — August 29 at 1 p.m.
Open House, Champlain Valley Hall — September 7 from 4 – 6 p.m.
"How-To" Series
These sessions begin at noon in Wilson Commons, Champlain Valley Hall.
Writing a Successful Essay — September 16
Finding and Getting an Internship — October 6
Preparing for Academic Advising and Course Selection — October 21
Designing an Effective Resume — November 18
Spring 2021
---
Writers & their Craft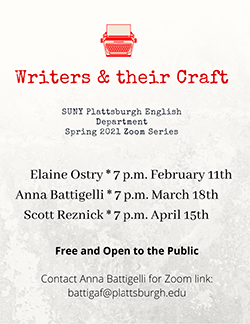 Stop by for a listen and then join in on the conversation — we celebrate writers and their craft.
Elaine Ostry
Anna Battigelli
Scott Reznick
Please contact Anna Battigelli ([email protected]) for the Zoom link to join Writers & their Craft.
Fall 2020
---
Words on Fire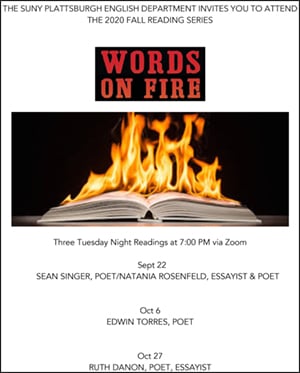 Three Tuesday night readings at 7 p.m. via Zoom
Sean Singer, Poet/Natania Rosenfeld, Essayist and Poet
Edwin Torres, Poet
Ruth Danon and Jennifer Egan
Writers on their Craft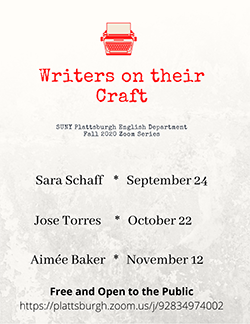 Sara Schaff on The Invention of Love
Jose Torres on his award winning fiction
Aimee Baker on her award-winning collection of poems titled Doe
Zoom links will be provided shortly before each event.
English Department Open House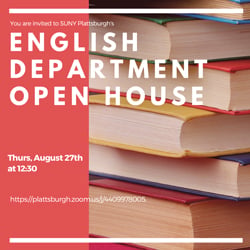 Join us and learn more about the English Department and faculty!