Jump to Footer
Student Profiles
---
Meet our Theatre Students
Cristina Velez, Senior
---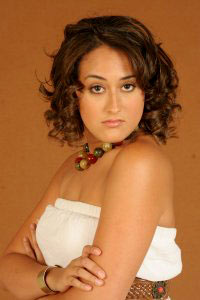 Cristina Velez is from the Bronx, NY. She is majoring in theatre with minors in English and psychology.
Freedom to Learn and Get Involved in any Area of Theatre
"I love the theatre program at Plattsburgh. As a student, I have the freedom to audition for every show no matter my year. I can work with the faculty and learn about different aspects of the department. In my four years here I have also been a part of the College Theatre Association, which is a student run organization. Each semester we put up two shows that the students alone produce, direct, and run (backstage) every aspect of the show.
"I learned that as a theatre major I need to be well-rounded. I came in with no knowledge of technical work and now I've learned several elements that are not only extremely useful, but also are not available in more traditional programs."
The Theatre Program is like a Large Family
"All the professors have made an impression on me. Since it is a small department, I know all of them and they know me by name. We speak to each other as people and treat each other as equals. One of my favorite professors is John Shout, the chair, because he is always willing to let students talk endlessly, always with a patient, kind, and joking ear. In this department, I know I'm a part of a large family. We agree, disagree, and have our moments of silliness. Most importantly, we all share a love of theatre and we work together to show that love.
"I love SUNY Plattsburgh because it's the type of environment where I had the freedom to explore and grow from my experiences. I have met so many different people who share with me an array of music and art. I came to Plattsburgh because I really wanted a new environment (I'm from New York City) and I also wanted to go away. So I got packed up and came to Plattsburgh, a little unsure, but I ended up really liking it. I love Plattsburgh! If you want to jump into all aspects of theatre and let theatre surround your life, then Plattsburgh is the school for you!"
Tyler Nye, Senior
---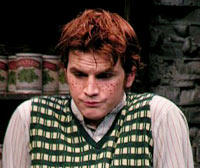 Tyler Nye is a senior theatre major from Keene Valley, NY.
You Can Get Involved and Get Involved Quickly
"I like the program here at SUNY Plattsburgh because it is such a small community of students and faculty who are passionate about all aspects of theatre. There are so many different opportunities to get involved at SUNY Plattsburgh and get involved quickly. The program lets you audition a variety of mediums.
"I admire the entire theatre faculty; I really enjoy John Shout as a professor. The student body in the theatre department is such a close-knit family. They are encouraging, creative and supportive. We have such professional theatre facilities — I love Hartman Theatre. Not until coming here did I perform in a space so professional. The professionalism is due to the enthusiasm and procedure of the faculty, as well as students.
"I really like the campus, if someone had asked me 5 years ago where I was intending to go to college, SUNY Plattsburgh would probably not have been on that list. In my senior year in high school, I made the decision to attend SUNY Plattsburgh as a theatre major and I am very glad I did, my experiences have been extremely worthwhile."
Why Did I Choose SUNY Plattsburgh's Theatre Program?
"I decided to come here because so many people who want to pursue theatre are under the impression that they need to graduate high school and head for NYC and study in an intense concentrated program. That wasn't exactly what I wanted to do. I discovered the theatre program at Plattsburgh and choose it because it's intimate. I grew up an hour south of Plattsburgh so it was convenient as well. I look forward to coming to Myers Fine Arts Building everyday, and doing theatre here has been very rewarding."
Kallie Torrance, Senior
---

Kallie Torrance is from Jay, NY. She is a senior working on a double major in criminal justice and theatre.
The Theatre Program is Great
"The professors are always willing to help and are really great with the students. I've been on the Dean's List for 3 consecutive semesters. I think the computer lab is a great place especially during finals and our library is really growing and they're even buying more theatre books.
"John Shout is my theatre program advisor and professor and he definitely has a way of making his students feel welcome in his classes and the department. My theatre program feels like a community, but I just started the criminal justice program and I don't know many people yet. Both programs offer clubs and activities to make students fell welcome and part of a community.
"I like that the college is right in the middle of Plattsburgh so you're close to the uptown stores and the downtown clubs and hang out places. It's just the right size; not too big, but not a tiny little campus where you know every single person."
Amanda Hess, Junior
---
Amanda Hess is from Pine Plains, New York, and is minoring in theatre while earning a major in adolescence education English.
The People in the Theatre Program Have Become My Second Family
"The Theatre Department is more than just a community: it has become my family and friends away from home. I discovered that I had the ability to act, mostly because the acting students were extremely warm and encouraging. The faculty are also extremely helpful, enthusiastic, and supportive.
"John Shout has made the biggest impression on me. I've taken several of his classes and have enjoyed every one of them. He knows so much about the theatre and playwrights that it is hard not to be captured by his passion for the theatre and somehow his enthusiasm transfers over to you."
Makram N. El-Hassan, Junior
---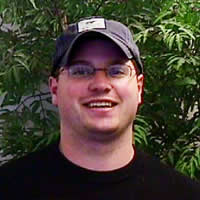 Makram El-Hassan is from Syracuse, New York, and is a Theatre major.
You Can Study A Wide Variety of Topics Here
"Oddly enough, I fell in love with Plattsburgh in the middle of a cold February my senior year of high school. I liked the layout of the college, the people were friendly, and I thought this would be a nice place to spend four years. I liked the atmosphere and sense of unified goals that SUNY Plattsburgh emanated.
"My favorite part of the Theatre program is the opportunity to study a wide variety of theatrical education in a comprehensive manner. I think of the College Theatre Association and the Theatre Department as more than a community: together they form a family built on professionalism, tolerance, respect, and love."
Makram's Advice for Prospective Students
"Even if you are never going to be a theatre major or minor, if you are game, stop by an audition or come enjoy a show. Peace, love, and happiness to all — here's to many nights spent with the best people."
Eric Rogers, Junior
---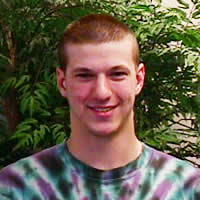 Eric Rogers is from Clifton Park, New York, and is a theatre major.
Great Facilities Have Honed My Skills
"I've been able to really hone my carpentry skills here. Our scene shop also has a great set-up of han d and stationary tools that allow me to work with a lot of different materials. There is almost no scenery project that I don't feel I could handle from the scene shop.
"I have also acted, directed, and technically directed a good number of productions in addition to receiving a role in a small independent film. Hartman Theatre is just big enough to get that bigger-venue feel, but it's still intimate enough to really feed off of the audience."
My Mentor and Fun Classmates Make Me Feel Involved
"Ben Wright, my professor, has been a mentor to me for the past few years. Out of all the teachers I have ever had, Ben has probably had the most profound impact on my work.
"This program is a lot of fun and you get to meet a lot of fun people. Absolutely, theatre is one of the few programs where you are forced to work interactively with your classmates almost every day. Even if you are not in a production, just your classes make you feel involved. SUNY Plattsburgh has good people, good staff, good times. Come check us out. You'll have a good time."