Jump to Footer
Alumni Profiles
---
See what our grads are doing
Margaret Swick, Class of 2013
---
B.A. in Theatre, SUNY Plattsburgh
Journeyman, IATSE Local 919
Electrician and a light board operator, Flynn Center for the Arts
Lighting designer and master electrician, Depot Theatre
Where Are You Now?
"Currently, I am a journeyman of IATSE Local 919 and work through them at the Flynn Center for the Arts as an electrician and a light board operator. I am also the lighting designer and master electrician at the Depot Theatre and work at the Lake Placid Center for the Arts and the Strand Center for the Arts.
"Through hands-on experience in school and tutelage from my teachers, I was able to learn both the skills and the mindset to be effective as a stage hand. Putting up with long hours working for school productions prepared me to better handle the sometimes day-long working hours as a professional. Our teachers drilled it into our heads how to both be a team player while also learning when it was time to take the reins and lead our crew. Ultimately, the combination of learning on the stage and having great teachers helped make the transition from Hartman to the Flynn and beyond not only a possible change, but the right change for my life."
Margaret's advice for students: "If you're starting to feel comfortable, push past academia and into local venues. You'll find that the relatively controlled environment of our school's stage might be a good starting place, but being on a professional stage will be an enlightening and important experience."
Jen Byrne
---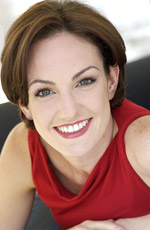 B.A. in Theatre, English Minor, SUNY Plattsburgh
Actor
"Aside from doing various day or 'money' jobs around the city (as actors often have to do) I am in rehearsals for a showcase, a cabaret and a reading, all which happen in January... oh it is good to be busy!
"When I started at SUNY Plattsburgh, honestly, I wasn't sure I wanted to do theatre. So strangely enough, the GenEd section of my education gave me a wide view of different options. Upon deciding in favour of theatre, I found that having a vast knowledge in various topics was useful as I could use them as reference point when preparing for a role — in fact I still have my Norton's Anthologies from my English major.
"I liked the open and positive atmosphere of Plattsburgh. I felt the program built upon what you already knew, instead of breaking the performer down and rebuilding. The intimate size of the program allowed me opportunities in roles and projects that in a larger school would not have been open to me."
Jen's advice for students: "Although it is a smaller program — there are still many opportunities to learn and develop your craft. Just take advantage of every opportunity that comes along."
Philip DeLorenzo, Class of 2002
---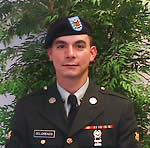 B.A. in Theatre (Performance), SUNY Plattsburgh
Currently serving in the U.S. Army
"I think my theatre major helped to prepare me for the Army. What I learned in my theatre classes helped me keep a level head during training exercises. I also developed very good 'people skills' that help me approach various individuals and relate to a lot of different people.
"What I liked most about SUNY Plattsburgh were all of the great people, good friends, good times, and the nice atmosphere: it was everything I needed. What I like most about the theatre program was that it was very fun — the people were great and it wasn't 'all business.' It was personal. The theatre professors really sparked my interest in theatre and built up my confidence as an actor. Everything was good: the sets were great, the professors were awesome, and students become as prepared for both theatre and life as they're ever going to get.
"I do keep in contact with many of the professors and classmates. It was hard to keep in touch during Army training, but I can communicate more freely again now.
"If it were not for SUNY Plattsburgh, I would not have excelled in life. I developed a drive and self-discipline that allowed me to get through college and now, serving in the Army."
Philip's Advice for Prospective Students: "Push, don't settle: never settle."
Rosanne Murat, Class of 1996
---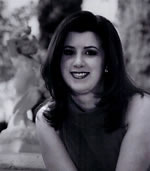 B.A. in Theatre (Acting), SUNY Plattsburgh
"I have worked in professional theatres in both New York and Los Angeles and the skills I learned at SUNY Plattsburgh at the very least gave me the confidence to audition for the roles I've played. As far as venues go, Plattsburgh's Hartman Theatre is still one of the best spaces I have performed in. I am a professional improvisation performer with the LA Comedy Theatre (since 1998). The size of the theatre department gave me the opportunity to perform in more shows than I would have been selected to participate in if I had gone to a bigger school. The professors, both full time faculty and adjuncts, became my friends because we were able to get to know each other on a personal level due to the small class size."
"L.J. Schwartau, an adjunct professor and professional actress, became my mentor as a performer and teacher. Right after I graduated, I had the privilege of doing 'A Midsummer Night's Dream' with her at Pendragon Theatre in Saranac Lake. It was wonderful to experience the shift from our professor/student relationship to one of equal colleagues. She inspired me to become a teacher one night when she gave me one of the best compliments I've ever received as an actress. I was so moved by it that I was inspired to give that moment to others."
Nan's advice to students: "As with any acting program, stay humble and keep an open mind. The techniques and games may seem pointless and silly, but they are the best ways to develop as an actor. The thing I liked most about SUNY Plattsburgh was the snow! Buy good boots, try the Buffalo wings, wear earmuffs (frostbite is nasty) and eat at Wong Kwans on Margaret Street: it is the best Chinese food in town!"
Katie Barry, Class of 1995
---
B.A. in Theatre Arts, Studio Art Minor, SUNY Plattsburgh
"As a theatre major, I concentrated on the technical aspects, specifically lighting. I have spent the majority of my time since graduating touring as an electrician for a variety of shows including 'Tommy,' '42nd Street,' 'Carousel,' 'Grease,' 'Smokey Joe's Cafe,' 2 years working for David Copperfield, and most recently, 'Blast! 2: Shockwave,' all as an electrician and spot light operator. In between tours, I freelance in New York City. That is what I am currently doing. I am also serving as interim master electrician at Tribeca Performing Arts Center.
"Theatre at SUNY Plattsburgh was small and intimate, allowing those who were willing amazing opportunities to grow both as technicians and students. I enjoyed the variety. As for advice to incoming students, the key to success is persistence and constantly educating yourself on new industry trends and developments.
"I would say that Barry Brown and the S.A. Tech Crew paved the way for the career path I chose. I have been successful because I learned the value of teamwork and the reality that a show is a 'Short-term Deadline' situation."
Athena Castro, Class of 2002
---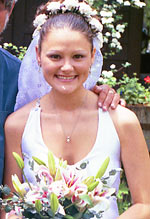 B.A. in Theatre (Production) and English, SUNY Plattsburgh
M.A. in Literary History, Ohio University
Athena received her B.A. in both Theatre and English Literature at SUNY Plattsburgh. She went on to study Literary History at Ohio University, where she received her M.A. in 2005. Athena has taught at Ohio University and Paul Smiths College, and now works at SUNY Plattsburgh.
Theatre's Life Lessons
"Working in the theatre as a student has taught me three valuable life lessons for teaching. The first is time management. Theatre took up so much of my time that it was sometimes difficult to make the time for my other responsibilities. I learnt quickly that time management is key if you want to succeed in any profession. Now as an instructor, I make time everyday to plan and grade so it doesn't all pile up. And I try to pass this lesson on to my students. The second lesson is teamwork. In the theatre, everyone's pulling together for a common goal. That should also be true in the classroom. Over the course of working together, a theatre cast and crew can become one organism, and it is ideal for a class to bond closely, too. Finally, theatre has taught me the fine art of listening. This is valuable beyond measure! Communication is more than just being comfortable speaking in public, though theatre does help students in that regard. It is also about listening when others speak, and that is a skill theatre has helped me to develop.
"A love of theatre remained the linchpin for my graduate study of literature. My master's work was on a Shakespeare play called The Winter's Tale, which I first read as a student at Plattsburgh. Studying and writing about The Winter's Tale gave me a chance to learn about the different venues the play has appeared in; it has had an uncommon production history. Also, to complete my B.A. in theatre, I had done a senior project study of Romeo and Juliet. I didn't realize it at the time, but that experience was really what prepared me for writing my master's thesis. It was great to have so much freedom in developing my own senior project: some students gave a longer performance, others designed costumes or sets, and I was able to pursue the research paper. I found that writing about theatre was interesting and challenging work, and I wanted to continue to do it."
Athena's Advice for New Students: "I think context is very important when studying theatre at SUNY Plattsburgh. By this I mean a couple of things. Surround yourself with people who support what you are doing and help you to be your best self. Take classes from other departments that compliment your study of theatre such as courses in psychology, history, and literature. And try to be involved in a different angle on as many productions as you can: stage manage one, direct another, do props for a third, act in a fourth, etc, etc, so you have a practical understanding of how a production comes together."
Teruyuki Ichihara, Class of 2003
---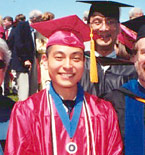 B.A. in Theatre, SUNY Plattsburgh
Teruyuki Ichihara earned his B.A. in Theatre in 2003 and is from Japan.
A Childhood Dream Becomes Reality
"To work in theatre has been my dream since I started to go to the theatre when I was a little boy. I was a very active student and was totally absorbed in being involved in theatre after I came to SUNY Plattsburgh from Japan. Everything was fun and exciting for me. I studied a variety of theatre classes, assisted in all the college productions, participated in College Theatre Association, etc. In addition, I am interested in all kinds of art, so I also took art and music classes that broadened my knowledge and skills.
"The Stratford Festival is one of the biggest theatre festivals in North America where you can see a lot of Shakespeare and other well-known plays and musicals. We went to Stratford, Ontario by bus with the Theatre Department chair and stayed two nights to see three plays and two musicals. I was very fascinated by this festival because both players and stage sets were excellent. Now, to work at Stratford Festival is one of my dreams. I also enjoyed studying technical theatre such as lighting, set design, and set construction. 'Masks & Make Up' was also very interesting and fun."
A Great Portfolio of Work
"My resume and portfolio, which contains everything I experienced in two years at SUNY Plattsburgh, worked to get me my current internship at American Repertory Theatre. I worked especially hard to make an attractive portfolio since my field of interest is design. I collected all the pictures of what I produced from not only college theatre productions, but also two summer internships and theatre and art class works.
"All the professors and staff in theatre department are very close to the students. If you are a person who wants to study in familiar circumstances, I believe SUNY Plattsburgh is the best choice. Also, they have variety of classes, events, and scholarships that make your college life satisfactory."
Shauna Ackerman, Class of 2003
---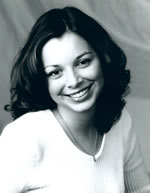 B.A. in Theatre (Stage and Production Management), SUNY Plattsburgh
Assistant stage manager, The Fulton Opera House
"I now reside in Lancaster, Penn. where I am employed at The Fulton Opera House. I am a full-time assistant stage manager, working on at least seven shows a season. Some of the productions I worked on include 'Ragtime,' 'The Secret Garden,' 'Enchanted April,' and 'Seussical the Musical.' The Fulton is a beautiful historical equity house that has been used as a theatre for over 150 years.
"Many things that I learned at Plattsburgh helped prepare me for the 'real world,' most important of which was all of my hands-on stage managing experience. Being able to work on many different types of shows with several directors not only prepared me for stage-managing, but also equipped me with the interpersonal skills to work well with a variety of people. As a result, I have developed leadership, organizational, personal, and a variety of other skills that I use every day, both in and out of the office. I believe that the traits I have developed as a result of my experiences at Plattsburgh are responsible for my success thus far and for the future achievements I hope to accomplish.
"What I enjoyed most about SUNY Plattsburgh was my good fortune in working alongside many talented students. In addition, serving as president of the College Theatre Association and business manager of the theatre honor society, Alpha Psi Omega, gave me the opportunities to work on several aspects of theatre with all types of students. Being a producer was another great experience that allowed me to work with an even wider range of my peers. We learned a great deal from each other about the multi-faced nature of theatre. Not only was I surrounded by dedicated professors and adjuncts who were always willing to teach and help me, but also students dedicated to collaborating and learning from each other. Whether it was building a set, running tech rehearsals, sewing costumes, hanging lights, or finding props, there was always a student ready to take on the task. If he or she didn't know how to do something, someone who did was always there to provide instruction.
"The Theatre Department was truly my second family, one that no one can ever replace, one that is always ready to welcome new members. I enjoyed a truly a wonderful learning and life-changing experience in working with all of the people at SUNY Plattsburgh."
Shauna's advice for students: "My advice is go for it! Never be afraid: you have to walk into that department and dive in. Your experience at Plattsburgh is what you make of it and you can take as much from your theatre experience as you desire. No one is going to push you to do anything, nor are they going to push you away. The great thing about Plattsburgh's small size is that you can have practically unlimited access to hands-on experience. You don't just learn things out of a book; there is always an opportunity for you to do every aspect of theatre. One other thing to remember about Plattsburgh is that you don't have to study just one area of theatre. You can pick and choose what fields you want to work on, and even if you don't concentrate on one specifically, you can always sample a single dance or design class. The ball is in your court: you do the type of theatre that you want to do. Just grab on to whatever opportunities you can and never let go or give up. Every minute you spend in the Hartman Theatre is well worth it!"
Adam Soule, Class of 2001
---
B.A. in Arts and Sciences (Theatre Performance), Studio Art Minor, SUNY Plattsburgh
"I concentrated on acting while at Plattsburgh. I do professional stage work in Boston, Mass. The faculty provided an incredible amount of one on one time, and were always willing to explore the wants and needs of the students."
Adam's advice for students: "Commit, commit, commit (when all is said and done, you have no one except yourself to blame)."