Jump to Footer
Theatre Calendar
---
Performances, Staged Readings & Workshops on Campus
All dates and events are subject to change. Check back often for updates of events, and ticket links.
Starting Fall 2023, tickets for all events can be purchased online only. Sorry NO REFUNDS or EXCHANGES on tickets.
Fall 2023
---
The following events are planned for the fall 2023 semester:
Theatre Department Schmooze
Date: Thursday, August 31
Time: 7 p.m.
Location: Black Box Studio Theatre (Myers 129)
Cost: Free
Join us for our annual theatre meet and greet! Meet students, faculty and staff. Join us for snacks, drinks and fun games while you learn about our fall productions.
24 Hour Play Festival
*Rescheduled — see new date below
Date: Saturday, October 21
Time: 7 p.m.
Location: Black Box Studio Theatre (Myers 129)
Cost: $3 General Admission
The Theatre Department is starting off our 2023 Season of Fire with a BANG with the 24-Hour Play Festival on Saturday, October 21, 2023 at 7 p.m. Join theatre students and Dr. Shawna Mefferd Kelty as they present an abundance of brand-spanking-new short plays all written, rehearsed and performed within 24-hours — just for you! Expect the unexpected at the Studio Black Box Theatre within the John Myers Building. Don't miss out on this fun performance! Seating is limited. Tickets are $3 general admission. Ticketing information coming soon.
**Due to technical issues, we are unable to process online sales for the 24-Hour Play Festival**
Dragons Love Tacos
A Play for Young Audiences
By Ernie Nolan. Based on the book by Adam Rubin with illustrations by Daniel Salmieri.
Published by Penguin Group. Produced by special arrangement with Plays for New Audiences
Directed by Erika Guay
Date: Friday, November 3; Saturday, November 4; Sunday, November 5
Time: Friday at 6 p.m.; Saturday and Sunday at 3 p.m.
Location: Hartman Theatre, John Myers Building
Cost: $5 General Admission
Ringing Down the Curtain
Date: Wednesday, December 6 and Thursday, December 7
Time: 7 p.m. each night
Location: Hartman Theatre, John Myers Building
Cost: Free
Spring 2023
---
The following events are planned for the spring 2023 semester:
Something for the Fish
A Play by Emily Krause; a Staged Reading Directed by Shawna Mefferd Kelty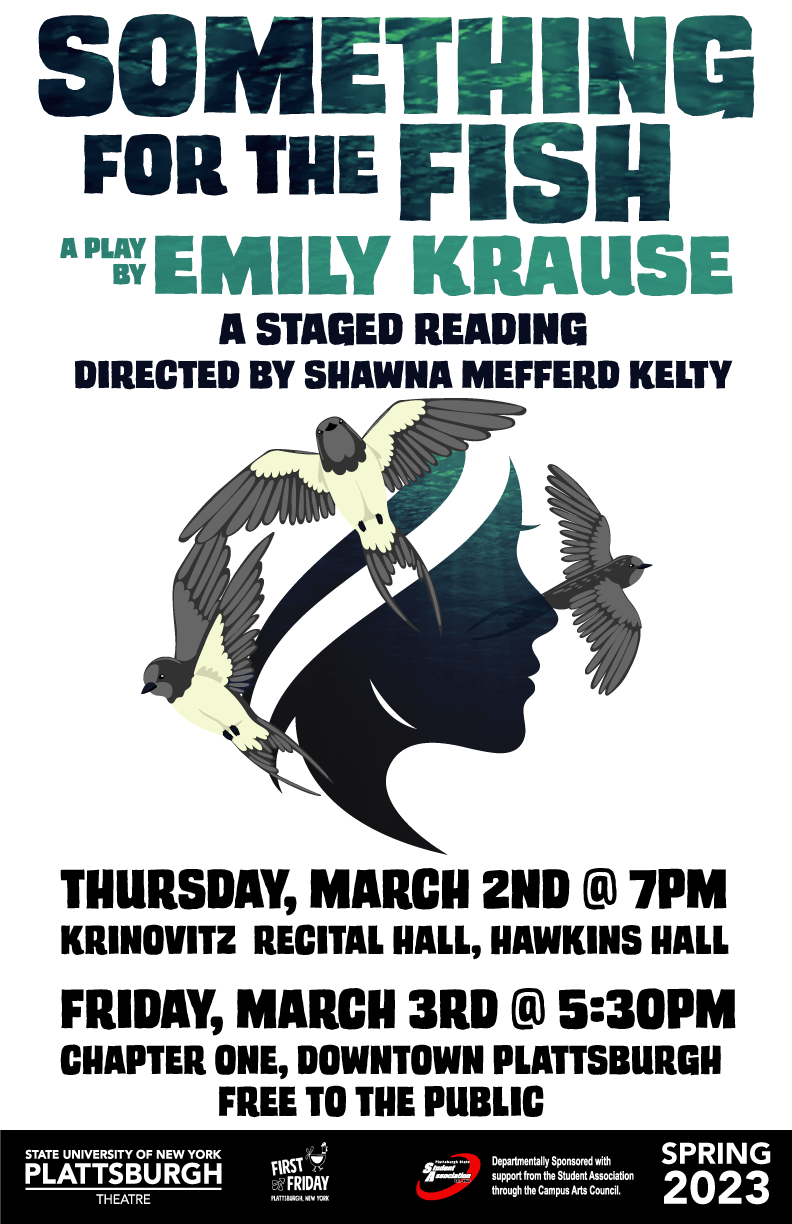 Date: Thursday, March 2 and Friday, March 3
Time: 7 p.m.
Location: Krinovitz Hall, Hawkins Hall
Cost: Free
A fisherman in a small coastal town dreams of mass marine extinction, and hauls in empty traps each day. A prodigal son returns, looking for answers. Three young women are beginning to change form, and nobody is talking about it. And yes, some time in the past, on a particularly cold midnight, a woman walked into the sea. It has happened before.
SOMETHING FOR THE FISH is a play about people on the verge of enormous change, set in a small coastal town rocked by the sudden disappearance of the sea life it depends on. It is both a climate change parable and an intimate look at the transformative (and transfiguring) power of grief.
Join the cast of SUNY Plattsburgh students and director Shawna Mefferd Kelty as they bring this incredible story of climate change and transformation to life. This staged reading will be performed on campus Thursday, March 2, 2023 at 7 p.m. at the Krinovitz Recital Hall in Hawkins Hall, and on Friday, March 3, 2023, at 5:30 p.m. at Chapter One Coffee & Tea in downtown Plattsburgh.
The Chapter One performance is presented in conjunction with First Fridays, a community event that showcases the art, music, food, and vibrancy of Plattsburgh's downtown businesses. All performances are free and open to the public.
Trigger Warning: Discussion of suicide; Content Warning: Light use of profanity
"Kasennisaks: I'm Looking for a Name"
A Mohawk Storytelling Performance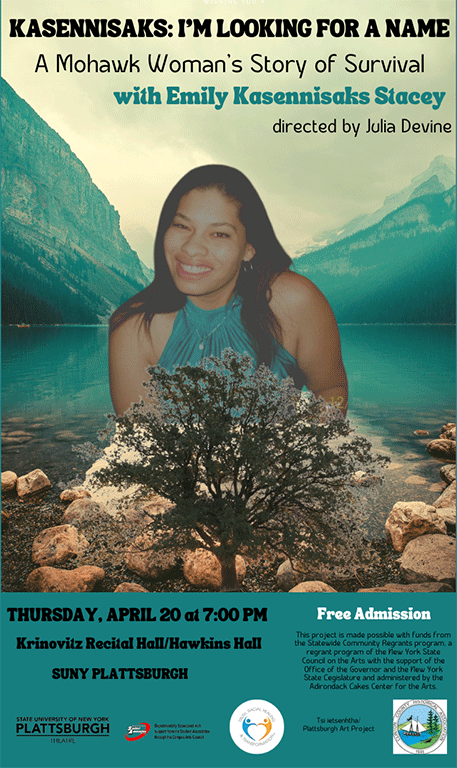 Date: Thursday, April 20
Time: 7 p.m.
Location: Krinovitz Hall, Hawkins Hall
Cost: Free
This storytelling performance features Emily Kasennisaks Stacey sharing her stories of survival — as a Native woman growing up in Plattsburgh and as a descendant of residential school survivors and intergenerational trauma. During the 19th and 20th centuries, thousands of Native children in the United States and Canada were forced into boarding schools that tried to strip them of their culture and heritage.
Emily is of the Turtle Clan of the Mohawk nation and her mother is Lenape, Seneca, and Rappahannock Native American. Her father is Mohawk. When she was a little girl, she and her sisters attended a Mohawk longhouse ceremony in Akwesasne, N.Y., where she received her Mohawk name: Kasennisaks, which means "I'm looking for a name."
Some stories are sad; others are filled with love. Emily's performance will weave together stories, projections, and a Native drum with minimal props and set.
This performance is produced in collaboration with the Truth, Racial Healing, and Transformation Campus Center at SUNY Plattsburgh. They will host an Rx Racial Healing Circle on Thursday, April 20th at 5 p.m. in The H.U.B. (1st floor of the Angell College Center) before the performance. The Healing Circle topic will be connecting as a community and understanding the impacts of intergenerational trauma. All are welcome (students, staff, faculty, and community members)!
It is imperative that we educate the North Country on the history of residential schools in our area and its impact on the present day Native American community.
This project is made possible with funds from the Statewide Community Regrants program, a regrant program of the New York State Council on the Arts with the support of the Office of the Governor and the New York State Legislature and administered by the Adirondack Lakes Center for the Arts.
Climate Play Festival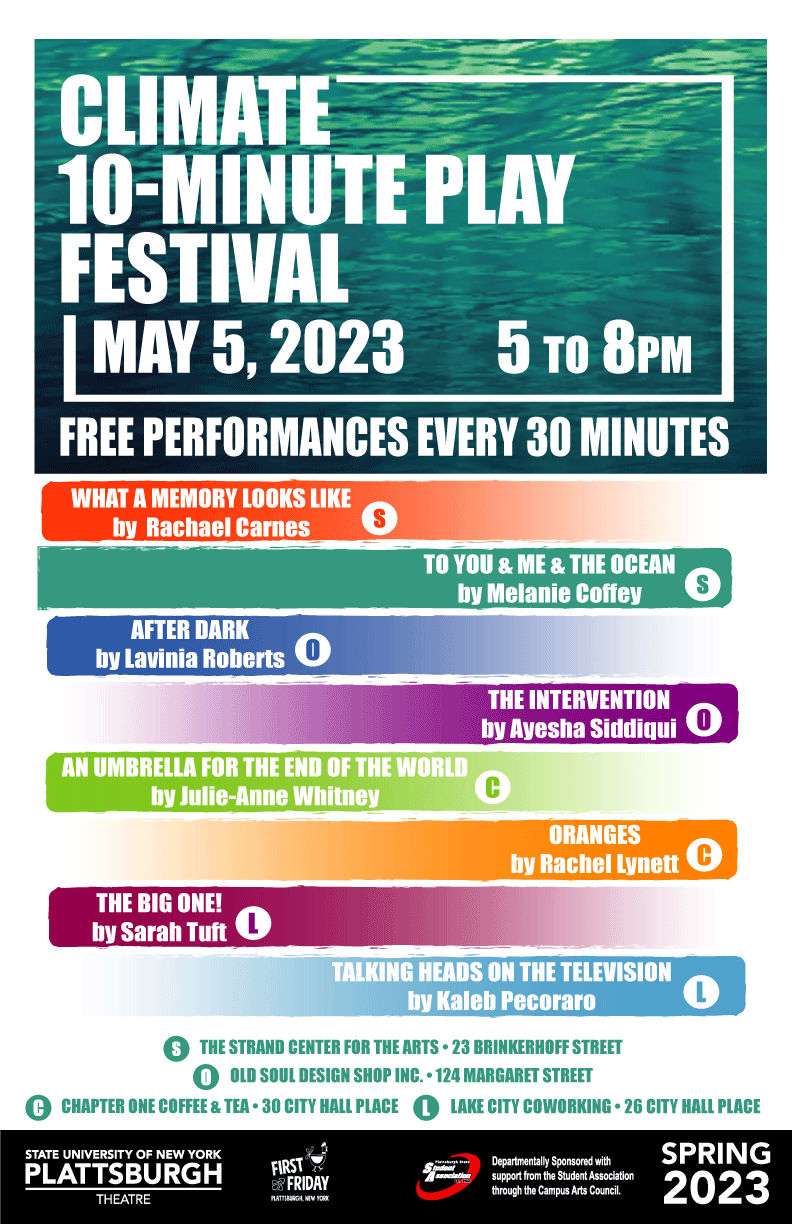 Climate 10-minute play festival — free performances every 30 minutes including: What a Memory Looks Like by Rachael ...
Date: Friday, May 5
Time: 5 p.m.
Location: Downtown Plattsburgh
Cost: Free
Ringing Down the Curtain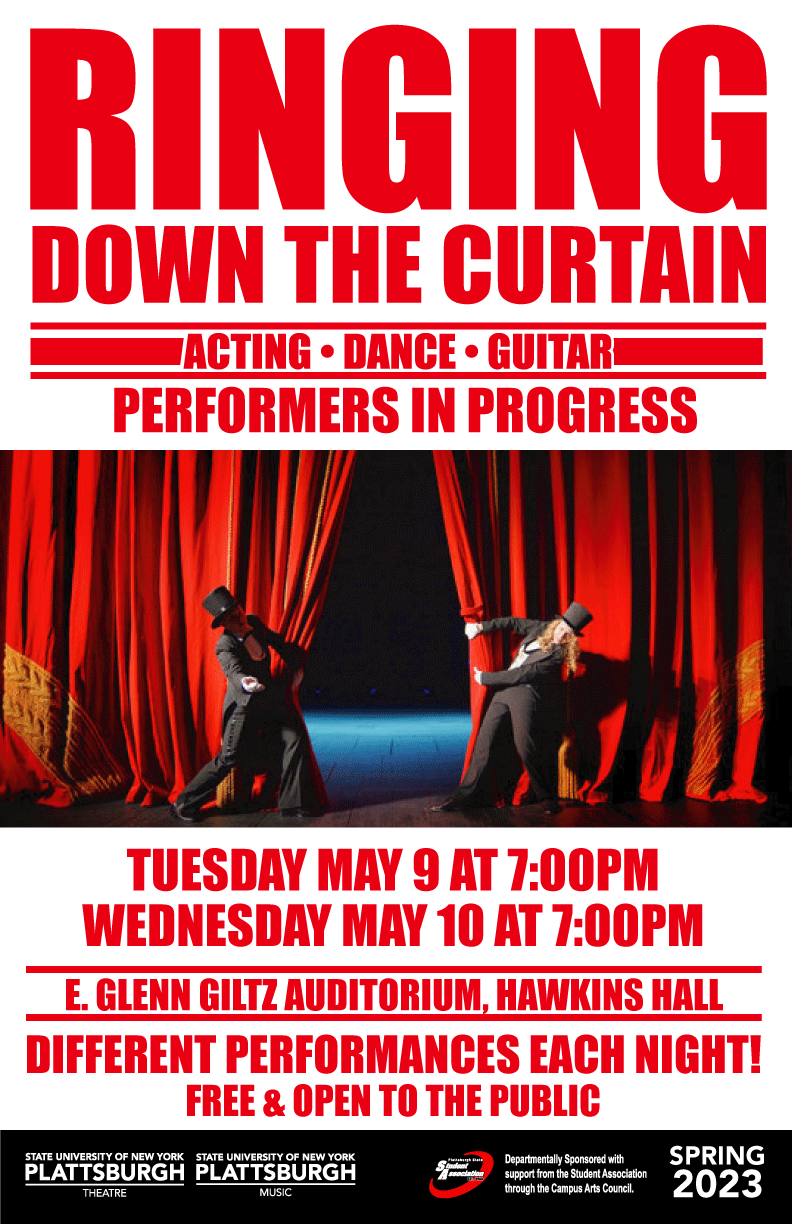 Acting, Dance, Guitar: Performers in Progress. Different performances each night, free and open to the public.
Date: Tuesday, May 9 and Wednesday, May 10
Time: 7 p.m.
Location: E. Glenn Giltz Auditorium, Hawkins Hall
Cost: Free
For More Information
---
Contact:
Dwayne T. Butchino, Performing Arts Coordinator
Phone: 518-564-2243
Email: [email protected]
Remember to follow us on social media for updates and information about upcoming events, as well as following our YouTube channel for more videos and performances.
These events are sponsored by the SUNY Plattsburgh Theatre Department, with support from the Campus Arts Council through the Student Association and the College Foundation.