Jump to Footer
Visual Artist Series
---
The Visual Artist Series is collaboratively organized and hosted by faculty and students. Funded by the Student Association through the Campus Arts Council, the series typically brings seven to nine artists to our campus every year. These artists give public lectures, workshops, demos and critiques. Artists from all media are represented in the series. They come from all over the U.S. and Canada and, from time-to-time, other countries.
Fall 2022
---
Anne Carnein, September 28, 2022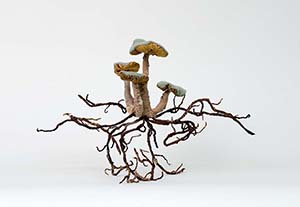 Anne Carnein, sculptor and fiber artist, will be the first presenter of the Fall 2022 semester. Ms. Carnein, born in Northern Germany, studied sculpture at State Academy of Fine Arts Karlsruhe (Germany) followed by Masterclass with professor Stephan Balkenhol. She has been an artist-in-residence in Germany and the U.S. and exhibited in Germany, France, Finland and the U.S. She lives and works in Southern Germany. Carnein's subjects are mainly plants and mushrooms, which are formed of fabric, thread and wire. Ms. Carnein studies the growth form, colors and biological characteristics of plants and fungi. She then translates her observations into sculptures that she sews by hand using different textiles. Some are worn, using and combining the various colors of the fabrics in an almost painterly way. To learn more, please plan to attend.
Ms. Carnein will give a presentation via Zoom on Wednesday, September 28, 2022 at 7:30 p.m.
Josephine Halvorson, October 6, 2022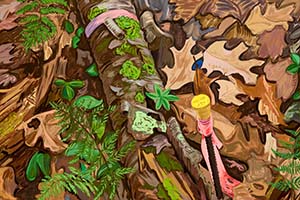 Josephine Halvorson, painter, will be the second presenter of the semester. Ms. Halvorson makes art that foregrounds firsthand experience and takes the form of painting, sculpture, and printmaking. Born in Brewster, Massachusetts, she studied at The Cooper Union (B.F.A.), Yale Norfolk, and Columbia University (M.F.A.). In 2021, she was awarded a John Simon Guggenheim Fellowship. Halvorson is the recipient of major international residencies and fellowships her work has been exhibited internationally. Ms. Halvorson's paintings are largely en plein air. Her scenes often depict areas found in her everyday life and natural environment, such as books, doors, windows, post-industrial machines and areas of ground. Through her practice of painting on-site and in one continuous session, her paintings are able to mark the time and place of their own creation. Halvorson's work investigates how place and environment manifests in a painting.
To learn more, please visit Josephine Halvorson's website.
Ms. Halvorson will give a presentation via Zoom on Thursday, October 6, 2022 at 7:30 p.m.
Diana Behl, October 17, 2022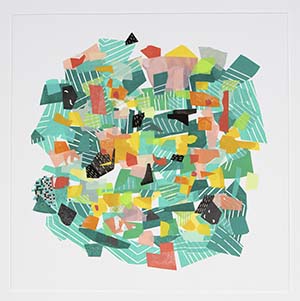 Diana Behl, printmaker, will be the third presenter of the fall semester. Ms. Behl is an artist and educator based in Brookings, S.D. She holds an M.F.A. and M.A. in printmaking from The University of Iowa, a B.F.A. in two-dimensional and design studies from Bowling Green State University, and is an associate professor in the School of Design at South Dakota State University. Behl has received grants from the Bush and Griffith Foundations and the South Dakota Arts Council to support her artistic and teaching practices, which are rooted in traditional printmaking processes and works on paper. Her images are prompted by specific instances — memories of places visited, passages read, bits of everyday references, or interactions of material and form — both in and outside of the studio. Using these prompts, her practice then evolves around the improvisation and discovery uncovered while making, further enabling form to embody the evolution of that specific cue.
To learn more, please visit Diana Behl's website
Ms. Behl will give a presentation via Zoom on Monday, October 17, 2022, at 7:30 p.m.
Nadezda Nikolova, November 3, 2022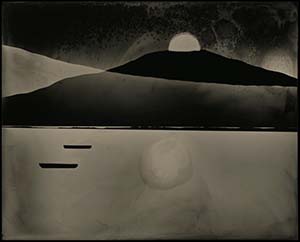 Nadezda Nikolova, photographic artist, will be the fourth presenter of the semester. Nikolova's practice is informed by an experimental approach to early photographic processes and her interest in the materiality of the photographic medium. Focusing primarily on wet plate collodion, Nadezda is recontextualizing the historic process, traditionally used for portraits and landscape photography, by creating cameraless image-objects. The photogram as a medium allows her to search for the essence by employing simplicity and abstraction. Nadezda studied historic processes at George Eastman Museum with Mark Osterman and at the University of Kentucky. She was a finalist for the 2018 LensCulture Exposure Awards and is represented by HackelBury Fine Art. She lives and works in Oakland, California.
To learn more, please visit Nadezda Nikolova's website
Ms. Nikolova will give a presentation via Zoom on Thursday, November 3, 2022 at 7:30 p.m.
Jason Chin, December 1, 2022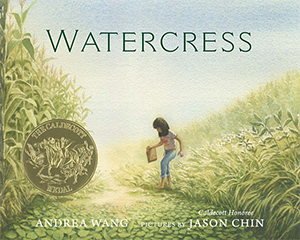 Jason Chin, illustrator and author of children's books, will be our fifth presenter of the semester. Mr. Chin grew up in a small town in New Hampshire. He studied art at Syracuse University and began his illustration career while living in New York City. In 2009 he published Redwoods, his first book as both author and illustrator. Since then, he as written and illustrated numerous award-winning books that combine his passion for nature, science and art. While researching his books, he's gone swimming with sharks, explored lava fields and camped with scorpions at the bottom of the Grand Canyon. Jason loves making art, learning about science and getting outside to hike, bike, ski and explore. He lives with his family in Vermont.
To learn more about Jason Chin and his children's books, please visit us.macmillan.com/author/jasonchin
Mr. Chin will give a presentation via Zoom on Thursday, December 1, 2022 at 7:30 p.m.