Jump to Footer
SBE Office of Internships & Career Opportunities
---
One of the most important things you can do to improve your chances of landing that first job in your chosen field is to participate in an internship.
Internship & Career Fair
---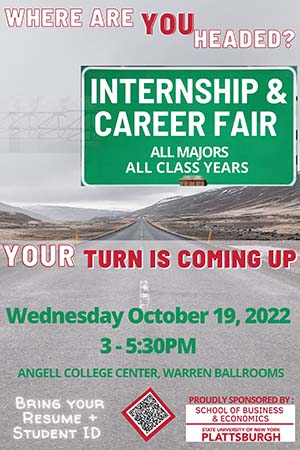 Sponsored by the School of Business and Economics, the Internship and Career Fair is open to students from all majors and all class years. This is a great opportunity to network with local employers, practice introducing yourself and hand out your resume. Employers will be looking for spring graduates as well as immediate hires to fill internships as well as part- and full-time positions.
When: Wednesday, Oct. 19, 2022 from 3 – 5:30 p.m.
Where: Warren Ballrooms, Angell College Center
Be sure to bring your resume and your student ID.
Student Registration via Handshake
Are you an employer looking to recruit the best talent for your organization? Register today and plan to meet with student leaders from SUNY Plattsburgh.
Employer Registration via Handshake
An Internship Will Help You:
---
Build confidence, professionalism and independence.
Relate classroom learning to real work situations.
Learn whether your major is preparing you for the future you want.
Build your resume for the future.
Earn academic credit.
All SBE internship placements are handled through the Office of Internships and Career Opportunities.
Forms
---