Jump to Footer
Student Profiles
---
Meet Some of Our Students
Jordyn Danforth
---
I've been a physics adolescence education major at SUNY Plattsburgh since my sophomore year. I switched over from the biology department, and kept my major in biology too, but physics is my true calling. I've been tutoring physics at the Learning Center since the beginning of my junior year and absolutely love helping people learn. I can see myself in charge of a high school physics classroom that is fun and highly educational, and I hope to increase the number of students who enjoy physics and want to pursue it as their future career.
Dr. Podolak had the biggest influence on my career path. He was incredibly supportive of my choices and allowed me to gain experience by being a teaching assistant for his general physics lab. He also invited me to work with him on instructional research. We published a paper on that research in April 2013. I've loved being a physics major at SUNY Plattsburgh. It's a small department that allows students to be involved with the professors, other students, and Physics Club. It's been a great experience and I can't wait to see how incredible it becomes in the future.
Randi Bassik
---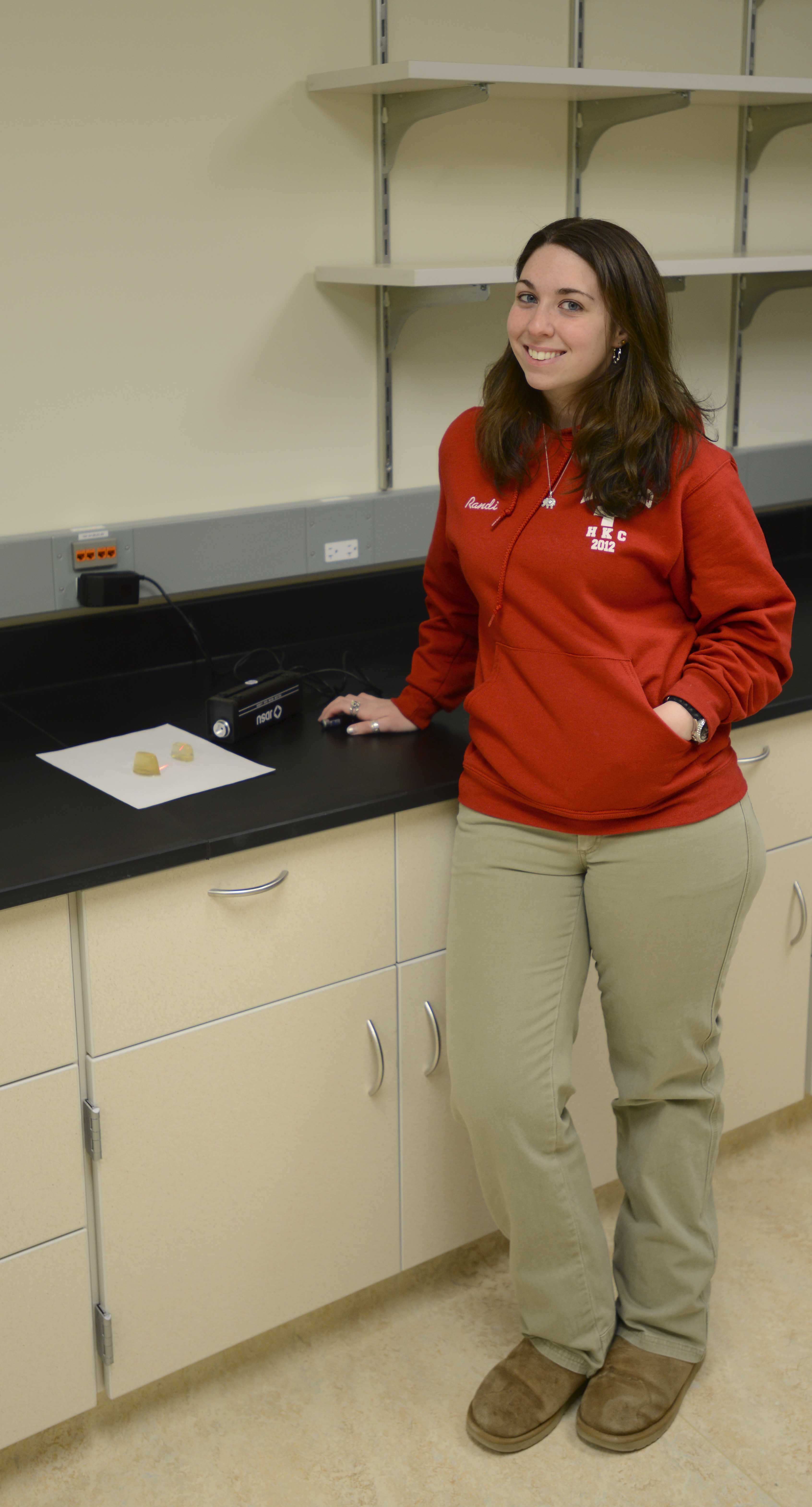 Hello! My name is Randi Bassik and I am a junior physics major with a mathematics minor at SUNY Plattsburgh. I am from New City, New York. I came to SUNY Plattsburgh as a freshman because I loved that it was a school where I could get individual attention from professors and feel very close to the staff. I also liked that Plattsburgh was in the Northern Adirondacks because there is so much to do outside, such as skiing, hiking, and camping.
I am a past president of Physics Club. Physics Club is open to anyone, especially those who have an interest in physics, engineering, or just want to be involved in some hands-on projects involving science. I love the physics program at Plattsburgh because it is a hands-on learning experience with professors who genuinely want to help and make sure that you succeed. I made a lot of my current friends through the physics program and it was refreshing to find students who had the same interests as me.
I am also doing undergraduate research under the advisement of Dr. Michael Walters on the opto-mechanical properties of ballistic gels. We will be presenting our research at the regional APS meeting at Wells College with other undergraduate research students. There are many research opportunities for students who want to get involved. Many of the professors who take on research students are willing to listen to ideas and make the research interesting to the individual. After I graduate, I plan on attending optometry school where I will hopefully get my O.D.
Dan Stowe
---
I came to SUNY Plattsburgh for my freshman year in the fall of 2011 and I am part of the 3+2 Engineering Program. I knew Plattsburgh was what I was looking for in a school as soon as I arrived on campus as a prospective student to check it out. From the snow, to the medium sized student body, and the great professors I met, Plattsburgh was the place for me. I feel that I have grown alongside SUNY Plattsburgh in such a way that the main science building, Hudson Hall, has become somewhat of a second home to me.
The friendships I have made in Plattsburgh with the professors and students have far outweighed any connections I have made in the past. Much to my delight, class time is where I am able to connect with my professors, and am consequently able to learn the material faster and easier. I don't feel like I am beneath anyone here — for every mentor I have known is warm and welcoming. I can compare it to having one big, happy physics family.
I am currently in my junior year at Plattsburgh, and much to my dismay, I have to leave to start my second journey at an engineering college. However, the skills I have picked up as a result of taking on positions in our Physics Club, from secretary, to vice president, and finally president, complement the skills I have learned in the classroom. I was inducted into Sigma Pi Sigma, the Physics Honor Society, as well as Omicron Delta Kappa, the Leadership Honor Society in my sophomore year. Without the help of my professors, I wouldn't have had the opportunity to join these organizations. They pushed me into becoming the best scientist I could be – by questioning everything. Because of these experiences at Plattsburgh, my dreams are that much closer to reality.
Ben Ponce
---
Aloha! My name is Ben Ponce and I am from Saranac Lake, New York. I am currently a senior physics major with minors in computer science and mathematics. I found my passion for astronomy after attending my first show at the Northcountry Planetarium. Since that time I have had the pleasure of helping create and facilitate astronomically themed workshops with the Girl Scouts of Northeastern New York, the Champlain Valley Transportation Museum and local elementary schools.
I worked to make the Galilean Society, our astronomy club, a legitimate club at SUNY Plattsburgh and I have acted as the president ever since.
I attended the 2012 International Planetarium Society conference in Baton Rouge with Ms. Lisabeth Kissner, the director of the Northcountry Planetarium, and I was able to attend presentations on astronomy education and planetarium instruction. The experience was invaluable as I was able to meet educators who were passionate about astronomy and were teaching it in an informal way. Since that time I have been working with Ms. Kissner on the Planetarium renovation project. Once the planetarium is reinstalled we will be developing curriculum for shows with local schools, weekly ephemeris shows and astronomy lab classes.
I have also had the pleasure of working with the Ms. Kissner on other projects. SUNY Plattsburgh helped me and another student secure funds to cover the cost of equipment and travel to Kona, Hawai'i, so we could observe the 2012 Venus Transit (that's me in the picture with the solar telescope that was purchased). It was truly a once in a lifetime opportunity as the next transit of Venus will be in 2117! In the spring of 2013 I presented a poster at the local Sigma Xi spring symposium using contact times collected in Hawai'i to repeat Halley's method for calculation of the Astronomical Unit.
There are no words to explain my experiences here at SUNY Plattsburgh. Through the Physics Department and the Northcountry Planetarium I have had experiences that have changed my life. After graduation I plan to attend graduate school for astrophysics and continue on to have a career searching the cosmos for what it might hold. I hope to eventually be an astronomy educator and inspire the next generation of space scientists.
Justin Collins
---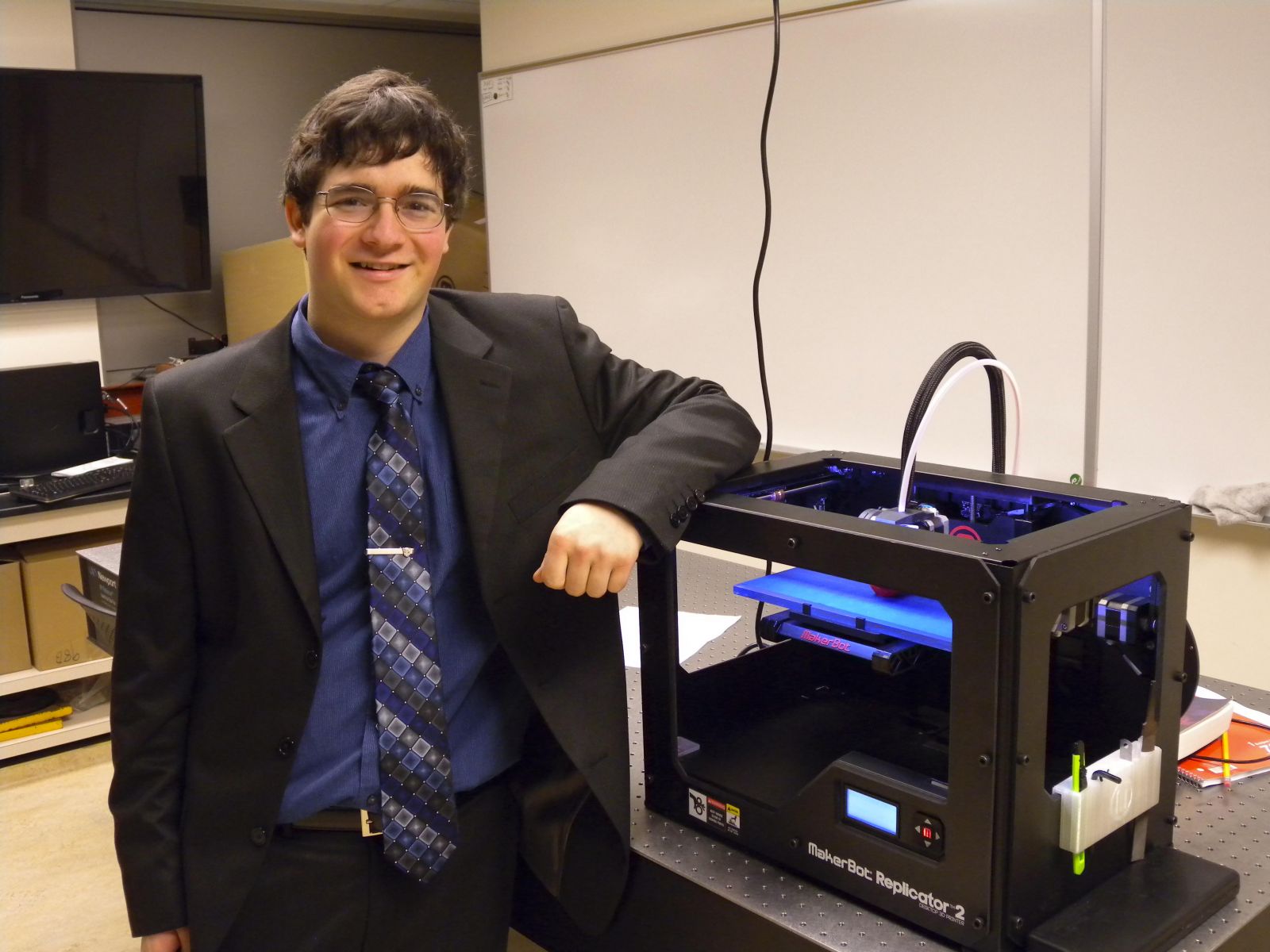 I'm a physics engineering major here at SUNY Plattsburgh. I have always loved building and designing things and when I found out there was a career for that, I decided that is what I wanted to do. Plattsburgh has been extremely helpful by providing not just the standard curriculum, but other opportunities as well, such as 3D modeling and printing experience."
"I am also a member and officer of the Physics Club, which has been a lot of fun. The club allows students to participate in engineering and physics related projects, demos, and competitions. I have had many opportunities to expand my involvement in both physics and engineering thanks to the small and excellent department. I really feel that the professors here take the extra time to help you if you need. Dr. Michael Walters is just getting the department into robotics which is one of my passions and we have a lot more to look forward to."
Cole Martin
---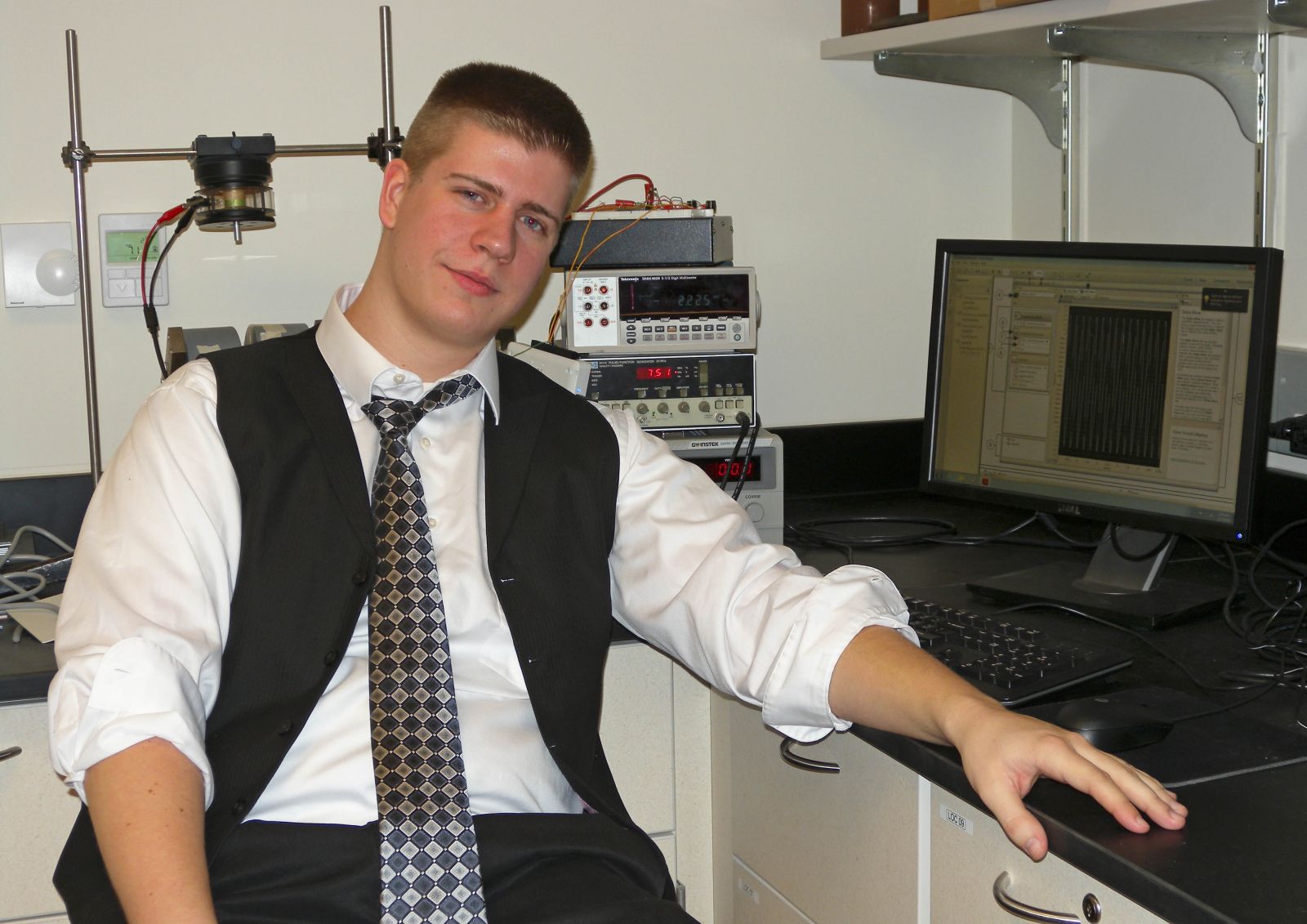 I began my educational career at Clinton Community College (CCC) in the fall semester of 2010. Initially, I didn't know what I wanted to study as an undergraduate. I was inexperienced in mathematics at the time and I had no future career ambitions. I first fell in love with the study of physics at CCC when I began to attend lectures on Newtonian mechanics. I was absolutely amazed at how the study of physics and mathematics could predict the motion of objects that I commonly interacted with. It was at that point that I knew I wanted to study physics and become a professional scientist. I spent two years at CCC and completed an associate's in math and science. Since then I have been completing the last two years of my bachelor's in physics here at SUNY Plattsburgh.
My first experience with undergraduate research was in the field of plasmonics. Working with Dr. Kenneth Podolak and Dan Stowe, we analyzed how the selective deposition of conducting metal nanofilm layers unto a clean silicon chip would affect the resonance of surface plasmons. I have also conducted research with Dr. Glenn Myer which focused on deriving a set of partial differential equations which could describe the flow of heat through a thin metal rod. Currently, I have an appointment with the United States Department of Energy to conduction research at Argonne National Laboratory over the summer of 2014. The goal of the research will be to investigate anomalous properties about the electroweak force and the mechanism which breaks its symmetry. We will be running computer simulations in the programming language of C++ to estimate the order of magnitude in which particle interactions will occur.
In my career, I aspire to conduct research that focuses on particle and atomic physics. Upon completion of a physics doctorate, I would like to spend time as a post-doctoral fellow working on a specific part of my research. My future ambitions include becoming a tenure-track professor, so that I may have a chance to give back my appreciation and experience to future students. Perhaps one day I will be able to mentor my own students, just as I will be mentored in graduate school. I cannot thank the SUNY Plattsburgh physics faculty enough for all of their support, wisdom, and mentoring. They have set an excellent example for not only the student community but for other faculty as well.