Jump to Footer
Astronomy Club: The Galilean Society
---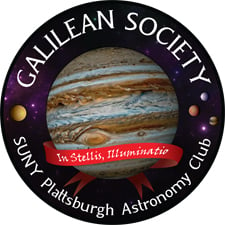 The purpose of The Galilean Society is to convene a group of individuals whose interests and activities will promote Astronomy and Space Science education.
"Astronomy is… unequivocally acknowledged as our past, unmistakably recognized as our present reality, and ultimately accepted as our inevitable future. We certainly all belong, and we can certainly all participate!"
On Campus Observing — Sidewalk Astronomy
The Galilean Society facilitates observations that are open to anyone (no science major necessary!) who would like to participate and learn about both the night sky and telescope fundamentals.
Public Outreach — Ladies Looking-Up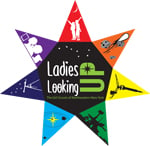 "A collaboration between the Northcountry Planetarium, The Galilean Society and the Girl Scouts to provide an informal educational experience that engages young ladies in hands-on workshops in astronomy and space science and inspires them to both pursue and excel in science, technology, engineering, and mathematics (STEM) disciplines."
The Galilean Society has facilitated workshops with local Girl Scout troops on subjects ranging from Backyard Observational Astronomy to Rocks From Space.
Astronomy Education — Observational Astronomy Workshop for Girl Scouts at Camp Tapawingo
Ms. Lisabeth Kissner (left), Director of the Northcountry Planetarium, explains the basics of sky observation to Girl Scouts at Camp Tapawingo.
At left, SUNY Plattsburgh student Danielle Howell helps Girl Scouts to plot planetary positions on a clear sky globe.
SUNY Plattsburgh students Faith Gaddis, Danielle Howell and Hannah McGuire help teach Girl Scouts Astronomy basics.
Research — Venus Transit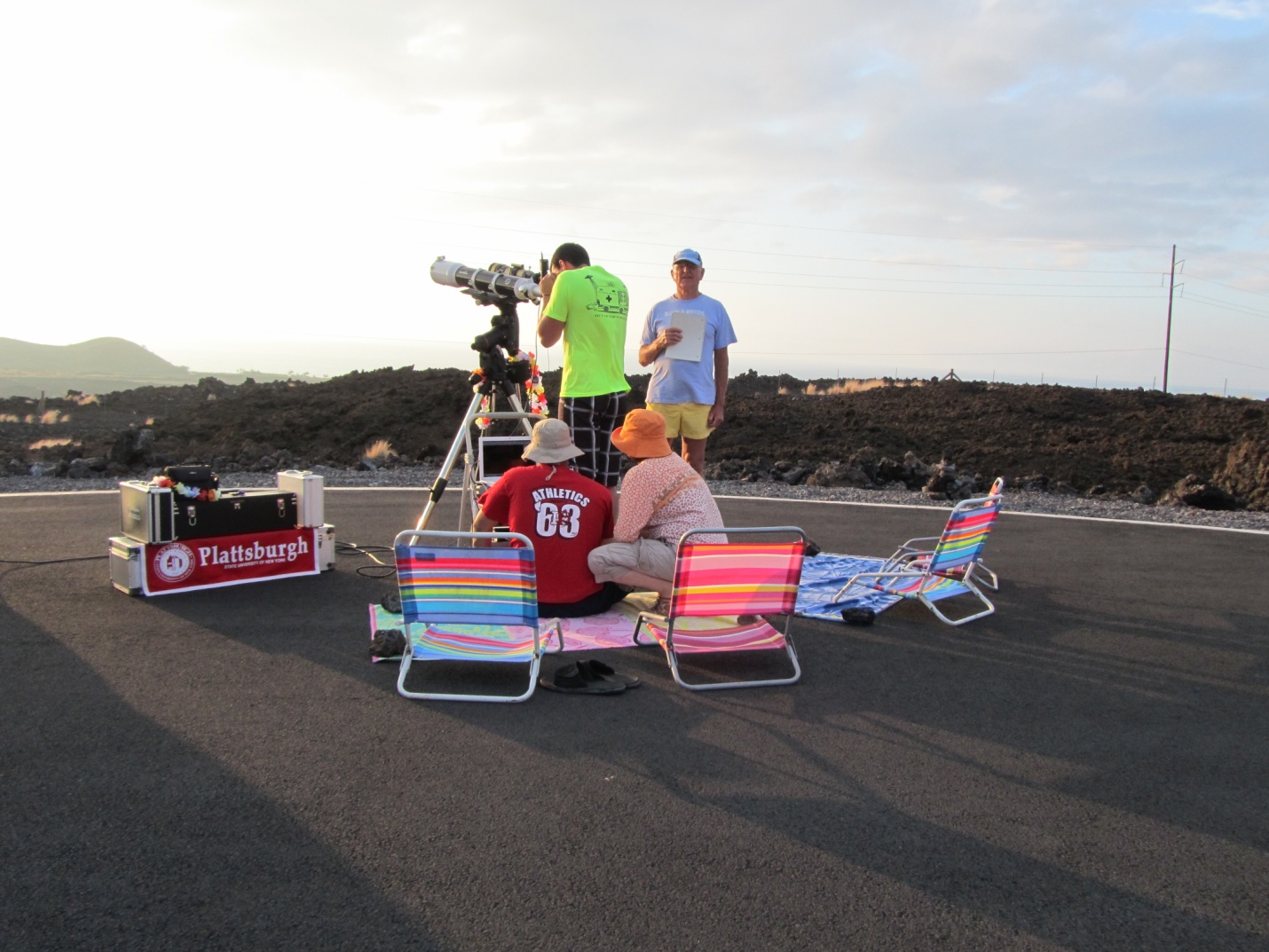 Levi Martinez (Vice President), Ben Ponce (President), Lisabeth Kissner (Advisor), and Fredrick Kissner (Professor Emeriti) traveled to Kona, Hawai'i for the Venus Transit of 2012.
Ben Ponce setting up
Lisabeth Kissner, Levi Martinez and Ben Ponce at the Mauna Kea Observatory site in Hawai'i.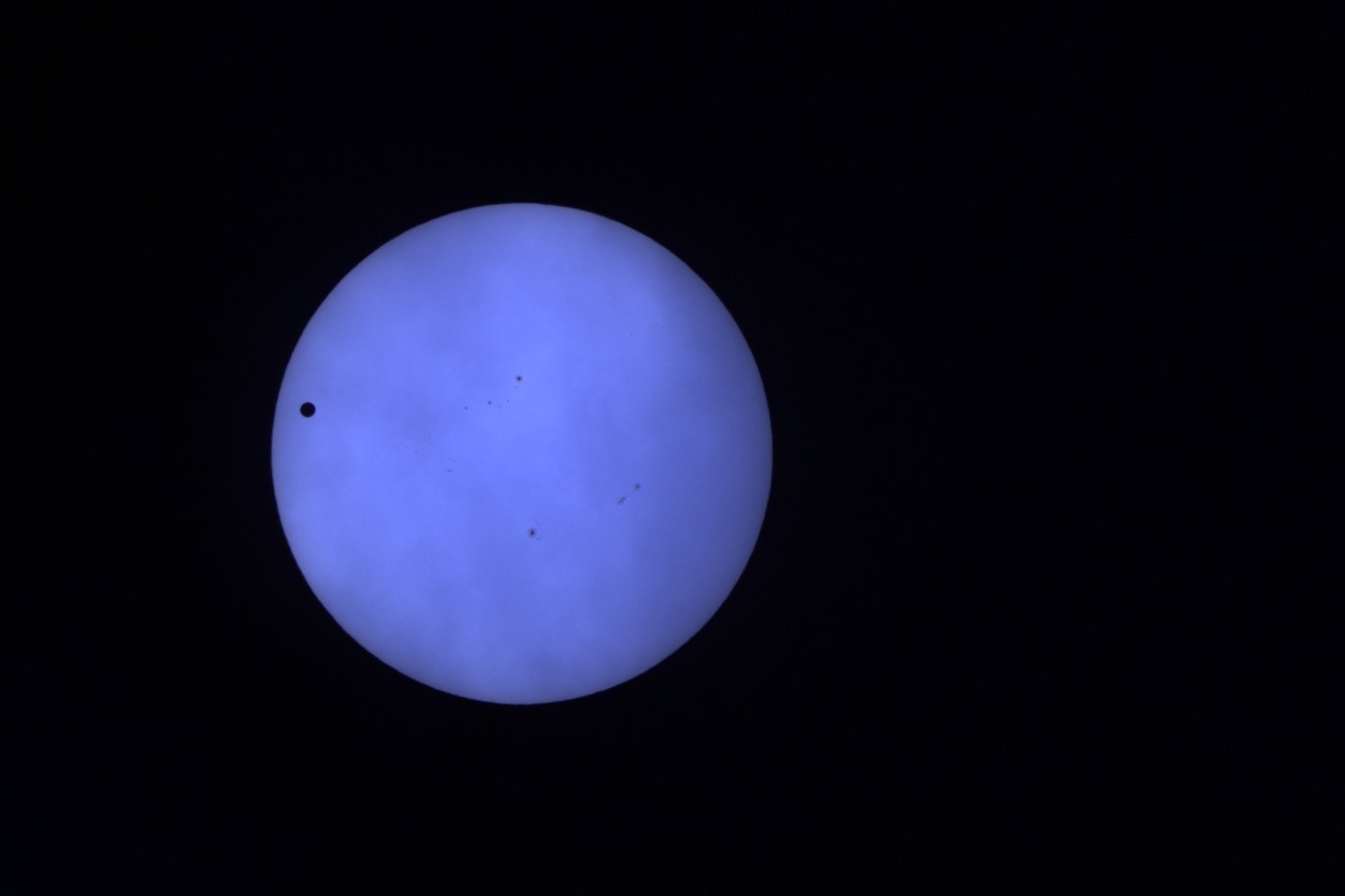 A photograph taken during ingress of the Venus Transit taken by Levi, Ben, and Lisabeth of The Galilean Society.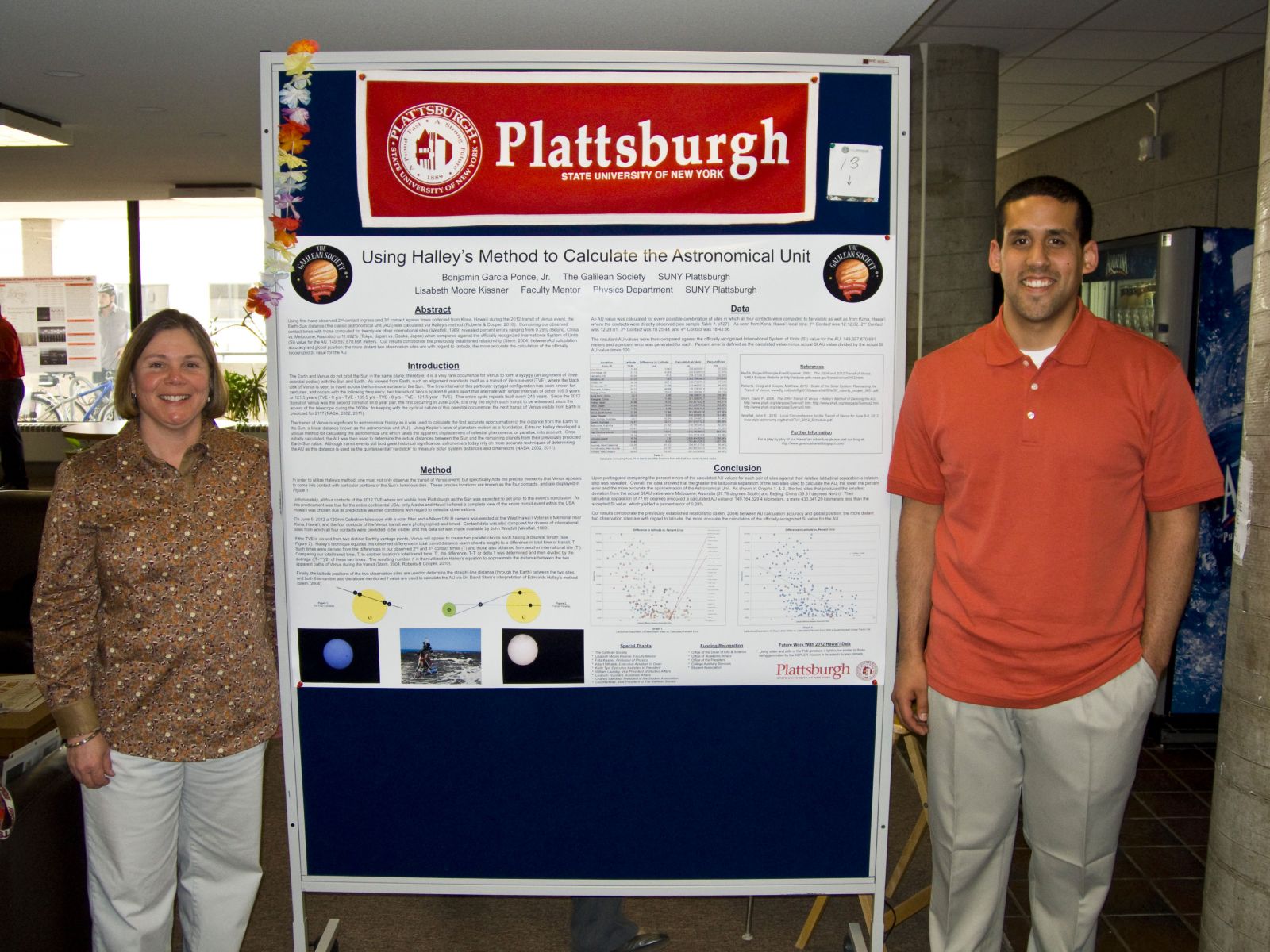 Ben Ponce and Lisabeth Kissner presented a poster at the annual Sigma Xi poster session (2013) on using Halley's method for calculating the Astronomical Unit using the data set collected from Hawai'i during the 2012 Venus Transit.
Conference — IPS 2012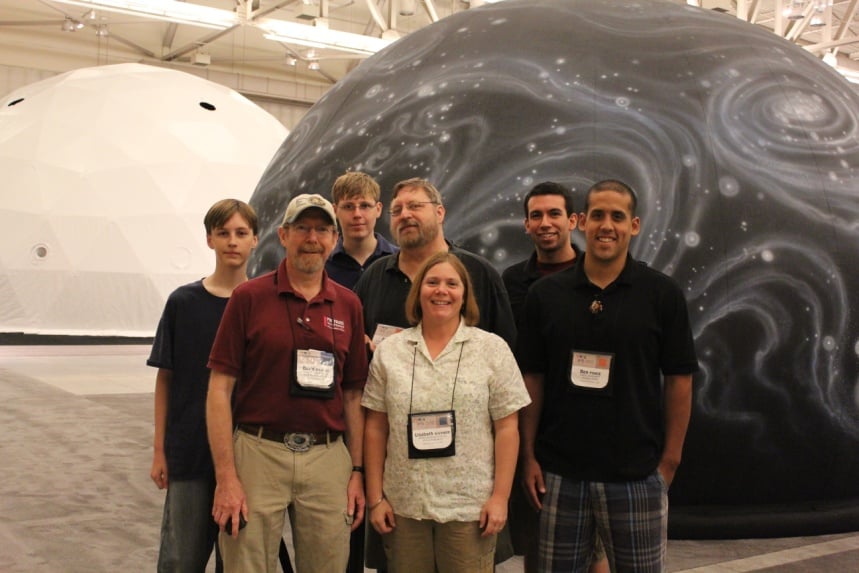 Levi Martinez, Ben Ponce, and Lisabeth Kissner also went to the 2012 International Planetarium Society Conference in Baton Rouge, Louisiana. The conference included showcases of state-of-the-art planetarium projection equipment as well as planetarium production techniques and educational astronomy curricula.
Group picture of past, present and future planetarians at the Northcountry Planetarium: Plattsburgh Alumnus Dave Maness (Supervisor of the Sharpe Planetarium), Plattsburgh Alumnus Jon Bell (Director of the Hallstrom Planetarium), Lisabeth Kissner (Director of the Northcountry Planetarium), Levi Martinez (student) and Ben Ponce (Planetarian at the Northcountry Planetarium).
SUNY Plattsburgh Physics Club
---
The Physics Club allows you to meet other physics majors, and interact with them in ways that makes learning fun. Take part in informal engineering projects, or attend a professional meeting of physicists — all part of club activities.
The Physics/Pre-Engineering Club has a workshop dedicated to their use for building the projects listed below. Students using wood working power tools take a safety training course prior to working in the Workshop. You can see the workshop on the physics facilities page.
Help Build a Medieval Siege Engine!
Every year the club starts off the fall semester by building a trebuchet (a bit like the catapults you've seen in The Lord of The Rings movies). Instead of attacking castles with it, members of the club use it to chuck pumpkins! That's right. Every year for the past three years the Club has entered the Vermont Pumpkin Chuckin' Competition in Cambridge, Vermont.
Here's our first group of chuckers. In 2010, on the first try they came in third in the Middleweight Division. It was a good start as the club has placed 2nd and 1st over the past two years.
Trebuchets need constant care. To the left you can see Jordan Flagg (on right, a physics major) working with Dr. Ken Podolak (Physics Club advisor) to replace a broken axle on this year's trebuchet.
This design (below) ended up winning 2nd place when it launched a 1 pound pumpkin over 200 feet this past October, 2012 (Dr. Ken Podolak, Club Advisor, 2nd from left, Dr. Mike Walters, Assistant Professor, 4th from right).
Onward and upward! Design has started for the next trebuchet as we plan for the fall 2013 competition.
How about electric vehicles?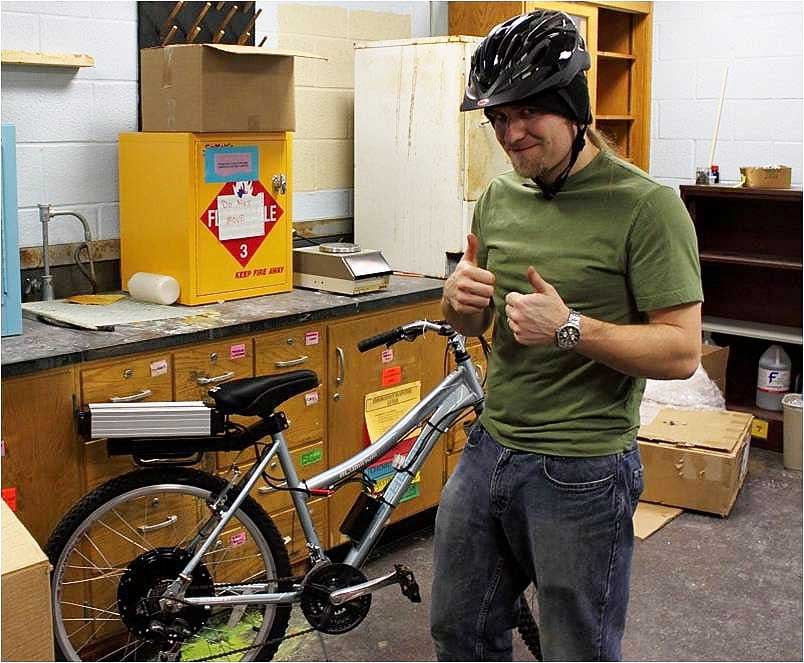 Club members are also involved in building electric vehicles to demonstrate the utility of alternate energy. They started in 2011 with the electric bicycle which you can see to the left. That's club president Tobey Betthauser getting ready to take the electric bike out for a ride.
The new electric vehicle project is our electric car. To the left undergraduate physics majors Jerry Senecal and Justin Collins are checking out and organizing the parts for the e-car.
On the right, Justin Collins, Jerry Senecal, Jordan Flagg, and Ashley LeVasseur check to make sure the pieces of the eCar fit nicely into the frame. Once they're sure, Jordan and Ashley start the assembly by securing the front wheel (below left).
How about Robotics?
Dr. Mike Walters has just introduced a new course, PHY379 Introduction to Robotics, and students will be able to either work with him (see the faculty research page), or as a part of Physics Club projects design their own robots.
Travel To Meetings
The club also helps to arrange for trips to professional meetings. Here's a group of Plattsburgh State physics majors just about to head out for the American Physics Society Sectional meeting in New York. Dr. Ken Podolak led the trip which also included a stop at the RPI campus to allow students in the engineering 3 + 2 program to get a sense of what the future holds in store for them.
Sam Wagner (3rd from left) presented a research poster at the meeting, entitled: "Plasmon Transition Energies of Manganese Doped Nickel." Sam's poster, based on research conducted with Dr. Podolak, was awarded 1st place for student research at the meeting.