Jump to Footer
Jaine Perotti, Class of 2022
---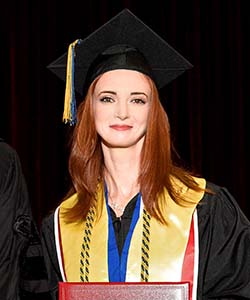 Junior Robotics Engineer, Greensea Systems, Inc.
B.S. in Robotics, B.A. in Physics, SUNY Plattsburgh
"I am a non-traditional student who came to SUNY Plattsburgh after taking a number of years off from college. I had previously majored in ocean engineering at another university with a focus on underwater robotics and was devastated when I had to pause my studies. I struggled to find professional and intellectual fulfillment with only a high-school diploma, and money was tight while I worked a series of low-paying jobs outside of my field of interest.
"I moved to Plattsburgh when I took a job as an electrical technician at a local manufacturing plant. I had no idea at the time that SUNY Plattsburgh had recently added the robotics major to their list of degree programs. After a close friend of mine told me about the program, I decided that now was the time to think about returning to school and pursuing my dreams. I attended the fall open house, and right away, Dr. Michael Walters made everyone at the session feel welcome — his energy and passion for robotics was immediately apparent! I walked away from the open house knowing that SUNY Plattsburgh's robotics degree program was the right choice for me.
"I have enjoyed learning about computer vision, controls systems, motion-planning algorithms, and robot kinematics. Our hands-on robotics labs have allowed me to gain a deeper understanding of theoretical concepts and prepare me to apply robotics and physics to real-world problems. I was also able to earn college credit for a two-semesters-long internship at a local company in which I gained experience working with industrial robots and solving real-time challenges in the workplace. Now, I am incredibly thrilled to say that I will be starting my dream job as a robotics engineer for a company which specializes in cutting-edge underwater technology! I feel well-prepared to begin this job as a result of completing the robotics and physics programs. I owe all of this to the incredible mentorship of professors such as Dr. Walters, Dr. Lamsal, Dr. McCullen, and Dr. Podolak, who were always welcoming, knowledgeable, and available to help.
"I offer special encouragement to other non-traditional students out there who love science, math, and physics, but never got around to finishing their degree. It is never too late to pursue your dreams! Thanks to the robotics and physics programs at SUNY Plattsburgh, I feel like I have a bright future again — and you can too."
Jonathan Sinopoli, Class of 2021
---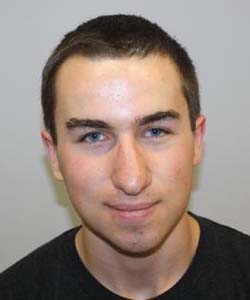 M.S. in Mechanical Engineering, University of Alabama
B.A. in Mathematics, B.S. in Physics, SUNY Plattsburgh
"I thoroughly enjoyed the varied classes offered within the physics department. There were analytical classes for those looking to continue in the physics field and application-based/engineering classes for those interested in engineering and robotics. A majority of the physics faculty do research and offer extracurricular opportunities for students to get involved. I found that the faculty was very flexible with the class material and willing to work to our interests. I also had the privilege of being a teaching assistant with Dr. Podolak and doing independent research with Dr. Lamsal on hybrid-halide perovskites. Both experiences strengthened my knowledge of physics and allowed me to learn beyond the typical curriculum.
"I am currently finishing up my master's of science in mechanical engineering and after I graduate I will start my job as a casting engineer for GE Power where I will be refining the casting process for gas turbine blades.
"Because of my experience within the SUNY Plattsburgh physics department, I will have a whole set of analytical and mathematical tools to solve real-world problems and approach concepts differently from typical engineers."
Almas Purisic, Class of 2020
---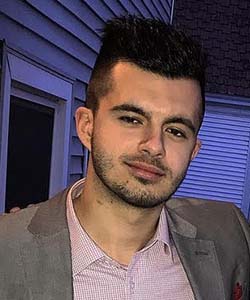 M.S. in Mechatronics and Robotics, New York University
B.S. in Robotics, Physics SUNY Plattsburgh
"In the fall of 2016, I committed to SUNY Plattsburgh for its acclaimed physics curriculum and dedicated faculty. Concluding my physics degree with the intention of beginning my mechanical engineering degree elsewhere, I was offered the opportunity to trailblaze a new robotics program in the spring of 2018 by professor Walters.
"Transitioning from the thermal equations and quantum mechanics of physics to the fundamentals of programming and robotic hardware design was challenging yet exciting. The robotics B.S. program — being the only one in New York state and one of only 19 programs nationwide — truly advanced my knowledge of robot navigation, exoskeletons, and human-robotic integration for people with disabilities or going through physical rehabilitation.
"Now, I am currently pursuing a M.S. in mechatronics and robotics at New York University. The physics and robotics department at SUNY Plattsburgh excelled in providing me with a solid foundation of technical and professional skills at the bachelor level. From that skill set, I have been able to become an administrator at NYU Stern School of Business as well as become an adjunct instructor for NYU's physics department, alongside the robotics and entrepreneurship courses that I am currently taking. While these tasks at the graduate level have been demanding, I would like to thank Dr. Walters, Dr. Podolak, and Dr. Lamsel and the entire physics and robotics department at SUNY Plattsburgh for providing me with the expertise I needed."