Jump to Footer
Tyzara Robinson
---
A Home Away From Home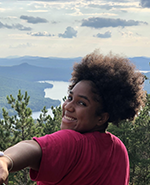 I came to SUNY Plattsburgh from Brooklyn, New York, and I can say that my time here has included some of the best years of my life. I have achieved academic and professional success I never thought I could reach. As a freshman, I didn't know what I wanted to do with my life, and unsure of how to define my academic interests. I started taking history courses in my first semester to satisfy my general education requirements. I thought these classes would be dull, but after my first history class I was hooked. Not only were the courses challenging, but they were always teaching me new things. I was excited to go to class every day and the assignments were just as rewarding. These classes convinced me that this was where I was meant to be.
After I declared my major, the department began to feel more and more like home. I was able to meet some of the kindest and most intelligent people, who helped me sharpen my skills and helped me learn the importance of maintaining a professional relationship. These professors were always the most understanding and supportive. Coming from an inner-city school you become accustomed to being seen as a number rather than a person. But the faculty in the history department always made me feel seen and heard regardless of the issue. I was even encouraged to take other courses as electives to broaden my horizons here at the university. The faculty here always goes out of their way to help and push students to strengthen their skills and do better.
As I conclude my time here at Plattsburgh and look forward to a professional career, I am eternally grateful to the history faculty for preparing me and bettering me as an individual overall.
Veronica Marchello
---
Hidden Gem
From the beginning of my college search, I knew I wanted to attend a SUNY college, and Plattsburgh had made my shortlist. Then I had a conversation with a Plattsburgh representative at a college fair. I told her I wanted to major in history and after our conversation, I decided to come to Plattsburgh. Doing so has been one of the best decisions of my life. I see Plattsburgh as a hidden gem. People who know about it love it.
If you are willing to work hard at Plattsburgh, you will find a great education here. I have found this to be especially true in the history department. I continue to be impressed by how knowledgeable the members of the history faculty are. They hold students to a very high standard, and are willing to help students reach this standard by being extremely approachable and helpful outside of the classroom. My upper level history classes have included classes on U.S. Foreign Policy, the Cold War, and Europe from 1914 to 1939. My educational experience has been enhanced by all three of these classes. I have also completed an independent study on American Wartime Presidents with another history student and a member of the faculty. The experience of creating a syllabus, pacing my own reading and writing, and having regular discussions about the material with our faculty adviser was a truly unique experience. I have always loved history. My Plattsburgh experience has allowed me to pursue my passion with a world class faculty and an amazing group of fellow students.
Bridget Gravel
---
Learning About the Past to Begin My Future
I came to Plattsburgh after transferring from another college my first year and I could not be more happy with my decision. Plattsburgh is the perfect mix of small town comfort and big city activity, which is nice because I come from a small town in the North Country. My major is history education and both departments are excellent. I decided that I wanted to be a history teacher because history is a subject that can have many perspectives, and because understanding the past is important to understanding events today. The Plattsburgh History Department only solidified my choice to become a history teacher. The professors here are what I strive to be — passionate, helpful, and genuine. Also, the courses offered in history here are diverse so you can find classes that meet your interests easily. I came to Plattsburgh with a fuzzy goal in mind, but the History Department truly showed me where my potential is and cemented by dream of teaching history.
Adam Saccardi
---
History tops the rest
I am triple majoring in history, political science, and economics. I enjoy all three of them and wouldn't want to get rid of any one. But, history is my true passion, it is the only major which I entered Plattsburgh with any intention of pursuing. The others came only once I had spent some time here taken some classes. The three make a nice variety.
Despite the two other majors, history remains my favorite field. This is simply because I have always loved looking back at the past and trying to understand why things happened the way they did, and how those things relate to the way we live today. It also doesn't hurt that the professors in the department have proven to be among the best on campus. I have been privileged in that I have not had a bad professor yet, from any department, but my history professors have been outstanding. They always show their enthusiasm for what they're teaching and share that enthusiasm with their students. They are a big part of the reason I so enjoy being here at Plattsburgh. I am looking forward to continuing my education in all my majors, but particularly history.
Gary Peacock
---
New Horizons
Gary Peacock retired from the retail music business in 2006, having owned and operated an independent record store in Plattsburgh for 25 years. After two 1,000 kilometer solo bike tours in France in 2007 and 2008 followed by an Adirondack Park Blue Line tour in 2009, Gary decided to pursue a degree in history with a focus on the Adirondacks. He is the first student at SUNY Plattsburgh to pursue a minor in Adirondack Studies, which he designed as part of the Individualized studies program. Gary spends most of his free time in the Adirondacks and is excited about the prospect of enhancing his outdoor activities with a deeper knowledge and understanding of the region from an historical and environmental perspective.
Lance Paradis
---
Good Fit
My experience at SUNY Plattsburgh, so far, has been intellectually stimulating. The history department is full of excellent, motivated and enthusiastic educators who instill their passion for history into their students. I am grateful to the professors of the history department. The professors are all very approachable. As a freshman this was key to my experience at SUNY Plattsburgh. Coming from the small town of Schroon Lake, I graduated with around 20 students, so every teacher K–12 knew who you were and were always available to talk to. Coming into college with thousands of other students, it was really important to me that I was able to strike up working relationships with my professors. I highly recommend SUNY Plattsburgh's history program to any incoming freshmen.