Jump to Footer
Rockwell Kent Collection
---
The Rockwell Kent Collection is the most complete and balanced collection of Kent's work in the United States. The acceptance of Shirley (Sally) Johnstone (Kent) Gorton's, third wife of Rockwell Kent, initial gift to the college in 1974 began a process which culminated in the official dedication of the Plattsburgh State Art Museum in 1989. An additional gift from the estate of Sally Kent in 2000 and gifts from other generous donors have become the cornerstone of the growing art collection of Plattsburgh State Art Museum. The collection was originally envisioned by the artist himself and the then president of the college, Dr. George Angell. Other donors to the collection include: Dan Burne Jones, George Spector, Seward W. Pulitzer, Dr. James Chingos and Tom Della Donna.
The Kent Legacies generously donated an outstanding collection of first edition books written and/or illustrated by Rockwell Kent. Perhaps the most spectacular first edition is the Lakeside Press three volume Moby Dick which is in mint condition and housed in the original shipping box. At least one copy of all of Kent's major book work is represented in the collection and the ephemera contains a fine cross section of handsome posters, bookplates, logos, letterheads, book announcements, Christmas cards, exhibition catalogs and American-Soviet friendship material.
The Kent Gallery and the Feinberg Library afford an unusual resource to scholars of twentieth century American art. The Rockwell Kent Collection portrays Kent's growth as an artist, as well as his varied interests of a humane and political nature.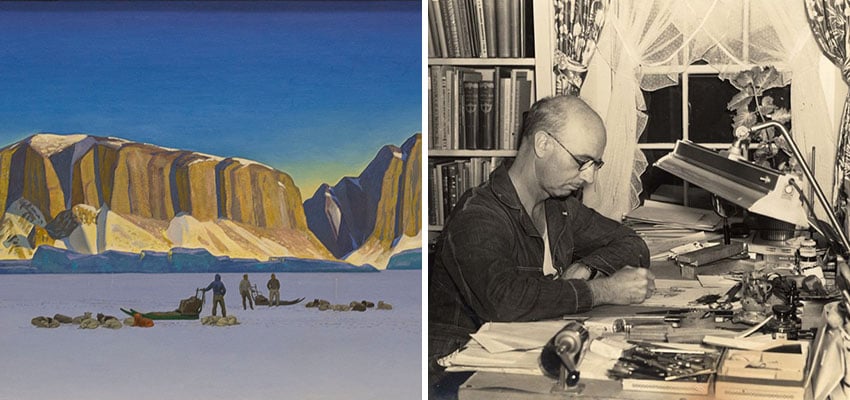 The Rockwell Kent Gallery
---
Located on the 2nd floor in the Feinberg Library building, SUNY Plattsburgh's Rockwell Kent Gallery showcases Kent's paintings, prints, illustrations and other artwork. The gallery has the most complete and balanced collection of Kent's work found in America. It is part of the Plattsburgh State Art Museum which has changing exhibitions throughout the year. Recently, we Celebrated the Spirit of Rockwell Kent.
The Kent Collection in Special Collections
---
In 1974, Sally Kent Gorton presented SUNY Plattsburgh with a representative collection of Rockwell Kent's works that became the foundation for the college's Rockwell Kent Collection. In 2000, she donated additional items to the collection, which are referred to as the "Kent Legacies" materials.
Kent manuscripts, imprints and other ephemera are housed in Special Collections in Feinberg Library. Archival Kent materials are located in the Rockwell Kent Special Collections. For copyright and permissions information, please see below.
The Rockwell Kent Review
---

The Kent Collector was founded in 1974 by George and Gladys Spector. Its successor, The Rockwell Kent Review, is an annual journal, published under the auspices of the Rockwell Kent Gallery and the Docent Program of the Plattsburgh State Art Museum, State University of New York. It is devoted to the life and work of Rockwell Kent and American art from the first half of the twentieth century.