Jump to Footer
Rockwell Kent Collection
---
The Rockwell Kent Collection is the most complete and balanced collection of Kent's work in the United States. The acceptance of Shirley (Sally) Johnstone (Kent) Gorton's, third wife of Rockwell Kent, initial gift to the college in 1974 began a process which culminated in the official dedication of the Plattsburgh State Art Museum in 1989. An additional gift from the estate of Sally Kent in 2000 and gifts from other generous donors have become the cornerstone of the growing art collection of Plattsburgh State Art Museum. The collection was originally envisioned by the artist himself and the then president of the college, Dr. George Angell. Other donors to the collection include: Dan Burne Jones, George Spector, Seward W. Pulitzer, Dr. James Chingos and Tom Della Donna.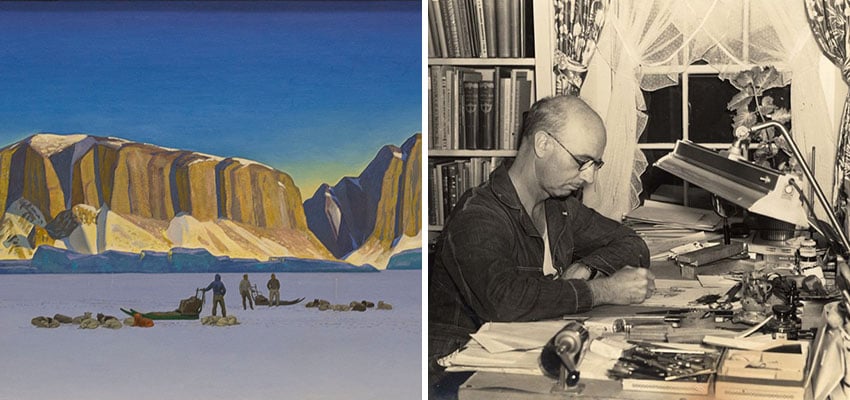 The Rockwell Kent Gallery
---
Located on the 2nd floor in the Feinberg Library building, SUNY Plattsburgh's Rockwell Kent Gallery showcases Kent's paintings, prints, illustrations and other artwork. The gallery has the most complete and balanced collection of Kent's work found in America. It is part of the Plattsburgh State Art Museum which has changing exhibitions throughout the year. Recently, we Celebrated the Spirit of Rockwell Kent.
The Rockwell Kent Mini Symposium 2023
---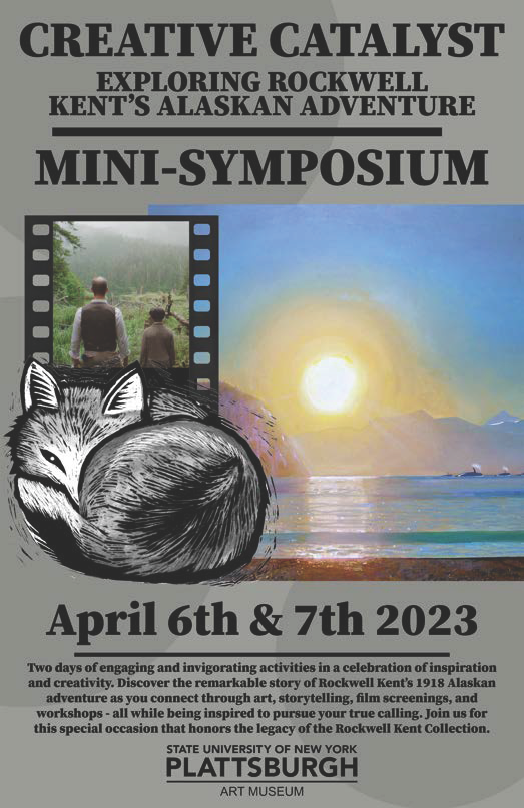 Creative Catalyst: Exploring Rockwell Kent's Alaskan Adventure
Thursday, April 6 & Friday, April 7
Two days of engaging and invigorating activities in a celebration of inspiration and creativity. Discover the remarkable story of Rockwell Kent's 1918 Alaskan adventure as you connect through art, storytelling, film screenings, and workshops — all while being inspired to pursue your true calling. Join us for this special occasion that honors the legacy of the Rockwell Kent Collection.
Click for additional details and schedule
View Rockwell Kent Symposium Recordings
---
Meet the Presenters
Claudia McGehee: "Wilderness: A Rockwell Kent's Alaska Inspired Picture Book Making Adventure"
Doug Capra: "The Turbulent Genesis of Rockwell Kent's Wilderness"
The Kent Collection in Special Collections
---
In 1974, Sally Kent Gorton presented SUNY Plattsburgh with a representative collection of Rockwell Kent's works that became the foundation for the college's Rockwell Kent Collection. In 2000, she donated additional items to the collection, which are referred to as the "Kent Legacies" materials.
Kent manuscripts, imprints and other ephemera are housed in Special Collections in Feinberg Library. Archival Kent materials are located in the Rockwell Kent Special Collections. For copyright and permissions information, please see below.