Jump to Footer
Visit Plattsburgh State Art Museum
---
The museum maintains extensive individualized educational programs for college classes, internships and area schools, K–12. Special gallery talks and tours by appointment for local and visiting groups on both the permanent collection and changing exhibitions.
Plattsburgh State Art Museum COVID-19 Response

---
The Plattsburgh State Art Museum (PSAM) is temporarily closed to the public due to the state of emergency in New York. All exhibitions will be suspended and events, ongoing activities and educational programming have been cancelled or postponed. Administrative offices are also closed, though many staff are checking voicemail and e-mail.
The museum has not scheduled a date for reopening, but will closely monitor the situation and continue to follow recommendations of state and federal health officials.
Thank you for your understanding and support. The safety of our visitors, staff and volunteers at The Plattsburgh State Art Museum is always our top priority.
Admission
---
There is no admission charge. Plattsburgh State Art Museum is free and open to the public.
Visitor Parking on Campus
---
Visitor parking lots are located in front of Kehoe Administration and Yokum Hall. Parking in front of the Myers Fine Arts Building is restricted to faculty, staff, and students from Monday–Friday from 6 a.m. to 5 p.m. After 5 p.m. on weekdays and anytime on weekends, museum visitors may use any of the parking areas on campus.
Not sure how to find your way around campus? Get directions to the museum.
Download and print out this hi-resolution Walking Map of the SUNY Plattsburgh Campus to help you find your way around campus.
Accessibility
---
The Plattsburgh State Art Museum welcomes all visitors. In addition to meeting the standards of physical accessibility, the museum also offers events and programs to accommodate all audiences.
The Docent Program
---
The Museum Docent Organization is a group of volunteers who maintain the museum desks and gift shop, host tours, research, publish, travel and assist the staff with clerical needs related to the function of the museum.
The Docent Program is exceptionally valuable to the museum. All are welcome to join. The number of docents averages around 40. A fifteen-week training program is given to all docents as well as other educational development activities which are conducted during the year.
Friends of Art Annual Giving
---
As a Friend of Art you will become involved in the leading cultural institution serving citizens from Montreal to Albany. Your contributions will be used to promote the museum's art to our community, and preserve our unique collection. You will receive invitations to all museum events including: lectures, opening receptions, Friends of Art luncheons, artist's studio visits and art related trips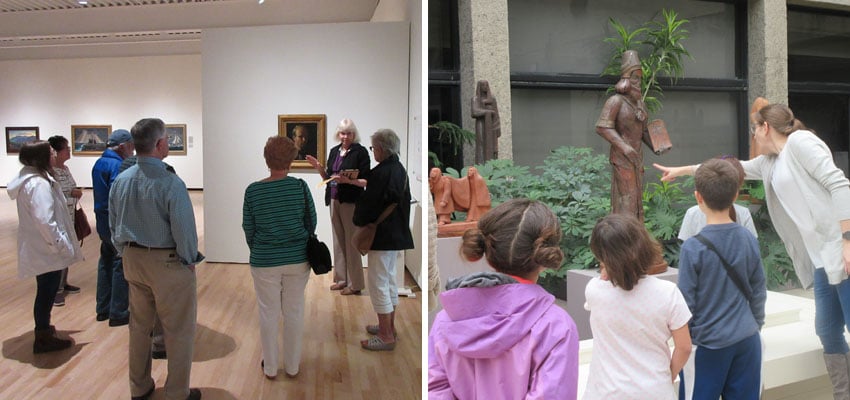 Become a Friend of Art
---