Jump to Footer
Exhibitions
---
Venues include the Rockwell Kent Gallery located in the Feinberg Library as well as the Burke Gallery and Myers Lobby Gallery located in the Myers Fine Arts building.
ORIGINS: The Evolution of an Artist & His Craft
---
Selections from the Rockwell Kent Collection Curated by Scott Ferris
November 8, 2022 – August 11, 2023
Location: Kent Gallery, 2nd Floor Feinberg Library
Reception: Thursday, December 1, 5–7 p.m.
Gallery Talk: Friday, December 2, 11 a.m.
Scott Ferris first came to the campus of SUNY Plattsburgh as a sophomore in the autumn of 1976. Shortly after studying abroad — Italy and Denmark — the following two semesters, he returned to campus, fulfilling the request of the new museum director, Edward Brohel, to catalogue and label the budding Kent Collection. Subsequently, Ferris was hired by Kent's widow, Sally, to serve as director of The Rockwell Kent Legacies (1980–1982). Here he labeled much of the artwork that would make its way to Plattsburgh following Sally Kent Gorton's death (2000).
Since Ferris's tenure at the Kent estate, he has consulted on the artist's work for auction houses, museums, galleries and private collectors. His catalogue of Kent's 1960 gift of artwork to the (former) Soviet Union, Rockwell Kent's Forgotten Landscapes (Ferris and Pearce. 1998), and his position as guest curator for the Adirondack Museum exhibition (now ADK-X), The View from Asgaard: Rockwell Kent's Adirondack Legacy (1999–2000) — the first time artwork from the 1960 gift returned to the United States — has earned him international recognition as a leading authority on the artist's artwork and life.
Ferris last curated an exhibition for Plattsburgh State Art Museum in 2002 — Generations: The Artistic Heritage of Rockwell Kent (the exhibition later traveled to the Frye Art Museum in Seattle). The Rockwell Kent Collection at SUNY Plattsburgh is one of the most comprehensive selections of the artist's work in the world — paintings, drawings, prints, personal photographs, ephemera, books, films, and letters, all housed at Plattsburgh State Art Museum and the Benjamin F. Feinberg Library's Special Collections.
From this exhaustive collection guest curator Scott Ferris has selected a variety of work, in a variety of media, to show how Kent and his craft matured. The audience will view artwork from Kent's childhood years to his last endeavors and witness how an idea developed from sketches to finished compositions, through procedures that, in today's computer age, are no longer in use: color separations and hardcopy proofs. Visitors will observe paintings — Kent's first love — as well as drawings, prints, fabrics, dinnerware, and books with examples of what he considered his "potboiler" work (commercial commissions) that supported his global travels as well as his dairy farm, Asgaard.
Donna Ferrato: Behind Closed Doors
---
September 8 – December 9, 2022
Location: Feinberg Library 208 (Deep Quiet Area)
Reception: Thursday, September 8 from 4 p.m. to 6 p.m. in the lobby between Deep Quiet Room and Kent Gallery
Donna Ferrato is an internationally acclaimed photojournalist known for her groundbreaking documentation of the hidden world of domestic violence. Her seminal book Living With The Enemy went into four printings and, alongside exhibitions and lectures across the globe, sparked a national discussion on sexual violence and women's rights. In 2014, Ferrato launched the I Am Unbeatable campaign to expose, document, and prevent domestic violence against women and children through real stories of real people.
Contemplate this: There are countless women in prison whose sole crime was to protect themselves and their children from murderous husbands or boyfriends. Many things are shocking about family violence, but none more so than the fact that women are behind bars for trying to save their own lives. ~Donna Ferrato
Past Exhibitions
---
Joe Remillard: Adirondack Visions
---
June 7 – August 5, 2022
Location: Burke Gallery, John Myers Building
Reception: Friday, June 10, 2022 5 to 7 p.m.
Gallery Walkthrough with Joe Remillard: Saturday, June 11, 2022 1 to 2 p.m.
The Plattsburgh State Art Museum is pleased to host the work of contemporary realist, Joe Remillard. Joe is a native of Peru, New York currently living in Georgia where he is a professor of drawing and painting at Kennesaw State University. Although he practiced law for several years in New York, his desire to create art led him to return to school to earn an M.F.A. Degree.

Since then, Remillard's work has been recognized by various international and national realist organizations. Including the ARC Annual International Salon and the Portrait Society of America. His work has also been featured on the cover of International Artist Magazine and in a feature article in America Artist Magazine.

The people and places he paints are ones with which he has a personal connection. Many of his works have a narrative, and in all of his pieces he strives to capture a sense of beauty. He is attracted to images which have a distinctive sense of light and is inspired by various American realists including the Wyeth family and Homer.
Echoes of Mesoamerica
---
A Look at Consumable Art & Their Ancient Counterparts
June 7 – August 5, 2022
Location: Slatkin Gallery, John Myers Building
Closing Reception: Thursday, August 4, 2022 5 from 4 p.m. to 5 p.m.
This exhibition juxtaposes gift-shop replicas with to-scale photographs of the archaeological artifacts they mimic, opening up conversations around visibility, ownership, misinterpretation, and appropriation of cultural artifacts. Viewers are also challenged to compare gesture, ornamentation, proportion, material, and consider why decisions were made that might result in a loss of fidelity when translating to a memento.

Guest co-curator, Dr. Justin Lowry is an assistant professor of archeology and the program coordinator of the Latin American studies program at SUNY Plattsburgh. His is focused on the archaeology of trade, exchange, and the development of societies in Mesoamerica. Co-curator Walter Early is an artist and the museum preparator for the Plattsburgh State Art Museum. His work includes large scale sculpture, casting, ceramic pieces, and large format drawings.
2022 B.F.A. Senior Exhibition
April 9 – May 21, 2022
Location: Myers Lobby Gallery and Joseph C. and Joan T. Burke Gallery
The Plattsburgh State Art Museum is pleased to present this year's B.F.A. Virtual Thesis Exhibition. This exhibition features work created by graduating Bachelor of Fine Arts students in the SUNY Plattsburgh Department of Art. This represents the culmination of each undergraduate student's experience of developing a body of work. The exhibition features student work from a variety of studio areas: ceramics, drawing, graphic design, painting, photography, printmaking and sculpture.
For more on the B.F.A, please visit the B.F.A Senior Exhibition page.
North by Nuuk: Greenland After Rockwell Kent
February 1 – March 11, 2022
Location: Burke Gallery
North by Nuuk is an intimate, contemporary look at the people and the social and primal geographic landscapes of Greenland. Photographer Denis Defibaugh presents his journey from Nuuk to the settlement of Illorsuit, 300 miles north of the Arctic Circle, following Rockwell Kent's earlier footsteps and offering a fresh look at timeless Greenland. Learn more about North by Nuuk: Greenland After Rockwell Kent at the Burke Gallery.
Rockwell Kent's Greenland
February 1 – March 11, 2022
Location: Slatkin Gallery

This companion exhibit features original works completed by Rockwell Kent during his time in Greenland, interviews with current Illorsuit residents conducted by Denis Defibaugh, hand-tinted lantern slide images and ephemera made during his residence in Greenland. The majority of these works are generously on loan to us from private collections.
Pursuing Beauty in Bewilderment at its Profusion: Reflections on Gender & Sexuality in Rockwell Kent's Greenland Materials
Susan Vanek & Jette Rygaard
Location: Yokum Room 200
When: Friday, March 4 from 3 – 4 p.m.
The paintings, writings, and other artistic materials produced by Rockwell Kent during his time in Greenland are some of his most iconic works, displaying vast, mountainous expanses as well as intimate glimpses into quotidian. At a time when travel to the island was highly restricted, these works provide insight into not only the history of the island but often-unseen everyday life and activities. However, it must be remembered that the materials Kent produced are situated within a particular time, place, and perspective, produced by a visitor to Greenland, and, while beautiful, offer a subjective view of life in the country.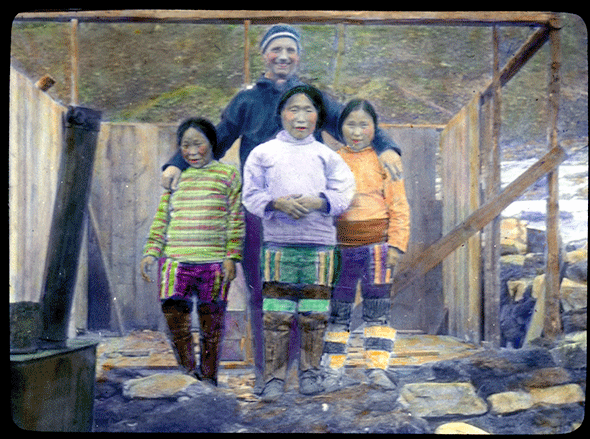 This presentation explores the representation of gender and sexuality in Kent's Greenland works, focusing on the depiction of women as "beautiful and unmoral", caretakers of men and objects of desire. Revealing far more about norms in the United States in the early 20th century than understandings of gender and sexuality in Greenland at the time, Kent's descriptions nonetheless fit well within a broader common narrative that positioned Indigenous women as knowable and childlike but also exotic — a trope in which constructions of gender and sexuality were key and continues to permeate representations of Arctic Peoples today. This presentation interrogates these representations and their lasting legacy as well as our role as researchers when approaching such one-sided historical accounts.
Watch: Pursuing Beauty in Bewilderment at its Profusion
New Light on the Friendship Between Rockwell Kent & Knud Rasmussen
Erik Torm
Location: Online
When: Friday, March 4 from 5 – 6 p.m.
Author of When the Colour Ceases to be Just a Color| Rockwell Kent's Greenland Paintings
Research Fellow Uummannaq Polar Institute
Knud Rasmussen was a famous Danish polar explorer and anthropologist. He has been called the "father of Eskimology" and was the first European to travel the entire Northwest Passage via dog sled. He was the son of a Danish missionary, the vicar Christian Rasmussen, and an Inuit–Danish mother, Lovise Rasmussen. Although never formally educated, Rasmussen's contributions to anthropology and polar exploration are recognized by academic authorities worldwide. He died having recorded and documented vast knowledge about the native people of the Arctic.
I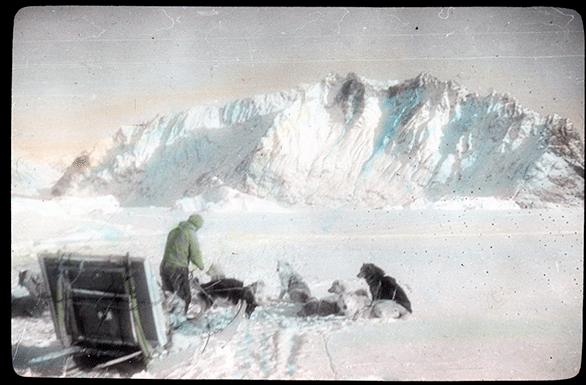 n the archives of the Royal Library in Copenhagen are some handwritten letters from Kent to Peter Freuchen and Daugaard-Jensen, which only a few have been aware of. The lecture is about the content of these letters.
Watch: New Light on the Friendship Between Rockwell Kent & Knud Rasmussen