Jump to Footer
Exhibitions
---
Venues include the Rockwell Kent Gallery located in the Feinberg Library as well as the Burke Gallery and Myers Lobby Gallery located in the Myers Fine Arts building.
POP for the People
---
February 15 – March 12, 2021
Location: Burke Gallery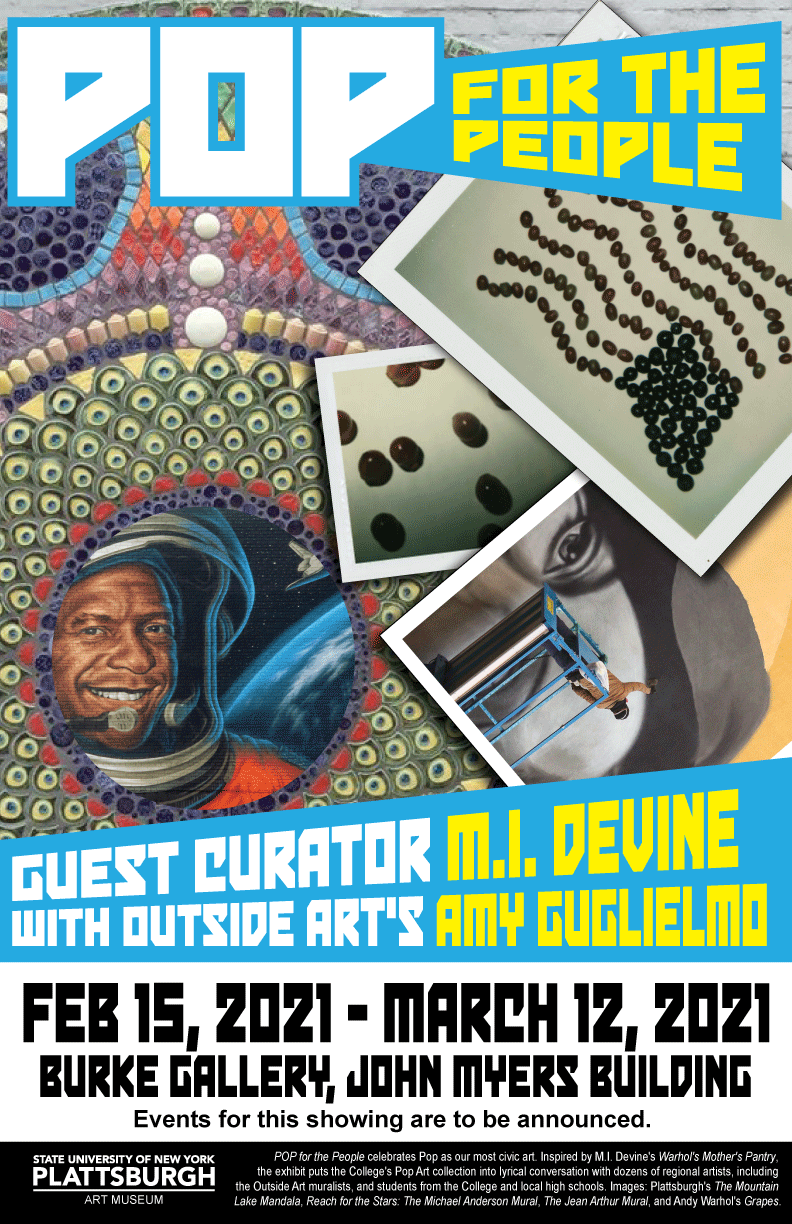 POP for the People celebrates pop as our most civic art, mapping the surfaces we share, and the startling human depths we find there. Inspired by and interwoven with the lyrical text of SUNY Plattsburgh English professor M.I. Devine's Warhol's Mother's Pantry, the exhibit offers an inclusive, redeeming and multi-generational vision of pop. Through startling juxtapositions and thematic rhymes with regional artists, Pop for the People shines a new light upon Warhol and others in the college's extensive pop collection.
Curated by Devine and Amy Guglielmo (artist, author, teacher and co-founder of Outside Art: The Plattsburgh Public Art Project), the exhibit draws widely upon the work of SUNY Plattsburgh student artists and filmmakers past and present; Outside Art muralists; Saranac high school students; and the work of the Art Detectives (a N.Y.-based art collective fostering the talents of neurodivergent students). At once playful and profound, the exhibit details pop's urgent pursuit to find new depths, new meaning in the surfaces of things. If pop is more superficial than we can take, POP for the People suggests that it's also deeper than we might ever suspect. POP for the People: a reminder — in this moment of isolation — to look upon our world anew and see how each one of us is connected, no matter how far apart.
Pop Art Party — February 20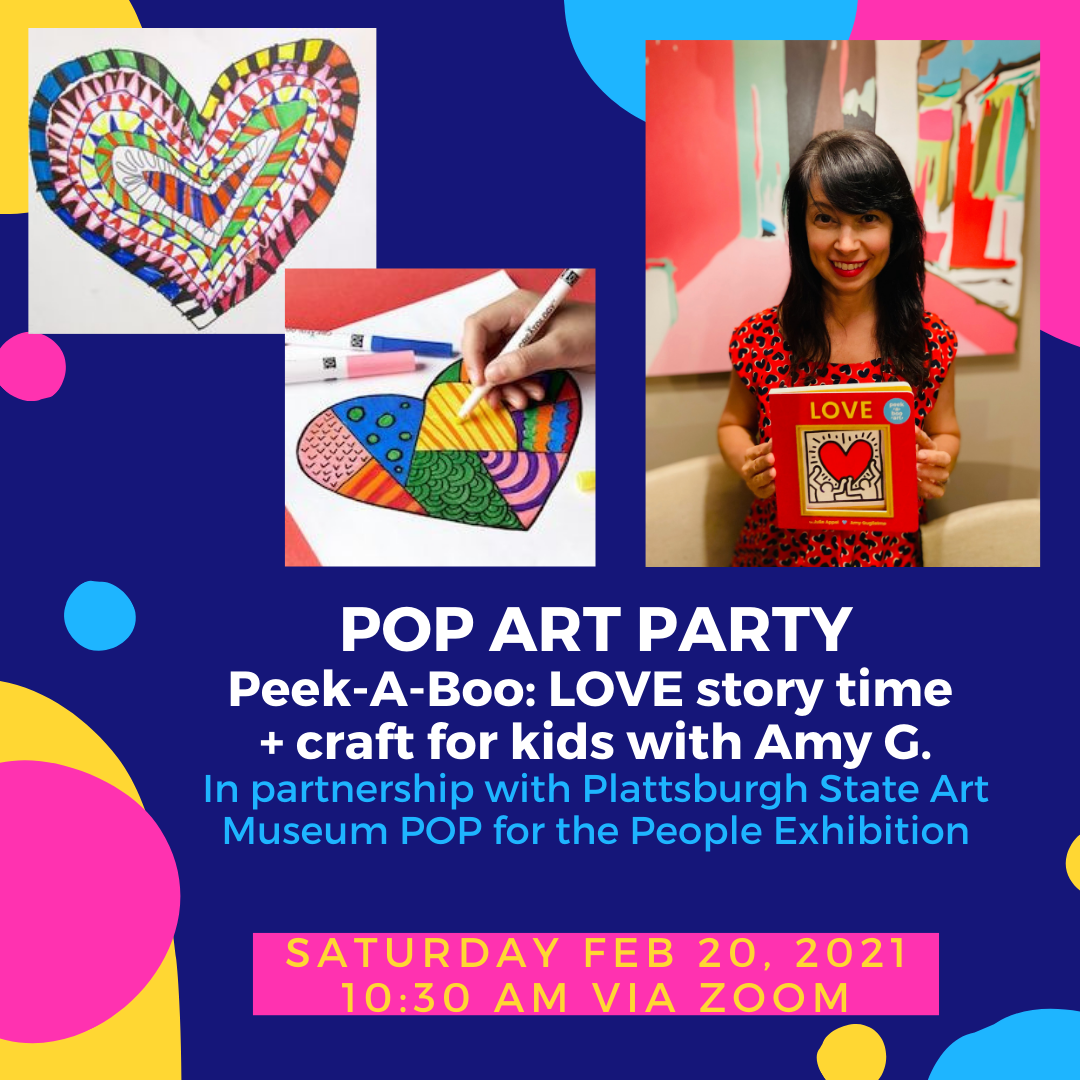 POP ART PARTY story time and craft activity for kids hosted by author and art educator Amy Guglielmo. Tune in on Zoom for a fun, colorful children's event. Bring paper and crayons — make some patterned pop-art hearts. Saturday, February 20 at 10:30 a.m. All ages welcome.
To join the fun, please access via Zoom!
POP Talks: Conversations on Art & Culture — February 22
Coney Island Fables: The Films of Vagabond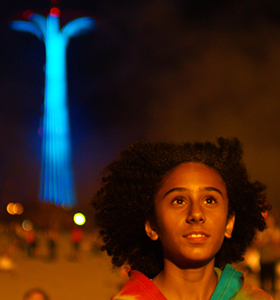 What is more pop than Coney Island? From Joseph Stella to Lawrence Ferlinghetti, artists have long found a pop muse in the amusements of Coney Island.
In this Zoom screening and discussion (with Pop for the People curator M.I. Devine), the indie filmmaker and artist Vagabond will speak about Coney Island, and its place in his series of short films Coney Island Fables.
Brooklyn born and borough raised, Vagabond began his career in film working on Spike Lee's Do The Right Thing and has gone on to create works addressing topics such as the Puerto Rican Diaspora (Machetero) and the Nuyorican poets (All Roads Lead to the Fire Escape). A multidisciplinary pop artist, Vagabond has created murals, posters, pamphlets and political art in conjunction with the Ricanstruction Netwerk.
Join the conversation via Zoom, Mon. Feb. 22 from 6 – 7:30 p.m.
Watch Coney Island Fables on Vimeo
Adirondack Visions
---
June 1 – August 13, 2021
Location: Slatkin Gallery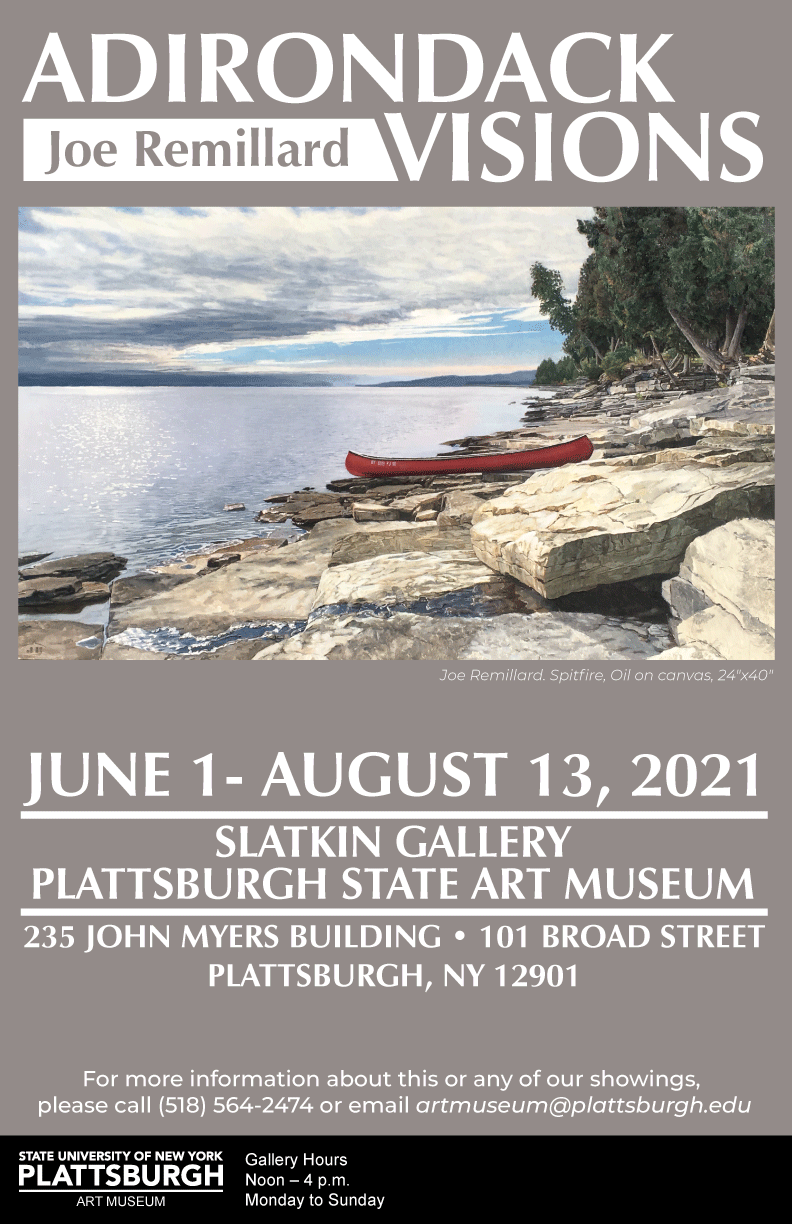 Joseph Remillard is a professor of drawing and painting at Kennesaw State University. Having taught at KSU for 20 years, Remillard's love of teaching comes from learning from his students and being around others who have a similar passion for art.

Atlanta, Italy and the Adirondacks are recurring locations in his paintings. He says his Adirondack paintings are of the people and places in the North Country with which he has a personal connection. Recurring themes can be found in depictions of his family's farm located in Peru, the relatives who work the farm, and Silver Lake, located not far from Rockwell Kent's Asgaard. Each of Joe's paintings tells a story of a time and a place. He tries to be very accurate in his representation of the person or scene. This is his way of honoring the subject, of, in a sense, elevating it to something sacred. Joe grew up in the North Country and moved to Atlanta in his mid-twenties. Joe disagrees with the author Thomas Wolfe who famously wrote, "You can't go home again." He goes back home with each painting he creates.
There will be a reception for the event on June 3, 2021 from 5–7 p.m.
Powell & Thomashow
Mysteries of Science & History
---
Fall 2021
Location: Slatkin Gallery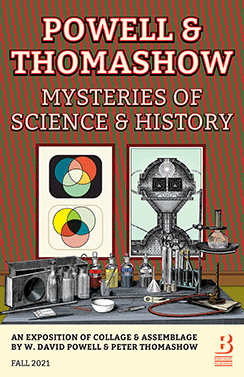 This exhibit touches on the mysteries and wonders of: childhood, electricity, resonance, mesmerism, space-time continuum, play, geometry, magnetism, human anatomy, thought experiments, carnival science, energy fields, natural history, tantric chakras, biodiversity, intelligent design, mythology, camouflage, bottle caps, toys, confetti, color theory, sub-atomic particles, extra-sensory perception, phrenology, recreations scientifique, magic, scientific method, the five senses, evolutionary theory, the uncanny, mechanical golems and particular attention is paid to the concept of art and science being identical modes of inquiry.