Jump to Footer
Exhibitions
---
Venues include the Rockwell Kent Gallery located in the Feinberg Library as well as the Burke Gallery and Myers Lobby Gallery located in the Myers Fine Arts building.
Rick Shaefer: The Refugee Trilogy
---
August 30 – December 10, 2021
Location: Burke Gallery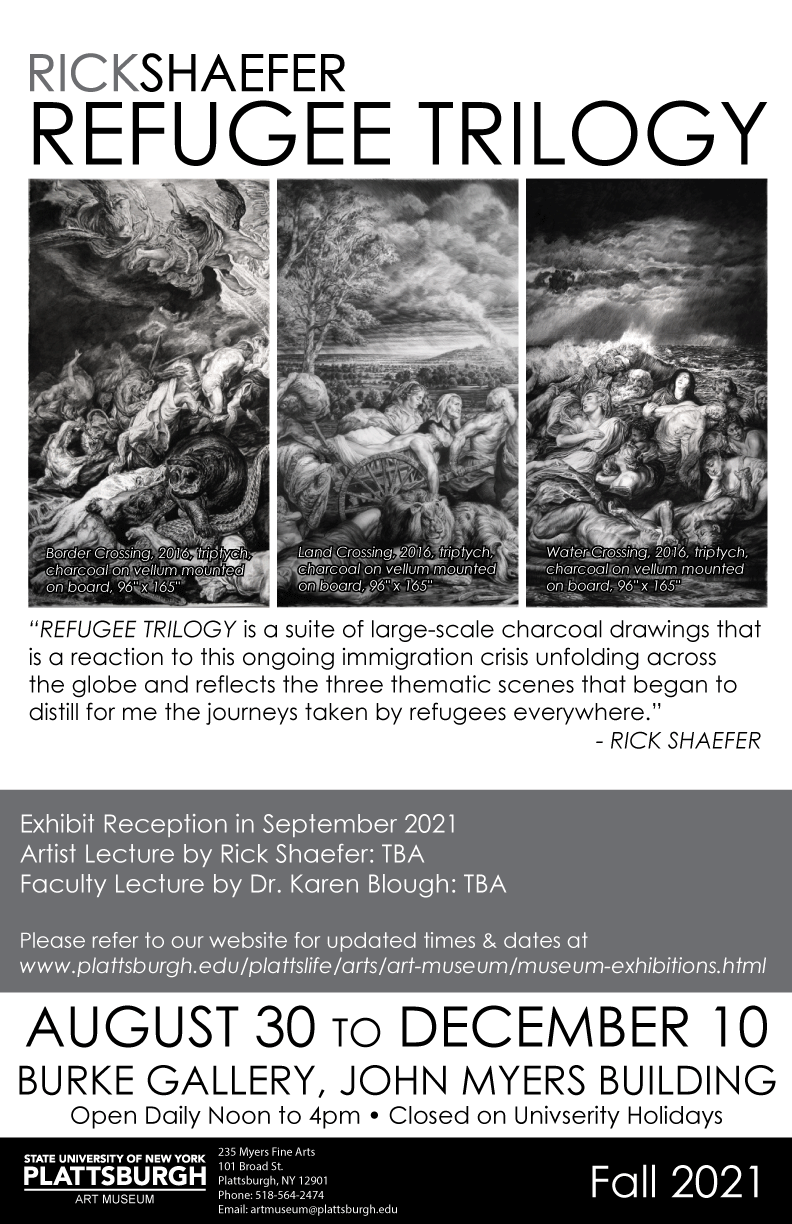 How does one deal with the onslaught of horrific imagery and news of countless waves of refugees coming from the Middle East and elsewhere? The vast scale of the humanity involved and the agony and desperation of those afflicted feels both epic and almost biblical. When the stories and photos first started appearing the visual vocabulary that instantly came to mind was such paintings as Rubens' The Last Judgment and Massacre of the Innocents, Gericault's Raft of the Medusa, Picasso's Guernica, and Goya's Disasters of War series, as well as the multitude of imagery of vast throngs fleeing war and oppression from Exodus to the partition of India to our own native American "Trail of Tears."

"Refugee Trilogy" is a suite of large-scale charcoal drawings that is a reaction to this ongoing immigration crisis unfolding across the globe and reflects the three thematic scenes that began to distill the journeys taken by refugees everywhere. The three triptychs, each measuring 96" x 166", are in a chronology suggested by news reports. "Land Crossing", the first of the three, addresses the hazardous journeys faced by refugees fleeing war, famine, drought, or other causes. The second work, "Water Crossing", portrays the perilous journeys across open water. The third work, "Border Crossing", addresses the conflicts and hostilities faced at borders. The three works employ the vernacular of the Baroque (primarily incorporating various figurative elements of a wide assortment of Rubens' paintings) to express this contemporary debacle in a language both familiar and historical: reminding us of the tenacious persistence of this epic human tragedy.
Excerpt from Rick Shaefer's website. Please visit RickShaefer.com for more information on The Refugee Trilogy or to see his other works.
Please Note: The reception for Rick Shaefer: Refugee Trilogy has been canceled.
North by Nuuk: Greenland Rockwell Kent
---
Spring 2021
Location: Burke Gallery
Projection: Rockwell Kent
---
Spring 2021
Location: Slatkin Gallery