Jump to Footer
Tobacco-Restricted Campus
---
Tobacco use on the SUNY Plattsburgh campus is restricted to a limited number of designated parking lots.
The SUNY Plattsburgh Tobacco-Restricted Campus Policy includes all tobacco and tobacco-derived products intended for human consumption, including but not limited to: tobacco and clove cigarettes, cigars, pipes, hookah-smoked products, bidis, kreteks, electronic cigarettes or "vapes," smokeless tobacco or "chew," and snuffs.
It does not include cessation products specifically approved by the U.S. Food and Drug Administration for use in treating nicotine or tobacco dependence.
Who Does This Impact?
---
The policy applies to all members of the college community, including faculty, staff, students, volunteers, trainees, consultants, contracted staff, vendors, guests and visitors.
The policy does not imply that individuals must quit using tobacco products. It implies that they must restrict the use of those products to the designated locations.
Violators of this policy will be referred to the appropriate department for review and resolution. For employees, this will be in accordance with their collective bargaining agreements.
There will be situations where tobacco use will be permitted on college grounds. These include scientific studies that require participants to use tobacco; tobacco use as part of traditional Native American spiritual or cultural ceremonies; and theater productions where actors and actresses are permitted to use tobacco as part of the performance.
Campus Signage
---
Tobacco-restriction signs are posted in parking lots across campus.
Permitted-use Areas (Map)
---
The main parking lot in front of the Field House and the parking lot to the west of the Field House prior to driving to Chip Cummings Field: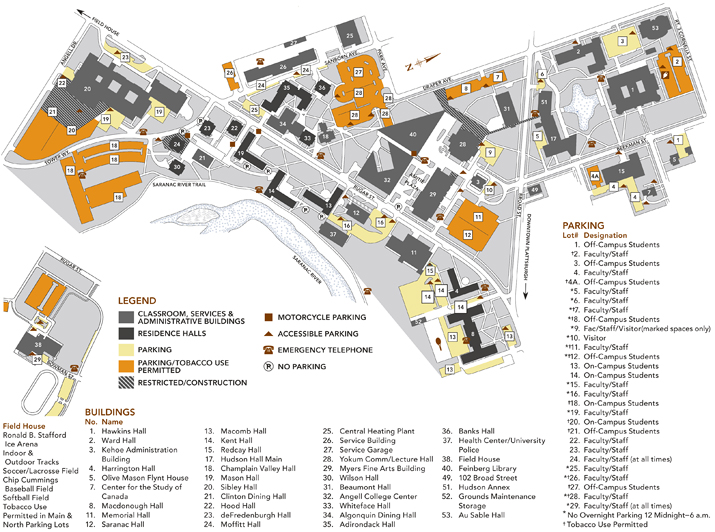 Lots 2, 7, 11, 26 and 28 — signed for faculty and staff parking
Lots 4A, 8, 12, 21 and 27 — signed for off-campus students parking
Lots 18 and 20 — signed for on-campus students parking