Jump to Footer
SUNY Plattsburgh Online Programs Offer Flexibility, Real Connections
---
SUNY Plattsburgh online student Phil Canavan worked full time for years before deciding that finishing his bachelor's degree online was necessary to meet his career advancement goals.
"My biggest thing was I didn't want to live on campus. I wanted to work at lot while going to school, and there's a lot of travel (commute) time as well, so I decided to do it online as much as possible," Canavan said.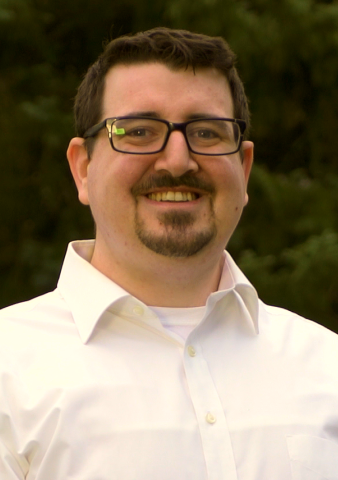 The Syracuse resident said the format of the online business administration program allows him to continue operating his own business, which provides videography, web design and analytics services.
'Online Learning is Mainstream'
"Online learning has gone mainstream," said Dr. Kwangseek Choe, professor and chair of supply chain management and international business. "Across the country, more than six million students take at least one online class each day," a rate that dramatically increased because of the pandemic.
The benefits include lower tuition costs than in-person classes with the same access to highly trained faculty and academic support staff, Choe said,
11 Online Programs
Among the 11 online degree programs SUNY Plattsburgh offers are bachelor's completion programs like accounting, social work, RN-to-B.S. nursing, and business administration. Online master's degree includes programs in childhood and adolescense education. And post-graduate online certificate programs include school district leader, school building leader, teacher leadership, and special education for grades seven through 12.
The classes are asynchronous in most of SUNY Plattsburgh's online programs, which means students complete coursework at times that work best for them.
"That works beautifully for me," Canavan said.
Tutoring, Technical Support, Career Counseling
Almost all of the services available to students taking classes on campus are also available to online students. These include tutoring at the Learning Center, faculty office hours, technical support, career counseling, internship placement advising, academic advising, research assistant from the college's librarians, mental health counseling and more.
For the online supply chain management class Choe taught in fall 2022, Choe said he filmed weekly lectures and uploaded notes to the college's online learning platform for students to use as a study guide.
"I held a virtual meeting once a week every Thursday (one in the morning and one in the evening at students' request) to discuss the weekly topic to ensure that everybody was on the right track and to see if students needed any help with coursework," Choe said.
To facilitate engagement among students, many faculty require students partake in online discussions about the course material with their classmates throughout the week.
'Online Option Made Degree Possible'
Patty Millens, 55, of Saratoga Springs is the mother of five children who also works as a substitute nurse at various schools in Saratoga County. Because of her work and family responsibilities, Millens said she needed an online option to complete her nursing degree.
"I want a job where number one, I can care for people. That's one of my devotions," she said, adding that job opening for nurses are plentiful.
To make a permanent shift from her original bachelor's degree in communications to a career in nursing, Millens needed to complete her bachelor's degree in nursing, but options at private colleges in her area were pricey, she said.
She started the SUNY Plattsburgh RN-to-B.S. program in 2018, then took some time off to care for her children, many of whom are still in high school. She plans to graduate in 2024.
"I love it because it's 24/7 access that I can complete the work," she said. "There's a tremendous amount of support from the school with any problem I might have with anything regarding using Moodle, the online format. The librarians are exceptional and instructors are really good."
Online College 'Synonymous with Quality'
Sarah Charles, assistant professor of nursing, said she establishes a relationship with online students via Zoom meetings when they first enroll in the RN-to-B.S. program.
"I want to hear their voice, know their story, know their journey. We talk about study schedules and how to advocate for yourself," Charles said. "I want them to know who I am so they feel comfortable reaching out."
Charles said she's available for virtual office hours most of the week.
"Our learners have a lot; they're very busy. They have a lot of things going on, and we always want the school to be the flexible part," Charles said.
Students and alumni of the online RN-to-B.S. program live all over the state in New York City, Long Island, the Albany and Buffalo areas, and the North Country.
"People are starting to realize that online (education) is synonymous with quality," Charles said. "For SUNY Plattsburgh in particular, it's the individualized support that we have for our students that helps us stand out from other programs."
Creating Real Connections Virtually
She said faculty see students making real, human connections in their online discussions like a nurse working as a manager of an emergency department in Albany who connected with a classmate doing the same work in Malone.
"All of a sudden, they are creating connections and supporting each other because they do the same work in different places," Charles said. "That's a real advantage of the online environment and community we create for students."
Charles said that students in online programs that require in-person field experience coordinate that with a clinical coordinator to arrange an experience that's meaningful to them. Many of the college's other online programs offer 1:1 assistance from clinical coordinators.
Once he graduates in May 2024, Canavan said he wants to work with data and analytics, perhaps for a company like the marketing firm he interned for last fall.
"I feel very confident about being at Plattsburgh," Canavan said. "It's filling all the gaps I wanted it to both professionally and personally."
— By Assistant Director of Communications Felicia Krieg