Jump to Footer
Imagine Yourself Here
---
You will work with dedicated faculty and industry leaders to provide health care to communities in the state and globally. We provide outstanding resources and experiences found in few schools, including a state-of-the-art simulation center with high-fidelity mannequins, integrated electronic medical record (EMR), and online access to classroom resources. Included in our programs are progressive clinical experiences and exclusive opportunities to partner with agencies locally and throughout New York State.
Accreditation & Recognition
---
The programs holds membership in:
The American Association of Colleges of Nursing (AACN)
The New York State Council of Deans of Baccalaureate and Higher Education Nursing Programs
Our programs are highly ranked by:
Student News
---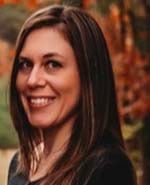 Congratulations to Bethany Mandy for receiving the American Psychiatric Nurses Association (APNA) Student Scholar award! Bethany is a psychiatric nurse at CVPH Medical Center and has shown tremendous academic ability in addition to being a resource to many of our traditional students. Bethany is among thirty-one nursing students from across the country who will receive a scholarship to attend the APNA 35th Annual Conference this October in Louisville and will also receive a one-year complimentary APNA membership.