Jump to Footer
Faculty, Staff Recognized for Excellence in Service, Teaching
---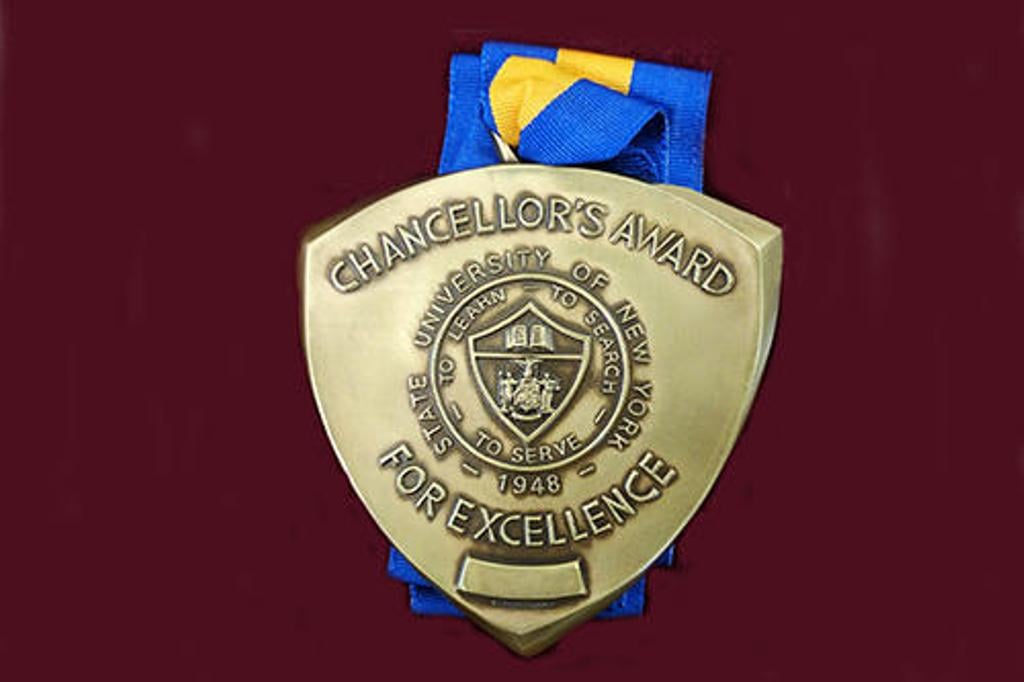 Six SUNY Plattsburgh faculty and staff members were recognized by the State University of New York for their excellence in teaching and service with the 2022 Chancellor's Awards.
Recipients are role models across SUNY's 64 campuses.
"I wish to congratulate this year's recipients and thank them for their committed service to our campus and to our North Country community," said SUNY Plattsburgh President Alexander Enyedi. "They prioritize student success and set the standard for academic excellence here at SUNY Plattsburgh. Their leadership and dedication represent what it means to be a Cardinal."
Recipients for 2022 are:
Kerry Chapin-Lavigne: Professional service
Julia Devine: Adjunct teaching
Jack Downs: Teaching
Rachel Flemming: Professional service
Colleen Lemza: Faculty service
Alison Puliatte: Teaching
Kerry Chapin-Lavigne
Kerry Chapin-Lavigne, director of alumni relations in the Office of Institutional Advancement, has spent the better part of her adult life at the college, first as an undergrad and member of the Class of 1998, and then as an admissions recruiter and adviser.
A member of the Cardinal women's basketball team as an undergrad, Chapin-Lavigne moved over to the Department of Athletics in August 2005 as its assistant director in sports information. It was from that department that Chapin-Lavigne moved to the Office of Alumni Relations, first as an associate director in 2008 and then as its director in 2017.
As director of alumni relations, Chapin-Lavigne manages all alumni relations staff, is responsible for all aspects of alumni functions such as homecoming and reunion programs, serves as executive director of the Alumni Board of Directors, plans and implements alumni athletic events such as the annual Cardinal Athletic Hall of Fame induction, recruits alumni as volunteers in support of the association for career networking, reunion, homecoming and regional events, among a litany of other responsibilities.
"I have known and had the privilege of working with Kerry for 13 years," said Paul Leduc, associate director of alumni relations. "I've watched Kerry rise from an entry-level position to director. She is supportive, always willing to talk things out, gives excellent advice that's always rooted in what best serves our mission." Calling her "unflappable and skilled at steadily proceeding through rough times," Leduc said, "Her example is both instructional and inspirational to me."
Chapin-Lavigne is a member of the Honorary Degree Committee, the President's Inclusive Excellence Council, Cardinal Athletic Hall of Fame Committee, among other service to the college.
Julia Devine
Among the many classes Julia Devine, adjunct lecturer in English and theater, has taught in the nearly 10 years she's been at the college are several she helped develop, including introductory and advanced acting, and grant and professional writing. She is also responsible for helping create the English department's certificate in professional writing.
An actor who has worked professionally on stage, in film, commercials and in voiceovers, she has directed several production in the area, including "Topdog/Underdog" and a multilingual version of Thornton Wilder's "Our Town."
A core instructor in theater, Devine's intro to acting has been part of the gen ed program and taken by members of the women's hockey team, Educational Opportunity Program and global education office to satisfy their oral and arts expression requirement. She also teaches theater history, acting II and designed acting for the camera for the program, among other contributions.
In his endorsement of Devine's nomination, Dr. Curt Gervich, associate professor in the Center for Earth and Environmental Studies, wrote, "If SUNY is serious about great teaching, experiential learning and community service, it must also be serious about Julia Devine."
In addition to lauding her work as an adjunct lecturer, Gervich applauded her "commitment to community arts and college-community collaborations (that) help our communities to practice their craft, participate in professional-scale projects, interact with professionals and community members outside the classroom and attain their first professional credits."
Devine served as director of the Center for Community Engagement at the college from 2016 to 2018, during which time she worked to elevate the college's national reputation by securing The Washington Center Higher Education Civic Engagement Award, a National Endowment for the Arts Big Read Grant and produced the Big Read festival, and started the CommUNITY Night@ the Pond event.
She and her husband, Dr. Michael Devine, associate professor in English, co-created "Burgh," an original short film that has appeared at festivals and conferences regionally and abroad.
Jack Downs
Jack Downs, lecturer in journalism, didn't start his career as an academic but rather as a reporter and editor at the Press-Republican. He was asked to teach as an adjunct in the middle of the spring 2008 when a newspaper design and layout class found itself without an instructor. He continued to teach newspaper design through the spring 2010 semester while working at the Press as its systems and design editor.
In fall 2010, Downs became a full-time lecturer and began teaching a full course load, including web design and production, outdoor writing, multimedia journalism, news writing, audio/video for public relations and journalism, public speaking and more.
In addition to in-class instruction, Downs teaches the students who create All Points Now and DoNorth publications, which appear online and in print. In 2015, he helped students found the Plattsburgh Associate of Black Journalists and serves as their adviser and originated a social media internship for the journalism program in 2020 and continue to supervise its postings on Facebook and Twitter.
Downs has assisted in placing students in internships at the Press-Republican; several of the program's past interns have been hired there, including the current sports editor.
In her nomination letter, Colleen Lemza, professor and chair of journalism and public relations, calling him "the backbone of our program."
"Since 2010, I've never heard him deny a request. Ever," she said. "Jack goes above and beyond for our students, whether it's to volunteer for an open house, create a new course to keep up with changing technology, he is always willing to help.
Lemza lauds Downs' work taking over DoNorth, spearheading the department and program websites overhaul, and the reactions her own students have when, during advising, are always pleased to hear they'll be having him as an instructor.
"He is always the first one in the office, and he is here on weekends and late at night meeting with students. On top of his long course repertoire, he monitors all the program's equipment, helps with internships, maintains alumni lists and oversees PABJ. Even though he has a lecturer title, Jack is hands-down one of the most effective, well-respected and productive colleagues at SUNY Plattsburgh."
Rachel Flemming
As director of the Speech and Hearing Center in Sibley Hall, Rachel Flemming is the product of her environment, having earned her Master of Arts in speech-language pathology from SUNY Plattsburgh in 2012.
In her role as director, Flemming is responsible for coordinating clinical education for SUNY Plattsburgh speech-language pathology graduate students and communication sciences and disorders program undergraduate students.
Additionally, Flemming reviews referrals to the center to determine clinical assignments for evaluation and therapy, collaborates with colleagues to make sure confidentiality and procedures are followed, and coordinates off-campus placements for 20-22 graduate students each year, among many other responsibilities, including serving as a clinical and academic instructor for novice clinicians each semester.
As one of the college's services that sees members of the public, Flemming found herself navigating student clinicians, faculty and public patients during the pandemic.
"(Flemming) seamlessly devised and implemented new protocols and procedures to ensure the safety of all individuals while also adhering to educational best practices, patient privacy laws and other legal and ethical requirements," said Dr. Ashley Gambino, communication sciences and disorders department chair, Flemming's former professor, and mentor. "She is exceptionally organized and skilled at handling crises while remaining calm, which are crucial abilities in this unprecedented time.
"She was able to navigate many hurdles in the development of alternative service delivery models as well as being the point person for students and faculty as they began the process of implementing these new protocols," Gambino said. "(She) is a reliable team leader in the communication sciences and disorders department and is able to problem-solve and create solutions independently while in close communication with the chair.
Colleen Lemza
Colleen Lemza, professor and chair of journalism and public relations, began her tenure at SUNY Plattsburgh as an adjunct lecturer in communications in 2000. She was promoted to assistant professor in the newly formed Center for Communication and Journalism in 2008 and then named associate professor in the Department of Journalism and Public Relations in 2014.
The product of a SUNY Plattsburgh undergraduate education, earning her bachelor's degree in 1990, Lemza received her master's in public relations from Syracuse University's S.I. Newhouse School of Public Communications in 1991. She returned to the classroom at SUNY Plattsburgh, earning her master's in student affairs and mental health counseling in 2001.
A big component of Lemza's service to campus and community is Shine On!, the program she created and developed designed to increase self-esteem and resiliency in young girls. What started a dozen years ago as a one-day conference with a handful of girls bloomed into an overnight program that serves several hundred students each year with the help and leadership of SUNY Plattsburgh students. Last year, Lemza was successful in her bid to get NASA astronauts to include Shine On! in its live downlink program "Look to the Stars: #CharacterCountdown" from the International Space Station.
In her letter of support for Lemza's nomination for the Chancellor's Award in Faculty Service, Dr. Jennifer Bremser, associate professor of psychology at the branch campus at Queensbury, said she has worked with Lemza on Shine On! for the last four years, joining efforts to expand the mission and vision of the program.
"Like many acts of service, this program grew out of a need Colleen saw within the community that was not being adequately addressed," Bremser said. "Colleen was able to anticipate the need for social and emotional learning programs even before the New York State Education Department made it part of their standards in 2018.
"Her program is well-suited for delivery among New York public schools and provides a means of achieving these new standards through a service learning model that not only benefits our college students but also our communities while simultaneously increasing the college's visibility across the state and on a national and international level," Bremser said.
Dr. Alison Puliatte
Dr. Alison Puliatte, associate professor in teacher education, joined the faculty as an assistant professor in fall 2016. She was promoted four years later to associate professor.
During the last five years, Puliatte has taught all major courses in the childhood education program, including education foundations, lesson planning, teaching methods, assessment, curriculum and instruction.
A product of the City University of New York system, earning all of her degrees there, including a certificate of advanced study in school administration and supervision and a master's of philosophy in educational psychology, she holds certifications in school district administration, school administrator and supervisor, special education and early childhood and elementary education.
Puliatte serves as assistant to the regional director of the state Master Teacher Program, North Country region, and at SUNY Plattsburgh has served on myriad committees and more, including serving on three search committees in fall 2021 alone.
She is a co-founder and co-adviser of the student club, Active Minds, which focuses on mental health issues, co-adviser for Kappa Delta Pi educational honor society, and co-founder of the teacher education student research group, among many other memberships on campus.
In her letter of recommendation, Dr. Yong Yu, associate professor and chair of undergraduate teacher education, commented on Puliatte's "exceptional performance."
"The learning activities she has offered in her classroom are authentic, engaging and fostering critical thinking; she is committed to student success," Yu said. "(She) has consistently engaged in a wide range of scholarly activities of discovery, integration, application and teaching. In five years, she has completed the transformation from an emerging researcher to an established scholar.
"In her short tenure at SUNY Plattsburgh, she has published 18 peer-reviewed journal articles and book chapters, given 29 presentations at national and regional professional conferences and has been involved in two funded and unfunded projects. Because of her outstanding scholarship, Dr. Puliatte was recognized as a 2019-2020 featured scholar at SUNY Plattsburgh," Yu said.
Chancellor's Award recipients will receive a certificate and Chancellor's Excellence medallion as recognition for their contributions during the president's annual fall welcome to faculty and staff.