Jump to Footer
Alumni Profiles
---
Meet one of our graduates!
Lisa Besserman, Class of 2006
---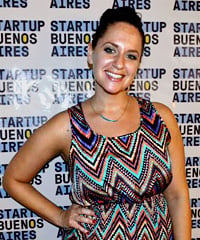 Major: International Business
Minors: Accounting and Economics
Current Job: Founder, Startup Buenos Aires
"Currently, I am the founder of Startup Buenos Aires, the global startup community of Buenos Aires, Argentina. Our organization aims to inspire, educate and support startups and entrepreneurship locally and internationally.
Dr. Gaber was my favorite teacher at SUNY Plattsburgh and I was lucky to also have him as my advisor — which enabled me to graduate with a double minor, at the top of my class as a cum laude and honors graduate. I am fortunate to still keep in touch with Dr. Gaber, and I have participated in various SBE events since graduating in 2006.
Working on group class projects, I learned how comfortable and fulfilled I felt in a leadership role, as I usually took the lead on group projects. This leadership has enabled me to advance in my career, and create my own organization where I lead a community of thousands.
I liked being a part of a community. I grew up in NYC, and never knew my neighbors. Going to a school like Plattsburgh gave me the experience to become a part of a community, and allowed me to become active on many levels, participating in Greek and campus life.
The SBE gave me the tools and knowledge necessary to become an active member in the global professional sector. As a graduate of International Business, I put my degree straight to use, working in nations such as Japan and Argentina.
Without my experience as a student of the SBE, none of this would have been possible, and I am grateful for the teachers and courses that equipped me to take this incredible entrepreneurial journey."