Jump to Footer
Hospitality Management Major
---
What Will I Learn?
---
The B.S. in hospitality management combines liberal arts with professional studies, giving you tools for making sound professional decisions.
What is Unique About Our Program?
---
Benefit from applied learning opportunities that give you direct experience in:
Hotel and bed-and-breakfast management at Valcour Inn and Boathouse
Restaurant management at Samuel D's restaurant
The program's strong business and management emphasis makes it easy for you to earn a minor in business while completing their hotel, restaurant, and tourism management degree requirements.

SUNY Plattsburgh's hospitality management program is ranked #20 by Study.com thanks to our unique applied learning opportunities program and networking activities through the Hospitality Management Club.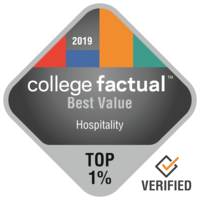 #1 best hospitality management college for the money in New York and #12 in the nation.
What Are My Career Opportunities?
---
Our specialized courses in this program help you select a particular field specialize in. Courses such as Convention and Meetings Management, Food-Service Management, Lodging-Operations Management, Resort Development and Management, and Tourism Planning prepare you for careers in:
Food service
Lodging
Resorts
Convention planning
Travel and tours
Cruise lines
Theme parks
Event management