Jump to Footer
Accelerated Nursing & Nurse Practitioner Paths
---
Academics
---
Accelerated nursing programs are for you if you have completed a bachelor's degree in a non-nursing program but have made the decision to become a nurse. These programs are typically 12–18 months and focus on nursing classes that were not part of your bachelor's degree.
The nurse practitioner (NP) profession is a mid-level provider, similar to a physician assistant. This is a master's degree program. You can start a program to be an NP after completing a bachelor's in nursing program (B.S.N.), or an accelerated nursing program, which will provide you with the B.S.N.
Prerequisites for most accelerated nursing programs:
General Biology (BIO101, 4 credits with lab)
Microbiology (BIO203, 4 credits with lab)
Human Anatomy and Physiology I and II (BIO326 and BIO327, 8 credits with lab)
General Chemistry (CHE101, 4 credits with lab)
Organic/Biochemistry (CH271, 4 credits with lab)
General Psychology (PSY101, 3 credits)
Human Development (PSY311)
Statistics (MAT161) or Biostatistics (BIO333, 3 credits)
Nutrition (FNI191 or 211, 3 credits)
Healthcare Experience
---
Graduate schools will expect that you have some experience in the medical environment, even if it is just volunteering at a hospital. We have relationships with several facilities within walking distance of the campus. Find out more about our current internship sites.
Student & Alumni Profiles
---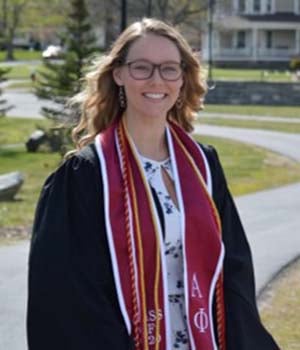 Danielle Guimond, Class of '19
Notre Dame of Maryland University Accelerated Nursing Program
"SUNY Plattsburgh's biology and chemistry departments offered me a solid knowledge base for my future in human sciences and healthcare. This department also offered a large variety of elective classes that allowed me to study subjects that I was personally interested in and put me one step ahead when applying for graduate school. My professors were incredibly personable and willing to help with anything I needed. I am so thankful for the experiences I had at Plattsburgh!"
Erin Ashline, Class of '18
Russell Sage, Accelerated Nursing
"SUNY Plattsburgh was one of the greatest experiences of my life. From countless research opportunities and high quality education, to passionate and caring mentors, SUNY Plattsburgh prepared me for any endeavor that I chose to pursue.
"Each professor went above and beyond in teaching the importance of structure, leadership, and creativity. As a current nursing student, all of these qualities are critical in becoming an optimal nurse, and future nurse practitioner. Without all of the support, values, and knowledge that I gained from SUNY Plattsburgh, I would not be where I am today!"
Rachel Armory, Class of '18
Russell Sage, Accelerated Nursing
"SUNY Plattsburgh has helped me prepare for an accelerated nursing program (B.S.N.) by providing their students with limitless extracurricular opportunities to get involved in. This includes my participation and involvement in a independent research project alongside my professor Rajesh Sunasee, I got involved in the pre-med club, I earned credits for an internship/volunteering at CVPH, Dr. Slish helped me get a shadowing experience with an anesthesiologist in the operating room at CVPH, and offering elective courses that aimed towards subjects in the medical field (e.g., a course on clinical practices)."