Jump to Footer
Criminal Justice Alumni Profiles
---
Meet our recent graduates.
Ryan Criss, Class of '20
---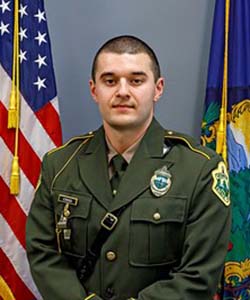 B.A.

in Criminal Justice,

SUNY Plattsburgh
Vermont State Trooper
"My plan in college was to pursue law enforcement at the state and federal levels. During my final semester in school, I was being processed by the Vermont State Police and successfully made it through the hiring process, where I began the academy in April 2021. Since then, I have successfully been on my own and currently work at the Shaftsbury Barracks in Bennington County, Vermont.
"Overall, SUNY Plattsburgh set me on the right path to where I am today in policing and have a promising career in the State of Vermont."