Jump to Footer
Anju Abraham, Class of 2000
---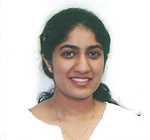 Anju Abraham is from Manipal, India, and graduated in 2000 with a major in computer science.
The Computer Science Program Changed My Life for the Better
"The Computer Science program at SUNY Plattsburgh gave me a good foundation for programming and analytical skills that allowed me to be competitive when I entered the job market. I think that the program has a great set of core foundation courses, teachers who go out of their way to help students learn, and a flexible upper level curriculum.
"I was hired in my final semester at Plattsburgh State by the I.S. department of Schonbek Worldwide Lighting, a manufacturer of high-end crystal chandeliers. I have enjoyed my job as a Programmer/Analyst tremendously, and for that I am partly indebted to the great education I received while at Plattsburgh. The program also increased my interest in technology and computers, and motivated me to start on my Masters. In December I will graduate with a Masters in Information Technology with a concentration in Database Systems from Rensselaer Polytechnic Institute, Troy. For me the Computer Science program at SUNY Plattsburgh was a great learning experience that completely changed my life for the better."