Jump to Footer
Jeffrey Bullins
---
Chair & Associate Professor of Communication Studies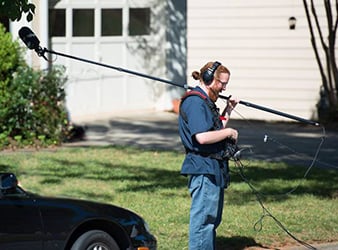 Jeffrey Bullins is chair and associate professor in the Department of Communication Studies. He teaches courses in audio and video production, editing, media history, and assists in overseeing the operation of the department's audio lab facilities. He holds a B.F.A. in Studio Art from the University of North Carolina at Chapel Hill. While there, he became interested in working with sound through digital arts courses. Later, he gained a M.F.A. in Sound Design from the Savannah College of Art and Design. Prior to coming to Plattsburgh, Jeffrey taught and worked professionally in Atlanta, Ga.
Jeffrey has worked as a sound designer, editor, and mixer for feature films, TV shows, commercials, and short films. Films he has worked on have received festival accolades, aired on broadcast television, and his project, Nirvana: a short film about lung cancer, screened at the 2015 Lake Champlain International Film Festival. In other areas of media production, Jeffrey has experience as a recording engineer, live sound mixer and editor. These experiences directly influence his teaching philosophy which focuses on a balance between conceptual and hands-on training.
Jeffrey's research interests include many facets of sound for film including genre studies. His master's thesis examined sound design in American horror films from 1931 to 2000. This research continued with his essay, "Hearing the Game," which analyzes sound in the Saw film franchise and is featured in the collection, To See the Saw Films. His examination of sound as it relates to Breaking Bad and the Western genre will be featured in the 2016 collection, New Frontiers: Re-locating the Sounds of the Western. Beyond sound studies, Jeffrey's essay, "Know Your Killer: Changing Portrayals of Psychosis in Horror Films," was published in the 2014 book, A History of Evil in Popular Culture. He also contributed entries to the 2015 Encyclopedia of Japanese Horror Films.