Jump to Footer
Hannah O'Toole, Class of 2012
---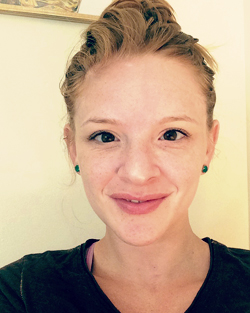 Graduate student, Wentworth Institute of Technology, Architecture
B.F.A. in Printmaking and Sculpture
"Advance printmaking was the course I was most passionate about during my time at SUNY Plattsburgh. It provided me the freedom to experiment with new techniques and explore different conceptual ideas, while gaining thoughtful and inspirational critiques from both professors and peers. The combination of these experiences allowed me to find direction for my final body of work for the Senior Exhibition and gave me a path to move forward on as an artist after graduation. I had learned how to find inspiration and what works best for me in the artmaking process.
"I enjoyed the nurturing environment in the art program. It allowed me to learn that failure is essential. It is not to be feared or frowned upon but viewed as an opportunity to learn and grow from. This is one lesson that has aided me in both my artmaking career and in my current studies in architecture.
"I liked the sense of community in the art department and the overall campus. It allowed me to challenge myself to seek out new experiences and meet new people during my time at SUNY Plattsburgh, from being a resident assistant to joining a dance team. It was a great balance between academics and participating in a greater community."
Rachel Davis, Class of 1992
---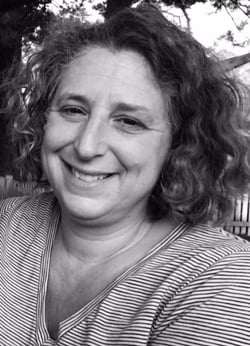 M.F.A. in Printmaking, University of Wisconsin-Madison
B.A. in Printmaking and Painting
Artist/Educator
"I began my studies at SUNY Plattsburgh as an education major and took Introduction to Printmaking on the recommendation of my roommate — she was certain that I would love the teacher. Diane Fine's Introduction to Printmaking course was an exploration in process as well as topics in contemporary art. Diane's passion for the medium and her charisma were the key to my decision to change my major to art.
"Both Diane Fine and Rick Mickelson were incredible mentors. I was encouraged to work out of my comfort zone. Whether through pushing the scale of my work, from small store-bought stretchers to building my own large-scale stretchers, or encouraging me to explore a new series, I gained practical skills and learned to articulate the concepts behind my work.
"In the summer of 1991, I assisted Diane Fine in the production of a series of large scale monoprints. I learned about Diane's technical process while witnessing her activity as a professional artist and realizing a body of work. I was also invited to participate in a portfolio exchange of students and teachers in which we all created a complex print with a large edition. These experiences honed my skills as a printmaker and professional artist.
"If you are looking for a robust liberal arts experience with a faculty that care deeply about their students, SUNY Plattsburgh is the place. My time at Plattsburgh prepared me for my graduate work at the University of Wisconsin-Madison and as a professional in my field. I actively exhibit my work in Chicago and nationally."
Justin Rabideau, Class of 2002
---
M.F.A., University of Georgia
B.F.A. in Studio Art, concentration in Sculpture, SUNY Plattsburgh
Director, Zuckerman Museum of Art at Kennesaw State University
"Absolutely all of my sculpture classes were exciting! Each successive class opened new doors and new approaches for my artistic explorations. The first time that I learned how to weld was a mind-blowing experience for me and shaped a good part of my practice for years to come. The idea that I could learn a skill like that in a sculpture class was just the coolest thing.
"Being a small program it really gave me an opportunity to have a lot of dedicated time with my professors and peers. This environment enabled a rich exchange of ideas while also creating a sort of art family within the structure of school. I truly can't imagine having a better experience to go through the trial and error of the creative process.
"I loved my time at Plattsburgh. The school is small enough to encourage close interactions with key professors while also being big enough to provide a well-rounded college experience. After leaving Plattsburgh, I went on to receive my M.F.A. at the University of Georgia, a HUGE school. Thinking back, I can't imagine that I would have gotten the same experience had I gone to such a big school for my undergraduate studies."
Liam Ward, Class of 2013
---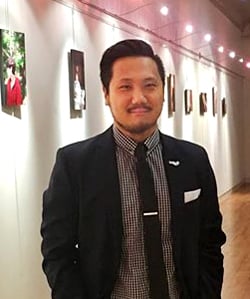 M.F.A. in Studio Art, University of Alabama
B.F.A. in Studio Art, concentration in Photography, SUNY Plattsburgh
Graduate student instructor, University of Alabama
Graduate school ambassador, University of Alabama
Coordinating director at Cropping Out Hunger
"I left Plattsburgh with the technical and conceptual skills to become an independent and confident person in the art world.
"My time spent at SUNY Plattsburgh changed my life forever. I came into school as a political science major, with an interest in art. My first semester, I took a drawing class and a photography class. Those two classes made me realize that my real passion was art, and my professors gave me the belief that this could be a very fulfilling life path. Sue Lezon became my main mentor and has since become one of the most influential people in my life. Her passion for photography and her genuine care for her students helped ignite the same passions within me. My time spent at SUNY Plattsburgh not only gave me the skills to become a successful artist, but to become a fully realized person.
"I will always remember critiques, classes, and even random meetings in professors' offices. That one-on-one guidance is what separates SUNY Plattsburgh from other programs. I owe every ounce of my success to the program and its great professors."
Dane Winkler, Class of 2012
---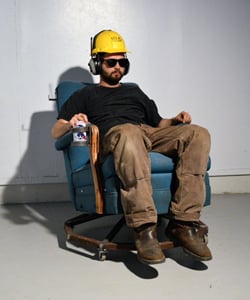 M.F.A., University of Maryland, College Park
B.F.A. in Studio Art, concentration in Sculpture, SUNY Plattsburgh
"The first section of advanced sculpture was a true eye opener. It taught me about making sculpture from a technical and conceptual perspective. The professor Drew Goerlitz was the first to expose me to sculpture beyond "statues," which was all I knew of prior. I really enjoyed the Friday classes too when we would all meet with an example of a contemporary sculpture to share and talk about it as a group.
"SUNY Plattsburgh gave me independence and access to numerous kind of workshops, studio spaces, and resources. The college made me the dedicated, hard worker I am today."
Katie Booth, Class of 2013
---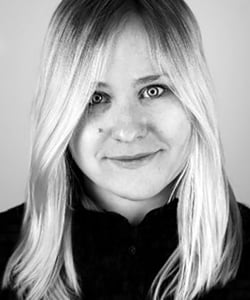 B.F.A. in Studio Art, concentration in Photography
Photo editor, Women in the World in association with The New York Times
"I started at SUNY Plattsburgh planning to concentrate in graphic design, but I didn't anticipate I'd become so absorbed in photography. Since that first semester I spent in the darkroom, I haven't stopped making photos. My professors encouraged and pushed me technically and intellectually at every step. They got to know me and my work on a personal level, so that when I changed my concentration to photography, I wasn't starting from scratch, I was adding to my foundation as an artist. Sue Lezon became an incredible mentor. She has become one of the most influential voices in my life. She exudes a passion for all things photography in everything she does, and she helped me to recognize that same passion within myself.
"I graduated from SUNY Plattsburgh with the tools to work independently and competitively in the art world. Through internships that led to jobs, I've begun to build a career as a photographer and photo editor in New York City. I am constantly referring back to the many unforgettable critiques, conversations, and lessons I learned from my professors and fellow students. It wasn't until I moved to New York City that I realized how truly unique and invaluable the community in the Art Department at SUNY Plattsburgh is."
Kathleen O'Connell, Class of 2002
---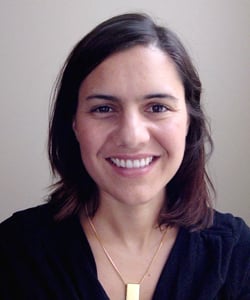 M.F.A., University of Wisconsin-Madison
B.A. in Studio Art, concentration in Printmaking
Associate professor, Middle Tennessee State University
"My favorite class at SUNY Plattsburgh was introduction to printmaking. When I began to study printmaking I didn't know anything about it. I fell in love with the process and the outcome. The feeling of scratching into a zinc plate, wiping the plate with ink and being able to produce multiple printed copies seemed too good to be true! I remember watching a lithography student process and print off of a flat stone and I thought it was the most bizarre and magical thing ever seen. In that class I learned the process, but I also discovered a passion that still drives much of what I do today, creatively and as an instructor. I have continued to make prints, nonstop, since that class.
"As with any experience, this program is what you make of it. I chose to challenge myself, and my professors encouraged me raising their expectations accordingly. My frequent interactions with all of my art professors provided me with necessary feedback, encouragement and the right amount of challenge. As a professional currently working in a public university I can attest that the SUNY system is well-known and widely recognized. The Art Department remains strong. In practical terms, I appreciate that I did not leave school with a huge debt."
Nicolas Gaudreau, Class of 2004
---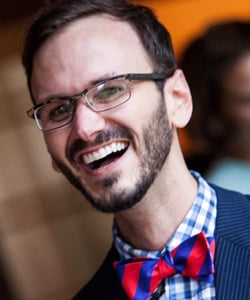 M.A. in Museum Studies, Syracuse University
B.A. in Art History, SUNY Plattsburgh
Professional fundraiser
Nicolas Gaudreau excelled as an art history major specializing in 19th-century French prints and feminist art history. While completing his studies, Nick interned at the Plattsburgh State Art Museum, where he attracted the support of numerous donors that enabled him to acquire 16 works for the permanent collection, including prints by Cassatt and Picasso among others. He also curated a large exhibition of those works in Feinberg Library's Kent Gallery. Nick had raised over $30,000 for the Museum before he graduated. During his student years, he was vice president for the arts in the SUNY Plattsburgh Student Association, served as a teaching assistant and worked with studio art majors to assist them with best professional practices.
Mr. Gaudreau went on to earn his master's degree in museum studies at Syracuse University, concentrating in museum development and administration. He has now been a professional fundraiser for cultural organizations for over a decade. Using his love for the business of art that began at SUNY Plattsburgh, he has represented the financial needs of cultural organizations to philanthropists ranging from presidents to the Imperial Court of Japan and he has raised millions of dollars in support of crucial community programs, including free summer camps for inner-city youth and an ambassadorial tour for cultural exchange through the U.S. State Department. Nick has worked with a children's museum, an art school, a Native American decorative arts museum, a contemporary glass museum, and a Japanese garden. He is currently the associate director of individual giving with the Alvin Ailey American Dance Theater in New York City.
Nick credits his education as an art history major at SUNY Plattsburgh for the trajectory of his career, saying, "It wasn't just the coursework that gave me what I needed to succeed. It was a great group of professors that pushed me to take every opportunity available."
Danny (Shyang-Min) Chang, Class of 2007
---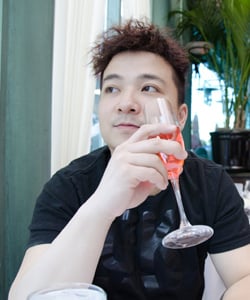 M.F.A. in Design and Technology, Parsons
B.A. in Art Studio, Graphic Design, SUNY Plattsburgh
Occupation: senior product designer at Shutterstock Inc.
"I loved the package design class. It's hands-on and challenging. One project was to design a package for eggs. We had to design using the form-follows-function principle — something which looks awesome and still protects the eggs from impact.
"Professor Norman Taber is one of a kind. He is humorous and always makes learning into a fun and enjoyable experience. He also knows how to lead the students into what they love to do for the rest of their lives. I did an independent research for package design with him. We dived into package design for high-tech products. That research helped me bridge what I learned in school with trending markets and design needs.
"Unlike design school, the graphic design at SUNY Plattsburgh is well-rounded with other fine art classes. You don't have to make a decision until you find something you love. How many designers have ever experienced oxy-fuel welding for sculpture? I did."