Jump to Footer
Lisabeth Kissner
---
Director, Northcountry Planetarium
Lecturer of Physics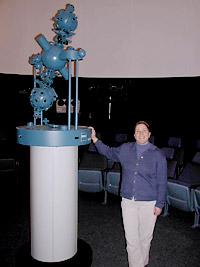 Lisabeth Moore Kissner is originally from Cape Vincent, New York. After graduating from Thousand Islands High School she attended SUNY Plattsburgh were she completed a Baccalaureate of Science with a major in geology and minor in archaeology, and later, a Master's of Arts in Administration and Astronomy Education.
Lisabeth has held various positions at both the NYS Office of Parks and Recreation and the State University of New York College at Plattsburgh. Over the past twenty years she has taught AST 101, AST 102, AST 116 and EDU 391 as well as independent studies in astronomy education (AST 299), planetarium operation (AST 399) and planetarium production (AST 499).
In addition to her classroom responsibilities, she serves as the director for the Northcountry Planetarium carrying out both administrative responsibilities for our educational planetarium facility as well as acting as a presenter for on-campus and general public shows. At present, Lisabeth also acts as the faculty sponsor for the SUNY Plattsburgh student astronomy club, known as the Galilean Society.
In December of 2000 Lisabeth received notification from the Jet Propulsion Laboratory (JPL) in Pasadena, California that she had been selected as a Solar System Ambassador, and she has held this annually renewed appointment ever since. JPL is the National Aeronautics and Space Administration's lead field center for the robotic exploration of our Solar System, and the ambassadors program is designed to act as an interface between the space exploration community and school students as well as the general public at large. As an ambassador, Lisabeth coordinates and conducts events or programs which feature either information on NASA's space exploration missions, celestial phenomena or dark sky awareness.
Outside of the classroom she and a number of student planetarians take pleasure in regularly hosting astronomy and space science workshops for regional Girl Scout troops. A collaboration, between the Northcountry Planetarium, the Galilean Society (SUNY Plattsburgh astronomy club) and the Girl Scouts of Northeastern New York, to provide an informal educational experience that engages young ladies in hands-on workshops in astronomy and space science and inspires them to both pursue and excel in science, technology, engineering, and mathematics (STEM) disciplines. Known regionally as Ladies Looking-Up; individual workshops include, Twilight to Starlight, Observational Astronomy, Planetary Systems, Things that Fly & Glide, Rocks from Space, Astrobot and Women of Astronomy.
When Lisabeth takes the time to come out of the dark of the planetarium or look down from the night sky, she spends much of her spare time and holidays gardening, cooking and traveling with her husband. While traveling, they often visit other planetariums, observatories and space science facilities for new and fresh ideas.