Jump to Footer
Northcountry Planetarium
---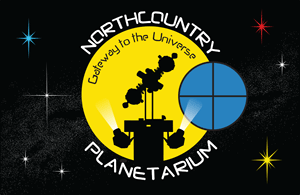 Our planetarium facility performs as a 360-degree multimedia sky theater, allowing visitors to experience live, interactive programs as well as automated productions that feature realistic night skies and virtual journeys through our solar system and distant distance deep space phenomena.
Our quest is to help children of all ages expand their universe.
Features of our Planetarium
---
The Northcountry Planetarium features a ZKP3/C Skymaster optical-mechanical built in Jena, Germany by Carl Zeiss AG. This particular planetarium device projects over 7,000 individual stars through 6.3 magnitude as well as 25 deep space objects such as nebulae, star clusters and galaxies. In addition, the ZKP3/C can simulate the sky as seen from any point on Earth at any time within a few thousand years of the present. All celestial motion viewed in the sky, including those of solar system objects are represented along with constellation overlays and reference grids, scales and lines needed for accurate positional measurements during educational experiences.
In 2014, our ZKP3/C was upgraded by Carl Zeiss AG to accommodate the Powerdome Workstation interface as well as the SpaceGate Duo full-dome digital projection system. Both the ZKP3/C optical-mechanical and the full-dome digital system can be configured to run either manually or automated as well as synched together to create an entirely hybrid system.
Our planetarium facility also uses a number of integrated auxiliary theater components, provided by ASH Enterprises and ECCS. These include a theater-style 5.1 sound system, Canon inset video projector, Pleiades LED cove lighting, and the Universal Theater Control System.
How is a Planetarium Different from an Observatory?
The Northcountry Planetarium is not an observatory. Our ceiling does not open to reveal the actual night sky to be observed with a telescope; rather our dome shaped ceiling remains closed and acts as a hemispherical projection screen for the planetarium projector to accurately simulate the celestial phenomena of night sky as well as their locations and natural motions.