Jump to Footer
Elementary & Secondary Education Services
---
The Northcountry Planetarium at SUNY Plattsburgh is committed to promoting and providing quality astronomy and space science education for our local area schools.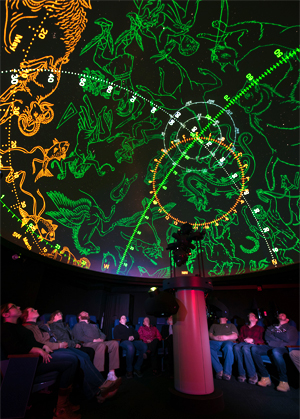 Educational programming is available for all grade levels from pre-kindergarten through high school. Our educational experiences typically combine topic specific commercially available productions with live narration from our operators. Such a combination allows time for our staff to interact with student patrons, while utilizing the full capabilities of our star theater to produce a realistic night sky as well as virtual journeys to celestial phenomena.
Please note that although our school programs are designed to be both academic-level and content specific, individual presentations vary slightly with the age, maturity and experience of each student group.
For further information and details concerning typical grade-level appropriate topics, content and program length, please call our staff at 518-564-3168 anytime Monday–Friday between 9 a.m. and 4 p.m.
Educational Programs
Pre-school & Kindergarten
Grade 1
Grade 2
Grade 3
Grade 4
Grade 5
Grade 6
Grades 7–8
HS Earth Science