Jump to Footer
SUNY Plattsburgh Celebrates Giving Tuesday with Annual PlattsGive Campaign
---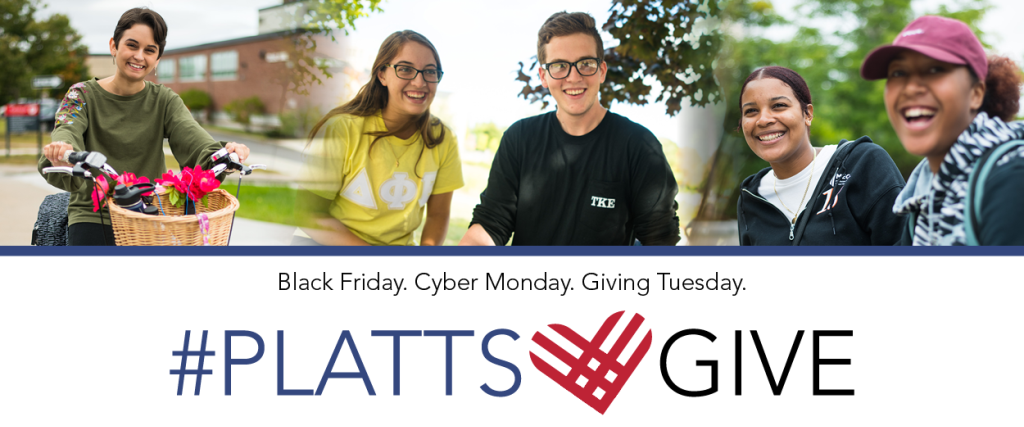 PLATTSBURGH — SUNY Plattsburgh is celebrating the annual #GivingTuesday by advocating for educational opportunities through its own annual campaign, #PlattsGive, Tuesday, Dec. 1.
Alumni and friends are encouraged to join in the global day of giving by making a gift to the Plattsburgh College Foundation in support of student success.
#GivingTuesday began as an idea in 2011 when the Chicago non-profit Mary-Arrchie Theater Company urged shoppers via The Huffington Post to donate to charity after their Cyber Monday shopping. The movement was branded #GivingTuesday the following year by the 92nd Street Y in partnership with the United Nations Foundation. Today, #GivingTuesday, the first Tuesday after Thanksgiving, harnesses the collective power of individuals, communities and organizations to encourage philanthropy and celebrate generosity worldwide.
Many of the learning opportunities SUNY Plattsburgh students depend on, such as scholarships, internships, career support and dynamic programming, are fueled by alumni and friends who participate in #PlattsGive. A nonprofit organization, the Plattsburgh College Foundation transforms the gifts it receives into life-changing experiences for the next generation.
Still many challenges remain as the global COVID-19 pandemic strains the college's resources and growing financial need continues to rise among students.
While SUNY Plattsburgh is sensitive to the way in which the pandemic is impacting many of its alumni and friends, it hopes to inspire those who find themselves in a position to do so to be one of 200 people to #PlattsGive before day's end Dec. 1. Each gift can keep the Plattsburgh Experience alive for students facing today's realities such as family job loss, reduction in wages or hours, lack of dependable transportation, family medical expenses and food insecurity.
To learn more and participate in #PlattsGive, visit www.plattsburgh.edu/onegift2020.