Jump to Footer
'Game On for Giving' Gears Up for Cardinal Athletics' 2023 Competition
---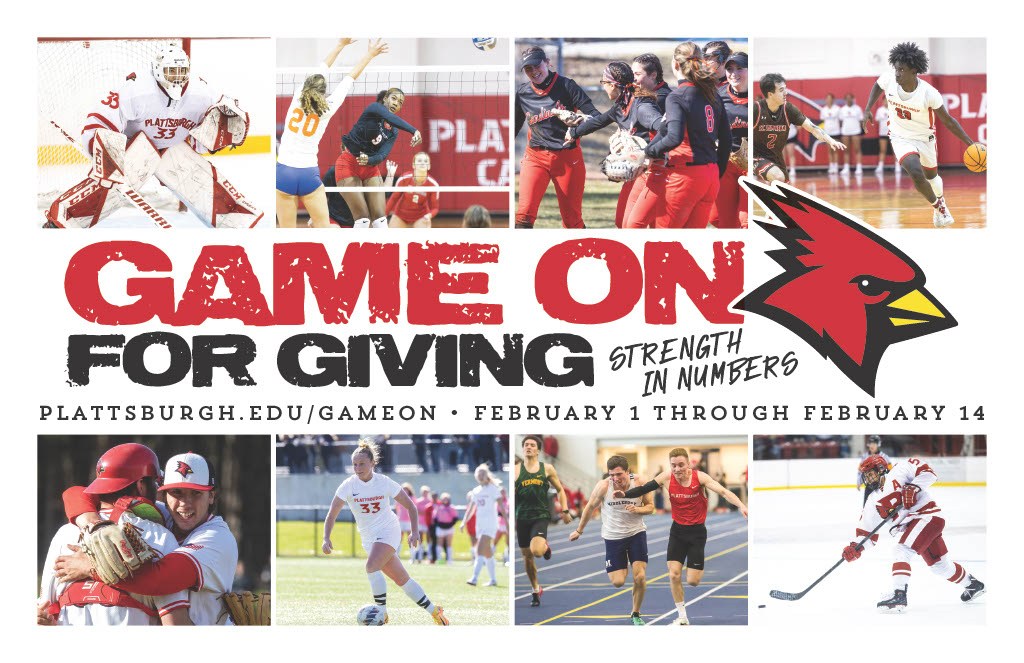 The Plattsburgh College Foundation's annual Game On for Giving campaign benefitting Cardinal athletics will get underway Feb. 1 with sports teams vying for donor support and a piece of a $5,000 pie.
With a theme of "Strength in Numbers," Game On for Giving, now in its seventh year, features teams competing for the most alumni donors in a two-week period ending Valentine's Day, Feb. 14. The team with the most donors will be awarded $2,500 of the challenge money, with the second-place team earning $1,500. The team with the highest percentage increase in alumni donors over last year will receive the remaining $1,000.
This year's challenge gift is made by a family of Cardinal alumni, including David Rattray '84, Carol Bogdanowicz '81, Madeleine Rattray '16, a four-year member of the Cardinal women's soccer team, and J.J. Castrianni '13.
Alumni and friends are encouraged to get in the game by making donations to the foundation, designating which favorite Cardinal team or teams to credit. As a direct result of donor support during last year's competition, student-athletes benefitted from locker room improvements, new team equipment for strength and conditioning, uniforms and training attire, and team travel for growth and development opportunities.
Women's Soccer Defending Game On Champs
Women's soccer is coming off top award-winning years in 2019, 2020, 2021 and 2022, having taken honors in most alumni and overall donor support.
"Donor support provides resources that allow our teams to remain competitive and provide our athletes with well-rounded experiences," said Mike Howard, director of intercollegiate athletics and recreation
"We are so thankful to the Rattray family for their continued generosity toward this campaign and to our entire Cardinal community that motivates our teams with their participation in Game On For Giving 2023.
In addition to giving to any of the 18 Cardinal varsity teams, donors may designate gifts to the Fitness Center, recreational sports, athletic communications or the Cardinal Athletics general fund — a fund that benefits all teams. They may also choose to divide their support among multiple recipients.
Fans can learn more about Game On For Giving, make a gift, and find out where each team stands in the competition by visiting plattsburgh.edu/gameon. Gifts can be made from Wednesday, Feb. 1 through Tuesday, Feb. 14.