Jump to Footer
SUNY Plattsburgh Receives $1M Bequest to Support Student Scholarships
---
A SUNY Plattsburgh alumna's final gift to her alma mater will provide a wealth of opportunities for students for many years to come.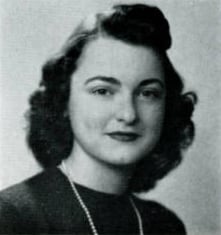 The Plattsburgh College Foundation recently received a $1 million bequest from the estate of Muriel Ferraro '48, a loyal donor to the college who passed away recently.
"We were overwhelmed and deeply moved when we learned of Muriel's amazing gift," said Anne Whitmore Hansen, vice president of institutional advancement and executive director of the Plattsburgh College Foundation. "Her bequest will immediately be put to use and support scholarships for many SUNY Plattsburgh students, and a portion of her gift is invested within the foundation's endowment to ensure that Muriel Ferraro will always be remembered through scholarships funded, in the future, by her incredible legacy gift."
A native of Glasco, N.Y., Ferraro majored in home economics at SUNY Plattsburgh and was active in a variety of student organizations, including the House of Delegates, Women's Residence Board, Interfraternity Council, Glee Club, Vocal Ensemble and Astronomy Club, among others. She later taught home economics at Kingston City Schools Consolidated in Kingston, N.Y.
In addition to her legacy gift to the college, Ferraro consistently supported the college throughout her lifetime with annual contributions to the foundation's Plattsburgh Fund, a critical source of funding for student scholarships, applied-learning grants and emergency grants.
Her steadfast support of SUNY Plattsburgh earned her membership in the foundation's Arnold A. Amell '53 Society, which recognizes donors who have given to SUNY Plattsburgh for 10 or more consecutive years.
"As a home economics teacher in Kingston City Schools District, Ms. Ferraro dedicated her career to students and their achievement of their primary education so they were able to pursue higher education," said SUNY Plattsburgh President Alexander Enyedi. "I am so grateful that she chose to provide this phenomenal gift to SUNY Plattsburgh.
"It is a powerful validation of the impact of her Plattsburgh experience and her desire to ensure current and future students have similar opportunities," he said. "Her $1 million bequest creates a pathway for some of our most deserving Cardinals to achieve their educational goals, form lifelong relationships and pursue opportunities that might not otherwise be possible. We are very grateful."