Jump to Footer
Memory Café Gives Dementia Sufferers, Caregivers Respite, Entertainment
---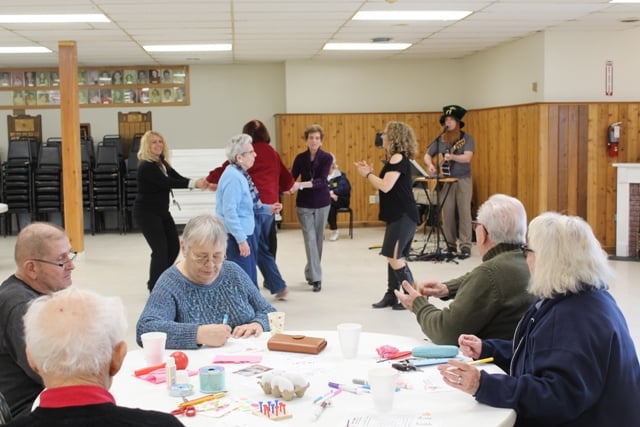 Folks afflicted with dementia, their caregivers and loved ones now have a place to go to socialize and spend quality time with each other.
The Memory Café is a new program of the Alzheimer's Disease Caregiver Support Initiative in SUNY Plattsburgh's Center for Neurobehavioral Health.
The Café, held the last Thursday of each month from 1 to 3:30 p.m. at the American Legion on Quarry Road in the Town of Plattsburgh, gives center clients and their families and others "a place to gather, socialize, participate in activities like crafts, simple games, do puzzles or word searches," said Christina VanHeuverzwyn, Clinton County care navigator with the caregiver support initiative.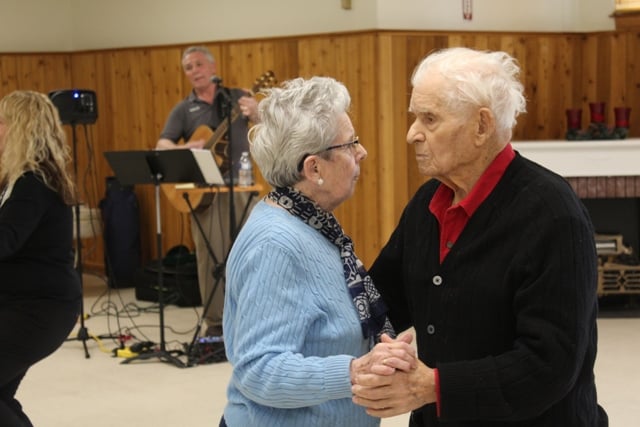 Place to Engage
"It's a place for those with Alzheimer's to get engaged and involved. It helps stir up memories, allows them to have connections," VanHeuverzwyn said. "For the caregivers and loved ones, they see they're not alone; there are people who are in the same position they are, who face the same challenges and have the same issues."
Musical entertainment gets the folks on the dance floor.
"We've seen how some of these activities reduce anxiety among this population," VanHeuverzwyn said. "The music lasts an hour. It makes people with dementia feel better. They get up there and dance; it fosters an emotional connection with one another. There is a couple with dementia that gets together every month — they get up and dance together. It's something they can do together."
It also helps the caregivers, VanHeuverzwyn said.
"I've had caregivers call me and say how they'll bring their loved ones to the grocery store and people stare, make fun. People with dementia may act out, say inappropriate things. At the Memory Café, these people are free to do what they do, and all the caregivers understand. We redirect and go with the flow."
Student Opportunities Planned
Students in the college's psychology and neuropsychology programs may soon benefit as well.
Dr. Richard Durant, assistant professor of clinical neuropsychology and director of the Alzheimer's Disease Caregiver Support Initiative, said that while no students are involved with the café and other support groups offered through the Center for Neurobehavioral Health yet, he hopes to change that in the near future.
Durant, who is also director of neuropsychology clinic and psychoeducational services, currently has two student research assistants who are helping him "launch an investigation into program effectiveness and caregiver quality of life.
"We hope to get students more involved with programming such as Memory Cafe and support groups," he said.
In the meantime, the Memory Café gives participants something to sing about.
'You Are My Sunshine'
One of the musicians who comes in closes with the song, "You Are My Sunshine."
"One man who is usually very quiet, rarely makes contact, starts smiling when he hears 'You Are My Sunshine.' His wife said she sings it to him at home now and it helps quiet his irritability."
Some of the café goers are from the center's Third Age Adult Day Center, but others come from the community, VanHeuverzwyn said.
VanHeuverzwyn handles a caseload of more than 200 clients, doing home visits where she helps caregivers strategize on how to handle behaviors, offers coping skills and connects family members with community resources.
"With this job, I go and provide support, but the reason I love the Memory Café is because it's a place everyone can go and have fun together. Seeing these people there just warms my heart. I get up there and dance; caregivers get up there and dance. They have a good time."
For more information on the Memory Café or any of the services offered by the Center for Neurobehavioral Health, visit https://www.plattsburgh.edu/about/centers/cnbh/index.html or call 518-564-3369.