Jump to Footer
ESPN Sportswriters Visit SUNY Plattsburgh Campus
---
Write, write and write some more. This was advice given to future sportswriters by John Scher, senior baseball editor for ESPN The Magazine, and Buster Olney, a senior baseball writer for ESPN The Magazine and regular contributor to "Sports Center," and "Baseball Tonight." The two spoke at a forum hosted by fellow ESPN sportswriter Luke Cyphers, an adjunct journalism lecturer at SUNY Plattsburgh.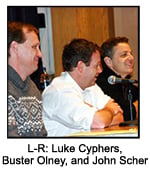 "They spoke to my sports reporting class last year and were a hit with the students," said Cyphers. "So the journalism department thought it would be valuable to have them share their insights with the rest of the community."
"I am a sports fan - some would say sports fanatic - so the opportunity to have two sportswriters of the high caliber of Buster Olney and Jon Scher, to say nothing of Mr. Cyphers' own high level of expertise, on our campus was incredible," said Benjamin Pomerance, a senior who writes for the Cardinal Points campus paper and is double-majoring in journalism and political science with a minor in music.
"I think everyone there came away with a greater appreciation for sportswriting in particular and the field of journalism as a whole," he said.

For Pomerance, who recently had an article about the legendary baseball player Johnny Podres published in the New York Daily News, hosting such speakers is but one in a list of ways the college has helped him.
"I can truly say that without Plattsburgh State's journalism program, I would never have had this article published in the New York Daily News," said Pomerance.
"Luke Cyphers, from whom I took an excellent sports reporting course in my first-ever semester of college, played an invaluable role in helping me find a home for this story, in advising me of a way to rewrite it to make it more marketable for this particular situation and in encouraging me to go after a brass ring that, at first, I thought was a real long shot to attain.
"But the impact of this department went well beyond that. The teachers I have had in the journalism department - Ron Davis and Shawn Murphy especially - have worked with me in fine-tuning my work and teaching me about the nuances of good journalism, and have taught me lessons I will not only remember, but treasure, forever," he said.
Pomerance also spoke about faculty response to his article. It was "tremendous, even a little embarrassing."
"That genuine spirit of warmth and encouragement is something that is a unique part of the 'Plattsburgh experience,' a very special gift that this campus offers to all its students."
If you would like to learn more about the journalism program at SUNY Plattsburgh, contact
Shawn Murphy
Chair, Department of Journalism
Co-Director, Center for Communication and Journalism
Office: Yokum Hall 103-A
Phone: 518-564-2422
Fax: 518-564-2105
E-mail: [email protected]