Jump to Footer
Campus Shines Light on Developmental Disabilities During Awareness Month and Beyond
---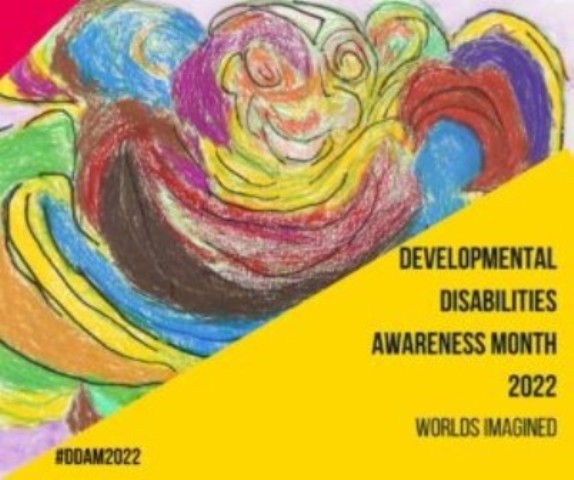 SUNY Plattsburgh is raising awareness on inclusion of people with developmental disabilities and the barriers they still sometimes face in connecting to the campus and greater community in which they live.
Thirty-five years ago, March was designated Developmental Disabilities Awareness Month by presidential proclamation to help the general public become more aware of how individuals live, how they see themselves and to aid in learning how to help those with developmental disabilities achieve their own dreams.
"Disability awareness is important because awareness helps dispel misconceptions and stereotypes surrounding people with disabilities," said Jennifer Curry, coordinator for accessibility services in Student Support Services. "One common misconception is that disabilities are always apparent. While many are, there are also unseen or invisible disabilities that may not be immediately apparent."
It's raising awareness of all types of impairment and how a person's disability impacts their lives that creates opportunities for others to get involved and promote inclusivity, she said.
According to the National Association of Councils on Developmental Disabilities, more than five million Americans are estimated to have a developmental disability, which means "a severe, chronic disability that occurs before an individual is 22 that is likely to continue indefinitely, and results in substantial functional limitations in three or more of the following areas of major life activity:
Self-care
Receptive and expressive language
Learning
Mobility
Self-direction
Capacity for independent living
Economic self-sufficiency
These impairments require the individual to sustain lifelong or extended supports or assistance. Diagnosed conditions may include autism, Down syndrome, cerebral palsy, or spina bifida.
According to Curry, Student Accessibility Services "serves all students who identify as having a disability.
"We offer accommodations such as extended time testing, note taking services, advocacy, alternate format text, mobility aids, registration of emotional support animals, housing accommodations, and referrals/resources for other support services," she said. "We work closely with students to determine what supports they may need in order to have full access to the classroom and campus experience."
To commemorate Developmental Disabilities Awareness Month, Curry said her office has a number events planned for the month of March and beyond that will help raise awareness on campus.
"We are hosting a series of art therapy workshops in collaboration with Student Support Services with the initial workshop being held Thursday, March 10 at 3:30 p.m. in the Relaford Room in Macomb Hall," she said. A second is planned for the same time and location on Wednesday, May 4.
Curry said her office will also be tabling in the Angell College Center throughout March "in order to share information about accessibility services on campus." In addition, a Campus Access Committee has been formed with representatives from Student Support Services, parking, housing and grounds.
"The goal of the committee is to come together prior to each semester and more often as necessary to ensure that students with accessibility needs have full access to campus and ensure safety during inclement weather," Curry said. She said they are also working on establishing an accessibility committee to include library and information technology services, classroom accessibility, maintenance and operations that will address classroom accessibility.
Trisha Pellerin, campus housing director with Campus Housing and Community Living, said they work closely with Curry and her staff, assisting students with a variety of accommodation needs.
"Because of HIPAA, we don't know why a student might be seeking an accommodation, but based on recommendations from SAS, we are able to house a student while keeping in mind a situation that would be most suitable for them to be successful here as a student," Pellerin said. "We also find it very important to hear feedback and suggestions from students on what works well for them so we can continue to meet the needs of our diverse population."
Pellerin said they also coordinate with Student Accessibility to make accommodations for students who apply for emotional support animals in campus housing.
"Students may be seeking this type of accommodation for various reasons as well," she said. "If approved, we work with the student on housing placement."