Jump to Footer
Interdisciplinary, Area Studies Director Devine Brings New Film Forum to Strand
---
The Plattsburgh Film Forum, "Volume 1: Young Filmmakers/Local Films," returns to the Strand Center for the Arts Saturday, Oct. 22 featuring film shorts by SUNY Plattsburgh faculty, students and artists in the community.
The forum, which begins at 7 p.m., includes nearly 20 shorts that reflect the work of students as well as a conversation with guests Anthony Scalzo, a 2020 TV/video production grad, independent filmmaker and writer living in Los Angeles, and Eve Tremblay, an interdisciplinary artist from Montreal whose photography, film and conceptual works have been exhibited at the National Museum of Fine Arts in Quebec, the Bergen Kunsthall, The Museum of Contemporary Art in Montreal, and the Prague Biennial, among other places.
Devine as Filmmaker
The film forum is the brainchild of Dr. Michael Devine, English professor and director of the Center for Interdisciplinary and Area Studies at SUNY Plattsburgh. No stranger to film forums or filmmaking, Devine organized the now-defunct Lake Champlain International Film Festival, which featured several of his films over its four-year run, including "Burgh, with wife and theater lecturer Julia Devine and "The Michigan" with Jean Uylsee, 2016 TV/video production grad.
It's the latest installation in the Center for Interdisciplinary and Area Studies' ongoing HUMAN (viewpoints) project, which as Devine describes, is "a college-community collaboration exploring what happens when we look at the world together."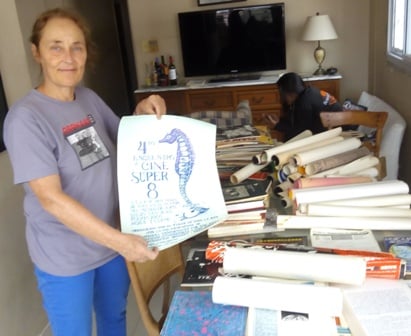 But Devine has a more personal reason to bring host a film forum: It's a way to honor the legacy of Dr. Isabel Arredondo, the late professor of foreign languages and literature who died in August.
"(She was) a vibrant scholar," Devine said. "Most recently, Isabel wrote and researched on the worldwide legacy of Super 8, one of the many innovations that democratized filmmaking, bringing together the amateur and the avant-garde.
As Devine's student, Scalzo contributed to work shown at the Lake Placid Film Festival in 2018. His films, which are "deeply influenced by the French New Wave," will be shown at the Plattsburgh forum as well, Devine said. As for Tremblay's appearance, Devine said "It's important (for students) to see that established artists are living and making in the North Country — in fact, her short films are a kind of geographic triptych showing her lyrical exploration of place and people from Canada to Plattsburgh."
Keeps Filmmaking Vision Alive
"This forum keeps alive that vision of filmmaking and shows how students at the college have contributed to it in really creative ways," Devine said. In addition, he and Arredondo helped initiate the film studies minor, which encourages students to look at film as an art form and even try their hands at filmmaking.
The results will be viewed at the Oct. 22 forum.
"These are place-based short films, many made by students over the past few years at SUNY Plattsburgh," he said. Many explore the monuments, murals and life of Plattsburgh in a radically new light; that's the transfiguring power of film. And they're short — they're like little poetic fragments exploring what a camera and a curious mind can do."
The Plattsburgh Film Forum is free and open to the public and is supported in part by the Center for Canadian Studies and the School of Arts and Sciences. For more information, contact Devine at 310-367-0885 or email [email protected].