Jump to Footer
SUNY Plattsburgh's Cardinal Points Earns Spot in Collegiate Press Hall of Fame
---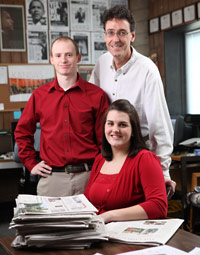 Cardinal Points, SUNY Plattsburgh's student-run newspaper, has earned a place in the Associated Collegiate Press Hall of Fame.
The paper qualified for this honor by winning its 10th ACP All-American Award in an 11-year span. An induction ceremony will be held during the 89th annual National College Media Convention in Louisville, Ky., this October.
Also being honored at that event are SUNY Plattsburgh students Bradley Kasten of Hampton Bays, N.Y., and Jameson Sempey of Ridge, N.Y. They designed a two-page spread about international students that has become a Pacemaker finalist for Infographic Design.
This is another tremendous honor, said Cardinal Points Adviser and Journalism Chair Shawn Murphy, who called the Pacemaker the "Pulitzer of college media."
'A Tall Order' Filled
The All-American Award, the Hall of Fame placement and the Pacemaker nomination are all part of a string of national newspaper honors that began not long after Murphy took over as newspaper adviser in 1997.
SUNY Plattsburgh journalism alumna Jennifer Meschinelli remembers Murphy's early days as adviser. She was the first Cardinal Points editor to work with him.
"From the first moment he got here, he said it was going to be an award-winning newspaper," said Meschinelli, who is now the special publications editor for the Plattsburgh Press-Republican and an adjunct journalism lecturer at the college. "It was a tall order."
But, coupling these high expectations with a lot of work evaluating student efforts, Murphy became the driving force behind these honors, said Meschinelli. "Editors and staff have come and gone, but in the past 14 years there's been one constant. That's Shawn Murphy."
Creating a Journalistic Legacy
Murphy, on the other hand, credits his students.
"This award is not my award; it belongs to every student-journalist whom I've had the pleasure of advising on Cardinal Points since I arrived in Plattsburgh in 1997," Murphy said. "I am merely the coach on the sidelines who offers advice about how this Cardinal Points team can improve their journalistic game."
Meschinelli said she recognized many of the other Hall of Fame inductees, which included Pepperdine University, the University of Miami, Indiana University and Ball State. "They are amazing papers. This is a huge honor."