Jump to Footer
University Police Lieutenant Receives State Recognition for Professional Service
---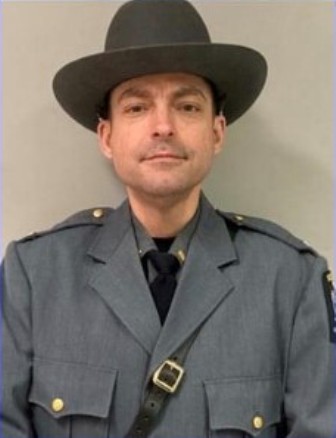 SUNY Plattsburgh University Police Lt. Darren Barcomb was recognized for his service to the college and department by the State University of New York.
Barcomb, a 23-year veteran of UP, received SUNY's 2021 Professional Service Award by the SUNY Police Chiefs Association. The annual awards honor lieutenants, officers and staff who play a key role in life-saving events and give exemplary professional service.
The lieutenant joined the department in 1999 and was promoted to his current rank in June 2019. Chief Patrick Rascoe said that Barcomb "has been a valuable member of the supervisory team, always eager to take on assignments, support his officers and help the department.
"He serves as the adviser to the Criminal Justice Club and the Nu Theta Gamma fraternity, provides onboarding education to housing staff and students and administers the campus' van operations and LENS program among other responsibilities," Rascoe said.
University Police Commissioner Mary Ritayik said during the fall awards ceremony that it "is a time to come together to acknowledge those members who have gone above and beyond their duties. In a time where society is currently focused on law enforcement, praise and appreciation for the jobs our officers do, now more than ever, is extremely important for them.
"It is imperative that we continue to honor our officers and acknowledge them for the risks they take to help others in need, the lives that they've saved, and their efforts and contributions that they make to their departments in order to ensure that the New York State University Police remains a professional leader in law enforcement," Ritayik said. "Our men and women of the New York State University Police are some of the finest officers in law enforcement today."
Much of Barcomb's attention the last academic year was focused on keeping campus and community safe during the COVID crisis.
Under Barcomb's leadership at SUNY Plattsburgh, the night shifts conducted a majority of the 908 patrols for COVID compliance both on and off campus where students resided. He collaborated with the City of Plattsburgh Police Department and Clinton County Sheriff's Department to respond to reports of violations, provided guidance for the investigations, disbursed the problem for the night and collected evidence for referrals to the campus student conduct system, Rascoe said.
"The investigations were not easy; the students employed a wide variety of tactics to evade identification. However, Lt. Barcomb adjusted to each situation utilizing tact and an ability to communicate in a way that would gain cooperation without threats or force," he said.
Rascoe praised his lieutenant, saying Barcomb's "actions and tactics have greatly enhanced the operations of the University Police Department and resulted in student compliance with gathering restrictions, keeping students safe and campus open."