Jump to Footer
SUNY Plattsburgh Celebrates Graduates at Winter 2021 Commencement
---
For the first time in decades, the auditorium in Hawkins Hall served as the venue for a SUNY Plattsburgh commencement, where nearly 250 graduates crossed the dais and became new members of the Alumni Association at the annual winter commencement Saturday, Dec. 18.
President Alexander Enyedi presided over two smaller ceremonies in the E. Glenn Giltz Auditorium where he thanked students for attending SUNY Plattsburgh and for enduring the last two years under the veil of COVID.
While the venue was different, the solemnity was not. Students were ushered into the auditorium to the strains of "Pomp and Circumstance" while faculty, staff and platform guests were brought in to the sound of bagpipes playing "Scotland the Brave."
"For all of you, the last part of your college experience has been incredibly challenging and incredibly tough — even today as we continue to observe protocols and precautions," he said from the podium on the Giltz stage. Commencement is generally held in the Field House but had to be moved this year while renovation work in underway there. "No one in 100 years has faced the difficulties of a pandemic, the shift in expectations and the dramatic altering of your course work and college life.
'We are So Very Proud'
"But you have persevered and overcome, which is cause for celebration," Enyedi said to applause. "You demonstrated what Cardinal Strong means. Your peers here today, elsewhere on campus and those watching by livestream in a thousand places, commend you and celebrate with you, as do I. We are so very proud of you."
Part of the ceremony included bestowing an State University of New York honorary degree of Doctor of Laws to the Hon. Glenn Suddaby, a member of the Class of 1980 and current U.S. district judge of the Northern District of New York.
Suddaby earned his undergrad degree in speech communication at SUNY Plattsburgh. During his senior year, he worked as an intern with the State Assembly. After graduating, Suddaby served as a legislative assistant in the State Legislature for four years before graduating from Syracuse University College of Law in 1985.
He then joined the Onondaga County District Attorney's Office in Syracuse where he worked as a clerk while attending law school. After three years in private practice, he returned to the DA's office in 1992 as chief assistant of the homicide bureau.
From 2002 to his nomination in 2007 by President George W. Bush to the federal bench, Suddaby served as the U.S. attorney for the Northern District, which encompasses the counties along the Canadian border, down to Syracuse and south to Ulster County.
'Foundation to Pursue Dreams'
The judge thanked the graduates for letting him share their day and expressing how humbled and honored he was to do so. He also imparted how fortunate he feels for having received his first degree from SUNY Plattsburgh.
"You graduate today with a degree from Plattsburgh; you have the foundation to pursue whatever dreams you have and may develop in the future, whether you're starting a career, pursuing more education or still figuring out where your passion lies," Suddaby said. "You have the platform with your degree to accomplish whatever you desire. There is an expression in sports: Play fast, but don't be in a hurry. Time goes by quickly; don't waste it, but don't panic.
"If you haven't figured it out yet that's ok. Keep working. Don't ever stop working and striving; work hard at whatever you do and good things will happen. Be confident and proud of your accomplish today; there is nothing that should stop you from reaching your goals and desires," he said.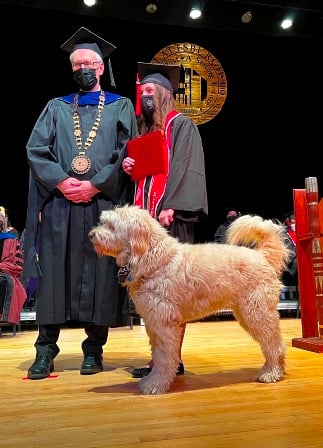 Lily Alvarado, an English literature and gender and women's studies major from the Bronx, gave the student address for the morning ceremony, where she told her fellow graduates, "We all deserve to be here. We all deserve a seat at the table. Maybe we can all even work toward building a new table where no one has to fight for a seat."
'Be Kind to One Another'
Harrison Gereau, a TV/video production major from Schroon Lake, delivered the address to his classmates at the afternoon ceremony, giving them this challenge: "Be kind to one another; raise each other up. Always stay Cardinal Strong and remember: learning to think means learning to exercise control over how and what you think.
"This is key to life's truths — not to do with the question of life after death but of life before death. This is the real value of a real education, which has nothing to do with knowledge and everything to do with awareness," he said.
After the tradition of moving tassels from right to left, over their hearts, the graduates were congratulated by Enyedi, who wished them "much success in your careers and lives. You entered today as students and now you leave as a member of the Plattsburgh Alumni Association, graduates of this college," he said. "Stay in touch and come back often. We hope you return for Homecoming Weekend Oct. 14 and 15, 2022."
To watch livestreams of both ceremonies, visit https://www.plattsburgh.edu/plattslife/commencement/livestream.html.