Jump to Footer
Plattsburgh Next Strategic Plan Sets Course for Future
---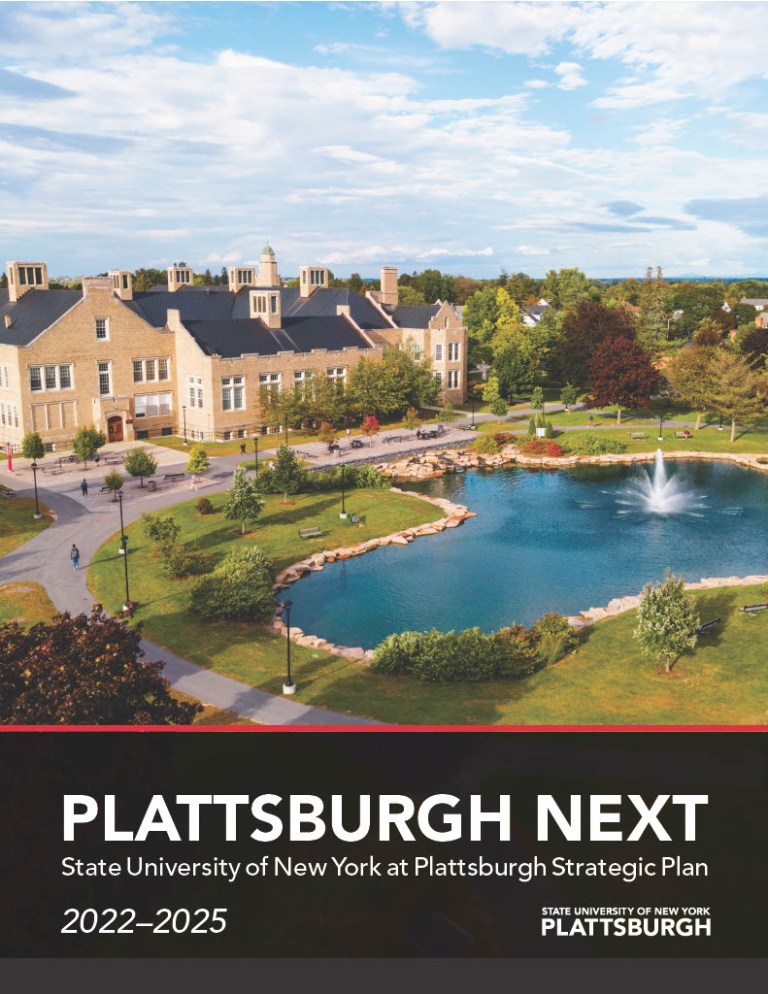 SUNY Plattsburgh President Alexander Enyedi released the college's new strategic plan Tuesday, a blueprint for action that will lead and inform the college's priorities and decision-making through 2025.
Plattsburgh Next is a robust three-year framework built on four pillars: Grow and stabilize enrollment; strengthen student success; prioritize equity and inclusion; and enhance engagement with the North Country region.
"Having a strategic plan provides a sense of direction, outlines measurable goals, articulates what must be done now and provides the opportunity to affirm our values, or put differently, succinctly describe our 'why,'" Enyedi said.
"Our new strategic plan requires that we develop a holistic and integrated view of the work we do and understand that every action, every decision, every investment and every initiative impacts the entire campus."
Download the plan here.
Get details on the website here: https://www.plattsburgh.edu/next.
Each of the four pillars has an overarching goal:
Grow and stabilize enrollment:The plan calls for a stable enrollment of 4,800 students by 2025 to ensure financial stability and capacity to make investments that align with strategic priorities
Strengthen student success:The plan calls for the college to enhance student support, student engagement and student retention and also optimize the academic portfolio to provide career value and social responsiveness
Prioritize equity and inclusion: The plan calls on SUNY Plattsburgh to eliminate equity gaps, increase access and reduce student debt
Better engage the North Country region: The plan calls on the college to reaffirm its critical role as a driver of economic prosperity and community wellness. SUNY Plattsburgh is an important partner to ensure the vitality of Plattsburgh and the entire North Country region.
Development of the plan occurred over much of 2021. The work included a representative steering committee, data collection, nearly 50 campus and wider community focus groups, and an evaluation of strengths, opportunities, aspirations and results. Provost and Vice President for Academic Affairs Anne Herzog and Dr. Gary Kroll, former chair of the Faculty Senate and professor of history, led the effort to build the plan.
To implement and assess the plan, campus faculty and staff will be identified across campus to serve as accountability partners. They will meet regularly with the president's cabinet for progress updates and share current information on the college's movement toward achieving goals. End of year divisional reports and the cabinet will assess how well planning priorities have been achieved.
"Three of the most important outcomes of effective strategic planning are implementation, implementation and implementation," Enyedi said.