Jump to Footer
Allen-Howard Scholarship Help Others Achieve Their Goals | SUNY Plattsburgh
---
As a final act of generosity to college-age young people in and around Plattsburgh, Grace Howard-Allen, who died in June 2014 at the age of 100, left the remaining $500,000 from an IRA to the Plattsburgh College Foundation Allen-Howard Scholarship.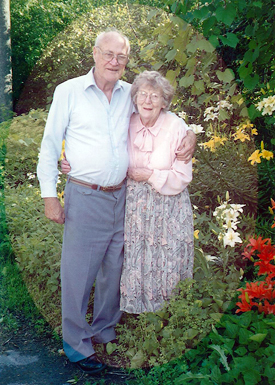 The funds were added to the endowment that was initially funded when the Allen-Howard Scholarship Plattsburgh College Foundation was transferred to the foundation upon the death in 2005 of her husband, Dr. Jonathan M. Allen. Today, the total family commitment is more than $1 million. It supports students hailing from northeastern New York and is based on academic merit and financial need.
"Grace grew up on a subsistence farm in Michigan where she learned self-sufficiency," said daughter-in-law Eileen Barber Allen '77, G'87, coordinator of the GIS laboratories in the Center for Earth and Environmental Science who is married to one of the couple's four sons, Peter '77.
"She was the smartest person I've ever known in an academic sense," Barber Allen said.
Grace studied commerce and math and, because of the Great Depression, was the only one in her class to get a job right after college. She first taught school before deciding to join the Navy. With a new job at the Navy's Hydrographic Office in Washington, D.C., she earned top clearance and helped track submarines during World War II.
Grace met Jon in Washington where he was completing a surgery internship at the National Naval Medical Center in Bethesda, Md. Both were in the thick of war efforts. Jon was always appreciative of his scholarship to Williams College, his schooling as a surgeon at Albany Medical College and the opportunities for medical training he received in the Navy.
After marrying in 1948, they returned to Jon's native Plattsburgh where he began to build a general surgery practice they started a family: three of their four sons, David, Paul and Peter, were Plattsburgh State Hudson Scholars. Jonathan, their youngest son, graduated from Rochester Institute of Technology as an electrical engineer.
"Growing up in the Depression influenced both of them," said Barber Allen. "They had a can-do attitude and did so much for others."
Allen-Howard Scholarship Timeline
1960: College-tuition fund established for Allen family members
2000: Not-for-profit Allen-Howard Scholarship Foundation established
2005: Plattsburgh College Foundation begins managing fund
2014: Final gift to the Plattsburgh College Foundation Allen-Howard Scholarship
Unable to retrieve file contents for https://www.plattsburgh.edu/news/news-list.php
Warning: count(): Parameter must be an array or an object that implements Countable in phar:///var/www/staging/_resources/scripts/brei.feedmanager.ext/Filtering/FilteredObject.php on line 126

Warning: count(): Parameter must be an array or an object that implements Countable in phar:///var/www/staging/_resources/scripts/brei.feedmanager.ext/Filtering/FilteredObject.php on line 243