Jump to Footer
Alumni Profiles
---
Wondering whether your interest in the outdoors could someday earn you a paycheck? Read on! SUNY Plattsburgh EXP students gain valuable real-world experience that leads to professional positions.
Kelsey McGill, Class of 2015
---
"Enrolling in expeditionary studies may have been the best decision I made in a pivotal time of my life. Thanks to the guidance, support, and experiences of the expeditionary studies program, I am compelled to become an influential educator. During the program, I applied such skills to develop as a leader and educator. Since I focused on the climbing aspect of the program, this inspired me to climb in a wide range of destinations throughout the country, and in return, connect with various communities who were incredibly welcoming and insightful. The ability to have experiential education allowed me to be flexible and self-reliant. For a few stepping stones, such as being a supervisor at the SUNY Plattsburgh Climbing Wall and volunteering with traumatic brain injury patients, leading with the Odyssey Adventure Program, trekking in Nepal for a month, and taking a semester course with International Wilderness Leadership School, each challenge and discovery allowed me to find my best potential.
"Since graduating, I've worked for a variety of programs such as Colvig Silver Camps, Boojum Institute, Mount Bachelor, Northwest Outward Bound School and Outward Bound California. The technical skills gathered from EXP allowed me to instruct a variety of course types such as backpacking, rock climbing, and mountaineering. Currently, I work at the Methow Valley Community School as an after-school care coordinator and substitute teach during the school year, as well as instruct for the Northwest Outward Bound School during the summers. These unique learning environments empower me to integrate the fundamentals of teaching year-round in a classroom with outdoor education to become an efficient educator. Working with youth gives me a deep sense of purpose for what I believe is needed in today's society."
Maeghan Farnham, Class of 2015
---
Maeghan graduated from SUNY Plattsburgh in 2015, with a degree in expeditionary studies. Since graduating, Maeghan has actively pursued professional development and certifications in both rock climbing and kayaking. She has worked various seasonal jobs including guiding multi-day kayak tours in the San Juan Islands in Washington, leading groups on multi-day treks in Torres del Paine National Park in Chilean Patagonia, and Kayak Instruction with Osprey Sea and Surf in Westport Massachusetts. Despite her busy work schedule, Maeghan gets outside frequently to work on personal skills in fun environments across the U.S. She has certifications in WFR, AMGA Single Pitch Instructor, ACA Level 3 Coastal Kayak Instructor, and BCU 3 Star Paddler/BCU 4 Star Training.
Maeghan Barone, Class of 2008
---
"Learning through play has been a compass of my early childhood. With canoe trips to Algonquin Provincial Park, an Outward Bound course in high school, and living abroad in Finland as an exchange student, I began learning that play could be profitable. My formal debut into the experiential field of learning began at SUNY Fredonia, where I began actualizing how to make work into play, and play into learning. Transferring to SUNY Plattsburgh in 2005 was a pivotal transformation for the trajectory of my career choices. Dr. Larry Soroka and the expeditionary studies program supported my self-designed major titled: Individualized Studies in Experiential Learning. Through the EXP program, I was able to weave together coursework in psychology, leadership, gender, environmental & political studies, a NOLS Alaska Outdoor Leader Course, with rock climbing, water sports, snow sports & back country travel. After SUNY Plattsburgh, I spent the next four years working in and out of the industry, which served as a vehicle to travel and see the world. Finally, in 2012 I returned to my hometown to complete a master's in social work at the University of Buffalo.
"For the past four years I've worked as the adventure recreation director for New Directions Youth & Family Services. I supervise two adventure recreation teams, an eight-horse equestrian program and two sets of challenge course facilitators. In order to meet and exceed industry standards, my program has been accredited by the Association for Experiential Education since 1999, with a successful re-accreditation in 2016. Year round, my team and I serve risk exposed youth with the opportunity to participate in art & music, traditional sports, adventure sports & community enrichment. The intention of all the activities we do, whether its mountain biking, horseback riding or coloring is to provide play that heals."
Mike Bowyer, Class of 2013
---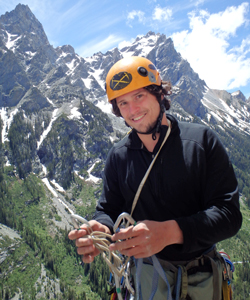 After graduating from the expeditionary studies program, Mike had all of the necessary skills and experience to start going after all of his adventure goals and dreams. Directly after EXP in the summer and fall of 2013, he went on a series of expeditions to the Bugaboo Provincial Park, Grand Tetons National Park, Transylvania in Romania, and Nepal. He has attempted four Himalayan peaks including Mt. Manaslu, Island Peak, Kongde Ri and Ama Dablam on two separate expeditions.
Mike began working in the telecommunications industry as a cell tower technician and traveled all over the United States climbing cell phone towers, which funded his personal expeditions. He was recently promoted to the position of safety and training director. He is responsible for creating and implementing the in-house standards and policies the company uses to ensure their technicians are operating to industry standards and performing at a high level. His time working and training co-workers and peers as well as going after his own dreams in life led him to create his own adventure consulting company, called Summit Yourself. Through Summit Yourself, Mike works with anyone looking to train and prepare for long term adventure goals.
Mark Pugliese, Class of 2012
---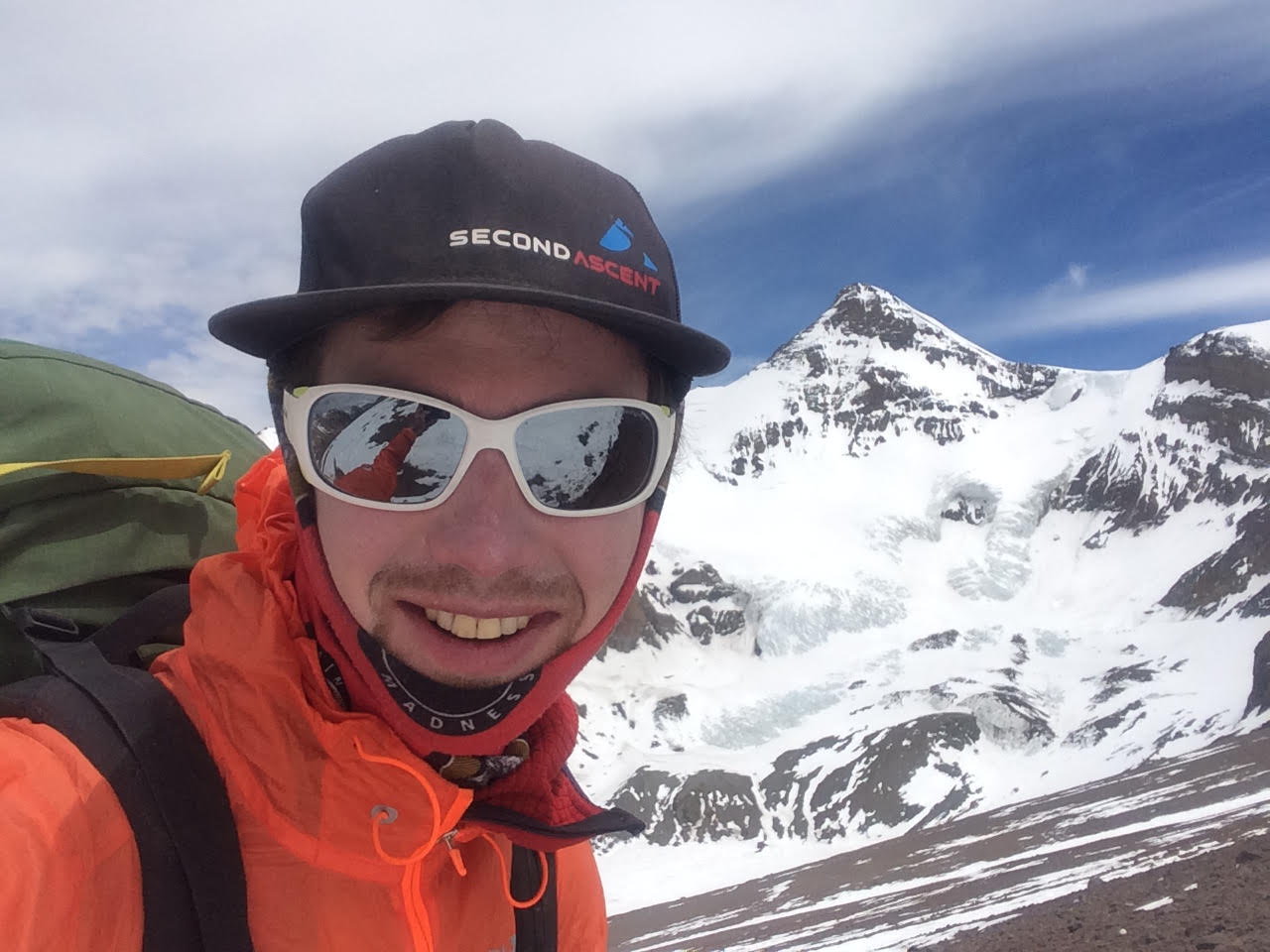 "After graduating from EXP, I moved around for a year and then eventually found my summer home in Seattle, Washington. I currently work for Mountain Madness Inc. and Alpine Ascents International. I started working for Madness in the North Cascades of Washington State and then began to do more international guiding. I have now worked in Russia, Argentina, and Mexico for Mountain Madness. I also work every year in Alaska for Alpine Ascents. In the winters, I spend most of my time in the Wasatch Mountains, in Salt Lake City, UT. There I work for Utah Mountain Adventures and do international work for Mountain Madness. I split my time between guiding and doing personal expeditions with partners that I have mostly met through guiding.
"Starting to work with these companies really opened the door to a whole different caliber of climbing and skiing partner. I was thrown into a different world which quickly improved my technical abilities and mountain experience, as a result I started to get a lot more opportunities thrown at me. I began to go on expeditions to places like Alaska to not only climb, but establish new routes and explore the possibilities of modern climbing. I have learned and still continue to learn from climbers who are on the cutting edge of the sport. My life continues to accelerate and I am always planning the next trip and continuing to pursue higher levels of education to become a better guide, climber and skier.
"This all started in at SUNY Plattsburgh, in the Expeditionary Studies Department. I remember sitting in Larry Soroka's office and being blown away by what he was telling me I could do with not only this program, but with my life. I was completely unaware people were doing this kind of thing. The program was great in terms of learning technical systems, getting out and becoming a competent climber, and mostly because of the lifestyle education I received. Expeditionary studies's head climbing and skiing instructor, Casey Henley, told me tales of faraway places and all his incredible experiences, and the amazing people who are now his dear friends. What I saw in him was someone who had experienced a life that resonated with me more than anything I had ever come across. With the help of my peers and instructors in EXP, I am now living that life and literally becoming friends with those same people I heard in his stories. Without EXP, I would probably be sitting behind a desk somewhere still watching videos of the places I wanted to go and the things I wanted to do. Currently, I am writing this bio finally taking a rest from climbing in Utah and Argentina. I am leaving for Mexico next week to train for an Alaska expedition this spring and my first Himalaya expedition next fall. I'm literally living my dream, and so can you."
Keith Madia, Class of 2013
---
"Expeditionary studies opened a door to a professional life in the outdoors that I didn't know was possible before coming to SUNY Plattsburgh. The program gave me the opportunity to travel all over the country on climbing and kayaking trips while learning the essentials of guiding in diverse settings. During the program, I was also challenged to think critically about risk management and the planning that goes into these activities.
"After graduating, I took my backcountry skills to the wilderness therapy industry where I began working with at-risk youth in a backcountry setting. This ultimately led me to a position as the adventure programming specialist with Elements Wilderness Program. I'm a full time climbing and canyoneering guide and I absolutely love my job! I honestly have the expeditionary studies program and all the wonderful instructors there to thank for the skills that led me to the start of my career."
Allison Thompson, Class of 2010
---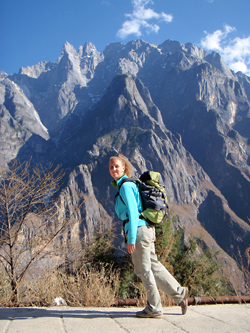 During Ali's time in expeditionary studies, she traveled all over the U.S. and abroad, sparking what is now a passion for combining work with travel. This started with an EXP trip to Nepal, followed by an internship in Hong Kong and her Senior Expedition in Thailand. Ali is currently teaching English in China, at Suzhou Foreign Language School with plans to attend graduate school only, of course, after some more travel. According to Ali, "expeditionary studies was the perfect fit for me, allowing to train at high levels of climbing and paddling and gain an entirely new perspective on the world."
Charlie Stewart, Class of 2013
---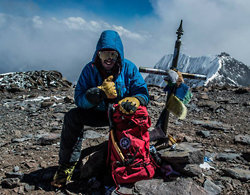 Expeditionary studies helped me realize a lifelong dream of working in the outdoors and sharing my passion with others. The program gave me the opportunity to experience many new places in the world while learning many valuable lessons from its experienced professors. Towards the end of my undergraduate experience I discovered an opportunity to travel to Alaska and begin a career guiding and leading instructional programs in the outdoors.
Since graduating, I have continued my work as a guide in Alaska, and have also traveled and worked internationally. I am able to share my passion for skiing, climbing and kayaking with others, and get a deep satisfaction from seeing former clients go on to adventures of their own. There is no doubt in my mind, that the time I spent in the expeditionary studies program has greatly enhanced my ability to think critically and maintain a high level of safety and fun in the outdoors.
Aaron DiMartino, Class of 2009
---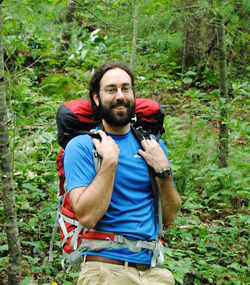 Aaron couldn't have imagined the magnitude of his decision to switch his major to expeditionary studies at the time, but the benefits were immediate. His confidence grew with each passing day and the trajectory of his life was ever changed.
Since graduating from the expeditionary studies program, Aaron has only sought out challenge after challenge. He worked as a wildland firefighter, was a Peace Corps volunteer in South America and most recently completed his master's degree studying recreation park and tourism administration. Currently, Aaron works for the California based non-profit Adventure Risk Challenge where he is their outreach coordinator. Through this position, Aaron is able to introduce undeserved youth to literacy and leadership programs that take place both in the classroom and in the backcountry of the Sierra Nevada mountains. It's his dream job.
Dan Pond, Class of 2010
---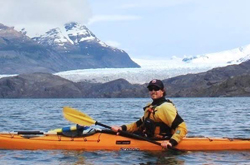 After graduating in 2010, Dan took his passion of sea kayaking to coastal Washington where he guided in the San Juan Islands for several summers. "My passion has always been to pursue backcountry medical response, ever since being a part of the volunteer fire department and the Boy Scouts in high school." In the winters, Dan worked as an EMT, as well as travel and go on kayak expeditions in places like the Sea of Cortez and coastal British Columbia. In 2013, he began working for the Forest service, combining his outdoor and emergency response skills, as a wildland firefighter on the Sawtooth Forest, in Idaho. Today, he is a sawyer and EMT for the Sawtooth Hotshots, a highly trained national response hand crew. Missing kayaking, he spent a winter guiding in the gorgeous and harsh environment of Chilean Patagonia. "It may not seem like the typical career path for EXP students, but I have found that the knowledge and expertise gained from the program has helped me be successful and follow my dreams, wherever they may take me."
Michelle Schonzeit, Class of 2004
---

When the first courses were made available to students, Michelle was one of the first, taking a backcountry ski course while still in high school. "That experience," she said, "led her to Plattsburgh State the following year for courses that would broaden my outdoor education." During her sophomore year, Michelle was awarded an internship with the Yosemite National Park Search and Rescue office, sparking a love of the National Park Service. That led to two other National Park Service internships, one in Olympic National Park and one in Grand Teton National Park. Since graduating from SUNY Plattsburgh Michelle has been a ranger at Crater Lake National Park in Oregon, at Lake Mead National Recreation area in Arizona, and is currently at Delaware Water Gap in northeastern Pennsylvania. "Without a doubt, says Michelle, "The expeditionary studies program was a catalyst in my life to realize my professional dreams."
Greg Young, Class of 2010
---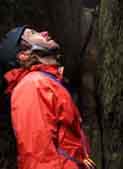 "The expeditionary studies program exposed me to a world of adventure. I feel confident being on my own, as well as leading others in all kinds of wilderness settings. During the program I learned to rock climb, ski and mountaineer with a high level of proficiency. I climbed and skied all over the US, in places such as Joshua Tree, Smith Rocks State Park, and in the North and South Cascades on such peaks Mt Hood, Shasta and in the Three Sisters Wilderness. All of this prepared me for my senior expedition, my final project, to rock climb in the limestone mountains of northern Mexico and climb Mexico's tallest peak, Pico de Orizaba. After graduating, I have continued to climb while working for Open Sky Wilderness Therapy, an organization that works with students struggling with substance abuse, anger/depression and difficult family dynamics. It is an amazing type of work where one can experience human beings on the most real level."
Mike Pond, Class of 2008
---
Before transferring to SUNY Plattsburgh, Mike was a music major and a member of his college track team. After enrolling in expeditionary studies, he "knew immediately," he has said, "that I had found my calling." In between classes and class trips, Mike skied and climbed "frenetically "(his word) whenever and wherever he could. Since then he has taken that same attitude to the mountains of Alaska, Canada, the western U.S. and South America. Recently, Mike was a member of a first-ascent team of the East Ridge of Desire Peak, a climb supported by a grant from The American Alpine Club. At the end of that climbing season, he traveled south to Red Rocks Nevada, and Joshua Tree, California, and to a guiding job in Peru. Having just finished his third season of guiding with the American Alpine Institute, Mike is attending graduate school at Ohio University while continuing his guide's work in summers.
Aaron Hurwit, Class of 2006
---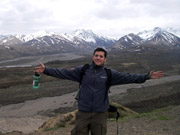 Aaron was another one of those students taking expeditionary studies courses before there was a major. Integrating all the EXP kayaking courses he could into his self-designed major.
Three weeks after graduating, Aaron was working as a professional kayak guide and instructor in San Diego, followed this with a position as a trip leader in Alaska and the Yukon for Adventure Cross Country. No sooner was he done leading teens in the backcountry for ARCC than he moved half way around the world, to Hong Kong, to work as a program leader at Treasure Island, an outdoor education center.
Aaron now lives in Boston where he works for Recreational Equipment Inc. (REI) as an instructor in their Outdoor School while attending graduate school in nursing. "When I came to Plattsburgh," Aaron has recalled, "I thought I knew what I wanted. Four years later, with EXP classes and experiences, I knew that I had been right about my desire to be working in the outdoors."
Carolyn Wharton, Class of 2007
---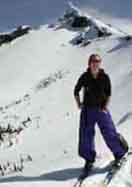 Carolyn has been a "District Crew Leader" in the Baker-Snoqualmie Ranger District of North Bend, Washington for the last three years. Working for the non-profit Washington Trails Association, Carolyn was responsible for organizing, training, and working with volunteer crews contributing time to trail maintenance.
Carolyn has found that expeditionary studies and leading work crews has more in common than she expected. In particular, leading "Backcountry Response Teams" reminded her directly of her EXP days. "I would take these teams into remote settings, after identifying and scouting the trails and balancing the remoteness against the practicality of bringing heavy tools in. We were totally self-sufficient in those settings, something I was used to and prepared for from my expeditionary studies studies." Currently living in Boston, Carolyn is continuing her education in graduate school.
Brenden Eng, Class of 2010
---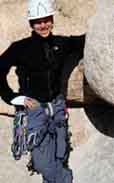 Brenden came to SUNY Plattsburgh after recovering from emergency shoulder surgery to complete his expeditionary studies degree. He ended his studies with his "Senior Expedition" to the sandstone towers in the desert South West and completing a teaching practicum assisting EXP faculty member Casey Henley in rock climbing courses in Arizona and California. After graduating, Brenden moved to California to work for Mountain Adventure Seminars, located in the high Sierra mountain range. He is working as a single and multi-pitch rock climbing guide throughout Northern California and in the winter will be leading day and overnight back country snowshoeing trips, assisting in Avalanche courses and all the while working on expanding his capabilities as a a back country skier and alpinist. Brenden holds the AMGA single pitch instructor certification and is an EMT.
Jason Broman, Class of 2007
---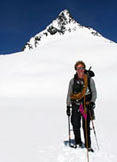 Part of the first cohort of expeditionary studies graduates, Jason is pursuing his dream to work in the mountains by working with Seattle-based Mountain Madness, one of the premier mountaineering schools and guide services in the world
Two years into his degree, Jason shadowed EXP faculty Casey Henley on a Mount Baker summit climb with guiding company Mountain Madness. "That EXP trip," according to Jason, "was life-changing."
After graduating, Jason moved to Washington and began working with Mountain Madness, first as a gear manager and assistant guide and porter and since then moving up to a full guide position. Jason now leads summit climbs and runs mountaineering and rock climbing courses full-time for Mountain Madness." Like other EXP graduates, Jason identifies his studies as critical to his success, having "opened many doors and allowed me to develop the skills that I needed to join a community of professionals in the outdoor industry."
Mike Sibalski, Class of 2010
---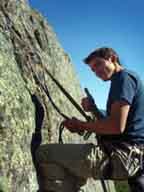 Growing up in Wilmington, New York, within the Adirondack Park, Mike spent the majority of his early climbing years there, contributing to the climber he is today. During his EXP years, he expanded his climbing resume to include a number of areas in the states and abroad, including Joshua Tree, Red Rocks, the Gunks, Pembrokeshire, El Potrero Chico, and Hong Kong. Mike guides courses and trips in Colorado's San Juan Mountains. Certifications: Wilderness First Responder | AMGA Single Pitch Instructor