Jump to Footer
Michael Hudlin, Class of 2019
---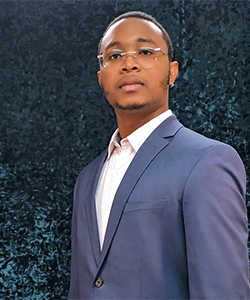 B.S. in Music, SUNY Plattsburgh
"I think back to the conversations I had with my lecturers over my academic life and the vision for my future that I shared with them is slowly coming to fruition. I simply wanted to conduct, compose and arrange. I teach at a private secondary school, I have my private voice and piano students, and I am the organist at the Pro-Cathedral in San Fernando — you can call all of that my 'day job'. I am the musical director of a young company called Chandelier Productions. We are on our way to producing a variety of professional shows.
"The thing that has made me who I am today may not be what you may expect. Yes, the exposure to new piano repertoire, a solid vocal technique, and performance experiences were a huge part of my success. However, SUNY Plattsburgh has shaped my temperament and the way I treat others so significantly. The opportunity I had to be the assistant conductor to Prof. Miano in the concert choir has made me sensitive to my colleagues. I am able to treat others with the respect that they deserve and drive them forward to do their best. As a conductor, one must recognize that the show does not exist without the ensemble and I am forever grateful for their work. I have brought this attitude to Chandelier Productions, and the ensemble gels very well. It is an approach that I did not experience as a young musician in Trinidad and Tobago and I hope that it eventually becomes the norm."
Will Levasseur, Class of 2019
---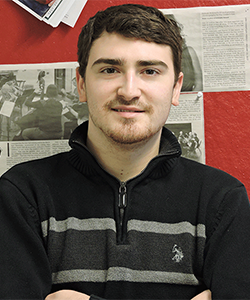 B.S. in Music, SUNY Plattsburgh
"I'm a trombone player. After talking with some of the professors in the music department I decided to join Mambo Combo my first semester, under the direction of Herm Matlock. Once I joined Mambo I was hooked and became a music major. It gave me the feeling that I always wanted — the ability to play music, improv, and improve my playing. This led me to join Symphonic Band and then I was introduced to Lori Salimando-Porter, the trombone teacher on campus. She has taught me technique and helped me to improve my skills and musicianship. I have never taken private lessons before, and studying with her has truly been a remarkable experience here at SUNY Plattsburgh."
Lauren Mueller, Class of 2019
---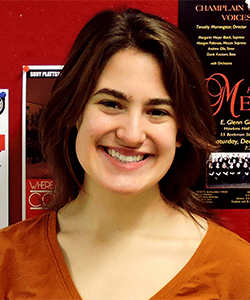 B.S. in Music, SUNY Plattsburgh
"I studied music with a minor in psychology. I've always been musical, and it's something I've carried near and dear to me. Going to school to study just seemed the most natural to me. Music was essentially my whole week until I began more classes in psychology. Not only was it a time to smile and relax, it was a time to remind myself that I was also a student, ready to learn and study. Right now, I specialize in voice but in the past I've specialized in flute and piano."
Kendall Joseph, Class of 2018
---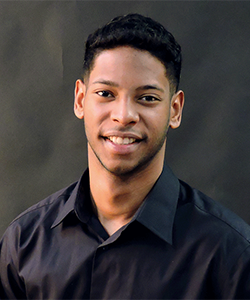 B.S. in Music, SUNY Plattsburgh
"Currently, I am finishing up my master's degree at Ball State University and working on an upcoming project that combines singing, acting and storytelling — I can't say too much on it yet.
"A few months after graduating from SUNY Plattsburgh, I booked a job with a professional choir. They flew me out to St. Louis, Missouri, where I had five days to learn about 12 choral pieces. Afterwards, we performed at 17 venues in over 10 states. My experience with the many different choirs at SUNY Plattsburgh helped me to adjust quickly to a professional environment and learn the music in the short time given. I guess those aural skills classes paid off! After a year of work, I applied to Ball State University where I was offered a full assistantship to pursue my master's degree in vocal performance. My assistantship required me to teach voice to undergraduate students. At first I was intimidated by the position but I thought back on all the things I learned at SUNY Plattsburgh, especially from Jo Ellen Miano. By doing so, I was able to muster the strength to accept the position with confidence. Spoiler alert — I was quite successful as a teacher!
Emily Mero, Class of 2018
---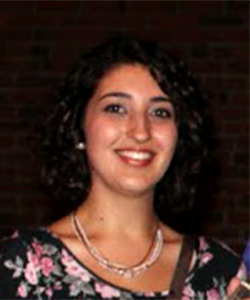 B.S. in Music, SUNY Plattsburgh
Emily hails from Willsboro, New York and was a music major, with two minors in French and business. She's been interested in music since the age of nine after simultaneously taking lessons in piano and clarinet. Starting as a music minor, she switched to the major after a few classes and participating in multiple ensembles. As a former member of the Cardinal Pickers, she put her skills to good use, playing different venues around the North Country.
"In my opinion, the most effective element of the music curriculum at SUNY Plattsburgh is its flexibility to have room for so many of the other musical activities that are available! It's not just about studying the technicals of music, but the opportunities to perform with your classmates — and even alone — that help you become a better and more confident musician. I was able to perform with the symphonic band, clarinet choir, take clarinet lessons, and even have off-campus performances with the Bluegrass Club, of which I was also president! There are so many aspects of music and SUNY Plattsburgh allows you to explore them all!"
Daniel De Cranie-Pierre, Class of 2016
---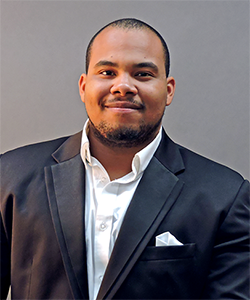 B.S. in Music, SUNY Plattsburgh
"Currently, I am running my personal training business in Trinidad. This in itself has helped me to survive the pandemic by helping me to actively seek self improvement. I've built a gym from scratch, added a couple of certifications and through trial and error set up something that helps others. Twice a week I work on dance, one session for technique and the other for choreography. I also am trying to build an audition book as best I can but this one is tough especially as I find it hard to find things that sit well in my voice. All in all there have been some very low days but I repeat to myself I don't have problems, just more work to do.
"I owe a lot to SUNY Plattsburgh. It's there where I got nominated — and won! — for KCACTF Region 1 for musical theater. This allowed me to meet many professionals in the field and also gain audition experience, so much so that through one of those auditions I got my first post-graduate job at Norwegian Creative Studios and have successfully completed three contracts. Of course things have slowed down since the beginning of the pandemic but my love for performing is alive and well and is still my main focus. I also must say thank you to my professors for teaching me to be healthy with my voice. I've come to notice that is not something to take for granted especially from working with others who push themselves sometimes to their own detriment."
John Thomas, Class of 2014
---
B.S. in Music, SUNY Plattsburgh
"I live the life of a hustler. I am a secondary school teacher, a church music director, an impresario, a voice-over artist (speaking and singing) for ads and I sit on a couple state boards. I perform when requested and sometimes even when I'm not! Thank goodness for state jobs, if I depended on being solely a performer, I would have been on the streets! With all the free time last year I was able to actually rehearse everyday and widen my performing repertoire. The music kept me sane, or, as sane as I can be.
"I wouldn't change it for the world! I am so grateful for SUNY Plattsburgh — it's almost like you have individual attention which I needed. No one really falls through the cracks in this music department. My scope on performance and entertaining has seriously widened as I was given opportunities to experience different kinds of performing. I was able to come back home to share what I've learned. I learned so much about what is expected in the field of both teaching and performing, more technically speaking, having my qualifications earned me teaching jobs and my state board positions.
Ersian Francois, Class of 2014
---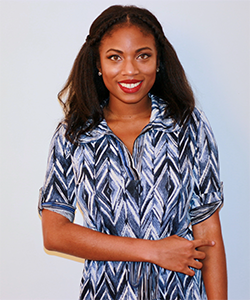 B.S. in Music, SUNY Plattsburgh
"My time at SUNY Plattsburgh has shaped almost every choice I have made since graduating in 2014: The study abroad program that I participated in during my senior year gave me the confidence to move to France, where I studied and worked for four years. My musical experience as an undergrad in music emboldened me to continue to pursue singing. The Culture Coach program that exposed me to opera ignited my love of the artform that I still actively engage with often. My double major in music and public relations opened the door to my current career path, performing arts administration and management.
"I am truly grateful to SUNY Plattsburgh and the wonderful teachers and mentors that supported me during my time there."
Maegan Pollonais, Class of 2012
---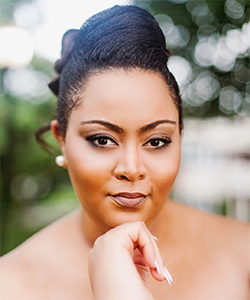 B.S. in Music, SUNY Plattsburgh
"Since graduating from Plattsburgh with a double major in sociology and music and a minor in theatre arts, I have received my master's in music from Bowling Green State University where I was the recipient of the Winifred O. Stone Presidential scholarship that financed my entire master's degree. In 2020, I graduated with a doctorate of music with a secondary in educational psychology from Ball State University with a certificate in gifted and talented education. My research covered the importance of multicultural music and culturally relevant pedagogy to diminish achievement and opportunities gaps between students of color and white students. I am currently the director of the Center for Diversity and Inclusion at Franklin College where I oversee all diverse initiatives and programming on campus, train faculty, staff, and students on cultural competency, and engage with the larger Franklin community to create an inclusive and welcoming city. I also sing with a professional church choir, have my own private voice studio and have taught applied voice at Indiana Wesleyan University.
"I am very fortunate because during the pandemic I was offered several promotions, performance opportunities and was able to really focused on honing my talents, networking, and finding other opportunities for music, social justice activism, and student development. I have been very fortunate to love the work that I do, be inspired by my fantastic colleagues, and continue adding value to my life."
Rory Wallace, Class of 2011
---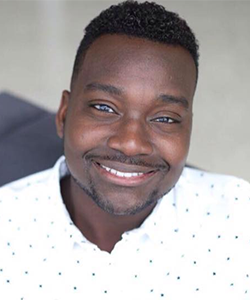 B.S. in Music, SUNY Plattsburgh
"I am currently a student success specialist at Ball State University where I am a member of the online and strategic learning department's learner experience team, working primarily with online and blended graduate programs for adult learners. Since graduating with my doctorate in music this past May, I have been involved in leadership roles at Ball State including creating a student advisory board for our department, planning and presenting webinar presentations, and using my creative skills for our department's presentation to university stakeholders. I see myself more and more in a leadership role in higher education as this is where I discovered my new passion in education.
"Looking back, SUNY Plattsburgh prepared me for all of my leadership opportunities. As an orientation leader my skills were developed by being a good listener, all while being warm and embracing and making sound decisions. As the social chair in the gospel choir and at the producer of the Night of Nations concert for the international students in the global education office, I was allowed to plan and execute events for the university.
"I primarily came to SUNY Plattsburgh to pursue music. Today I am a professional singer performing in churches, concerts, operas, and I am also a choral conductor leading ensembles throughout the midwest. This confidence in performance not only came from my cultural upbringing in Trinidad, but it was also due to the many performance opportunities that I was so lucky to take advantage of at SUNY Plattsburgh. From singing alongside international Opera singer Kristine Ciesinski, performing in vocal masterclasses with seasoned performers like Vale Rideout, performing in fully staged and costumed presentations like How to Succeed In Business without Really Trying, to having the opportunity to perform diverse repertoire such as Latin, Blues, Calypso and Soca music with the late Dr. Rick Davies' Mambo Combo. Those performance memories have forever been etched in my mind and provided me the foundation to where I am able to go out on various stages, in whatever capacity it may be, and truly shine. Thank you, SUNY Plattsburgh for your phenomenal experiences and lessons, I am forever grateful."
Benjamin Pomerance, Class of 2010
---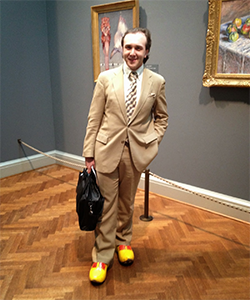 B.S. in Music, SUNY Plattsburgh
"After graduating from SUNY Plattsburgh, I spent the next three years pursuing my law degree at Albany Law School. Today, I continue to serve as a deputy director with the Division of Veterans' Affairs, a role that encompasses responsibilities in practically every aspect of the agency's legal affairs and programmatic operations. I've also spoken at a number of international conferences about independent legal research that I've conducted and published fourteen heavily footnoted legal articles in academic journals.
"And then there is my 'night job,' a continuation of work that I actually began while at SUNY Plattsburgh. I write weekly arts features for the Lake Champlain Weekly, a Plattsburgh-based newspaper covering northern New York, Vermont, and southern Quebec. This work has allowed me the privilege of conversing with hundreds of musicians who otherwise would never have given me the time of day. A small sampling: Yo-Yo Ma, Itzhak Perlman, Joshua Bell, Sir James Galway, Evgeny Kissin, Bryn Terfel, Wynton Marsalis, Sonny Rollins, Herbie Hancock, Pete Seeger, Bernadette Peters, Patti LuPone, Art Garfunkel, Tony Bennett — and more. It hasn't exactly been the path that I anticipated when I was a student at SUNY Plattsburgh; yet, it has been an interesting and diverse path that challenges me in multiple ways each and every day of the week."
Peter Fiore, Class of 2008
---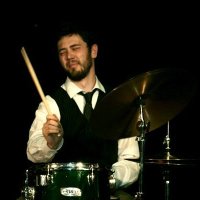 B.S. in Music, SUNY Plattsburgh
"Following my studies at SUNY, my experience studying music in a college environment made the transition easy moving from student to instructor. Today, I'm finishing my 15th semester of teaching as an adjunct professor of music at SUNY Rockland Community College. I teach songwriting workshop, contemporary music ensemble, music appreciation, applied drumset and applied composition. From my experience working in the music tech lab at SUNY Plattsburgh, I'm currently designing a digital music class and digital audio lab for the college. Making the transition from student to instructor enabled me to continue my studies as a student, something that I had aspired since graduating in 2008. I'm currently finishing up a master's in musicology from CUNY City College of New York."