Jump to Footer
Will Levasseur, Class of 2019
---
"I'm a trombone player. After talking with some of the professors in the Music Department; I decided to join Mambo Combo my first semester, under the direction of Herm Matlock. Once I joined Mambo I was hooked and became a music major. It gave me the feeling that I always wanted — the ability to play music, improv, and improve my playing. This led me to joining Symphonic Band, and then I was introduced to Lori Salimando-Porter, the trombone teacher on campus. She has taught me technique, and helped me to improve my skills and musicianship. I have never taken private lessons before, and studying with her has truly been a remarkable experience here at SUNY Plattsburgh."
Lauren Mueller, Class of 2019
---
"I studied music with a minor in psychology. I've always been musical, and it's something I've carried near and dear to me. Going to school to study just seemed the most natural to me. Music was essentially my whole week until I began more classes in psychology. Not only was it a time to smile and relax, it was a time to remind myself that I was also a student, ready to learn and study. Right now, I specialize in voice but in the past I've specialized in flute and piano."
Emily Mero, Class of 2018
---
Emily hails from Willsboro, New York, and was a music major, with two minors in French and business. She's been interested in music since the age of 9 after simultaneously taking lessons in piano and clarinet. Starting as a music minor, she switched to the major after a few classes and participating in multiple ensembles. As a former member of the Cardinal Pickers, she put her skills to good use, playing different venues around the North Country.
"In my opinion, the most effective element of the music curriculum at SUNY Plattsburgh is its flexibility to have room for so many of the other musical activities that are available! It's not just about studying the technicals of music, but the opportunities to perform with your classmates, and even alone that help you become a better and more confident musician. I was able to perform with the symphonic band, clarinet choir, take clarinet lessons, and even have off-campus performances with the Bluegrass Club, which I was president of! There are so many aspects of music and Plattsburgh allows you to explore them all!"
Daniel de Cranie-Pierre, Class of 2016
---
Trinidad native Daniel De Cranie-Pierre began his musical journey at Sixth Form Government School/Polytechnic Institute, where, at the age of 18, he had his first experience being part of a choir. It was through the choir director, Rochelle Livingstone-Lewis, that he was introduced to Raymond Edwards who urged Daniel to begin classical vocal training. Skeptical, Daniel halfheartedly accepted the phone number for the recommended coach. Eventually, after incessant prodding from his parents, he arranged his first coaching session. In October of 2011, Daniel began formal training under the tutelage of June Nathaniel. Just four months after, at the 2012 Trinidad and Tobago Music Festival, Daniel was awarded three titles: Boys 16–19 Vocal Solo overall winner, 16–19 Religious Contemporary solo overall winner, and Male Baritone Solo north zone winner.
While at Plattsburgh, Daniel was featured as "Curly" in Rodgers and Hammerstein's Oklahoma!, "King Melchior" in Gian Carlo Menotti's opera in one act, Amahl and the Night Visitors, and "Mitch Mahoney" in the 25th Annual Putnam County Spelling Bee. Daniel was the Richard Maltby, Jr. Award-winner for Musical Theatre Excellence at the Region 1 Kennedy Center American College Theatre Festival. He received a full scholarship from KCACTF to attend the Broadway Theatre Project Summer Institute 2016, "the world's most prestigious musical theatre arts education program for college students" (Playbill).
"A few weeks ago I looked at some of my videos from my first ever voice classes at SUNY Plattsburgh. Looking at these videos I was overwhelmed with emotions. I could not believe what I was, had transformed into what I am. SUNY Plattsburgh taught me that to make it you must have confidence and be willing to take risks. We all get too comfortable where we are and forget that we are all destined for greatness but we must take the risk and be willing to toil. I would definitely say that Plattsburgh has made me a better version of myself."
Maegan Pollonais, Class of 2012
---
"Since graduation, I've completed my master's in music, vocal performance from Bowling Green State University, and I just recently started my doctorate of arts at Ball State University in Indiana. Graduating with my master's was one of the proudest moments on my life. All the unanswered questions I had about music theory, history, pedagogy, music psychology and more, were answered. And, as you can imagine, with higher knowledge comes higher expectations. These expectations were sometimes overwhelming, but using the advice that I gained at Plattsburgh kept things in perspective for me. Although I had to do some review classes — because as you can expect with smaller undergraduate programs, some courses aren't offered — I always kept my eyes on my goal. I did the review classes on top of my required coursework and graduated in time with the rest of my class."
Benjamin Pomerance, Class of 2010
---
"After graduating from SUNY Plattsburgh, I spent the next three years pursuing my law degree at Albany Law School. Today, I continue to serve as a deputy director
with the Division of Veterans' Affairs, a role that encompasses responsibilities in practically every aspect of the agency's legal affairs and programmatic operations. I've also spoken at a number of international conferences about independent legal research that I've conducted and published fourteen heavily footnoted legal articles in academic journals.
"And then there is my 'night job,' a continuation of work that I actually began while at SUNY Plattsburgh. I write weekly arts features for the Lake Champlain Weekly, a Plattsburgh-based newspaper covering northern New York, Vermont, and southern Quebec. This work has allowed me the privilege of conversing with hundreds of musicians who otherwise would never have given me the time of day. A small sampling: Yo-Yo Ma, Itzhak Perlman, Joshua Bell, Sir James Galway, Evgeny Kissin, Bryn Terfel, Wynton Marsalis, Sonny Rollins, Herbie Hancock, Pete Seeger, Bernadette Peters, Patti LuPone, Art Garfunkel, Tony Bennett — and more. It hasn't exactly been the path that I anticipated when I was a student at SUNY Plattsburgh. Yet it has been an interesting and diverse path that challenges me in multiple ways each and every day of the week."
Peter Fiore, Class of 2008
---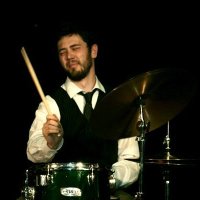 "Following my studies at SUNY, my experience studying music in a college environment made the transition easy moving from student to instructor. Today, I'm finishing my 15th semester of teaching as an adjunct professor of music at SUNY Rockland Community College. I teach songwriting workshop, contemporary music ensemble, music appreciation, applied drumset and applied composition. From my experience working in the music tech lab at SUNY Plattsburgh, I'm currently designing a digital music class and digital audio lab for the college. Making the transition from student to instructor enabled me to continue my studies as a student, something that I had aspired since graduating in 2008. I'm currently finishing up a master's in musicology from CUNY City College of New York."