Jump to Footer
Exam Scoring & Survey Processing
---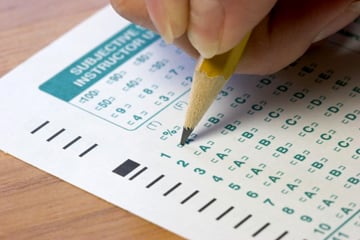 Completed Exams and Surveys are processed by faculty and staff members in their individual departments using scanning software called Inspiroscan.
Inspiroscan utilizes existing Kyocera units and plain paper for testing as an alternative to outdated scanners and costly forms. Exams and surveys may be processed by faculty and staff members at their own workstations at any time. Product installation and training may be scheduled by contacting Computer Information Systems.
For Exams
Students are required to enter their last name, first name and Banner ID number. All must be left justified with no spaces in between. Banner ID numbers are required to ensure each student is using a unique number. Duplicates will prevent the batch from processing. The faculty or staff member must supply a key, providing only one correct response per question. If a question is to be omitted, the key should be left blank for that particular question. There are no required fields for surveys.
Once an Exam Has Been Processed
Inspiroscan exports the results as five separate reports (Student Scores, Responses per Student, Individual Student Response, Individual Student Response with Answer and Item Analysis). Survey reports are produced depending on the type of questions asked. Processing guides for exams and surveys are available upon request.
Students must be instructed to fill in their responses completely and as dark as possible to avoid scanning errors. Pen or pencil is permitted with this system. The exam and survey forms are supplied by the printing and duplicating department. To ensure proper quality, these forms may not be photocopied.