Jump to Footer
Project Sunlight
---
Project Sunlight is a statewide initiative based on the Public Integrity Reform Act of 2011 and omnibus ethics legislation Ch. 399, Part A4, L. 2011.
This legislation is meant to increase government transparency and accountability by providing the public with an opportunity to view certain types of interactions between state agency "decision-makers" and individuals or firms who could influence the agency's decision-making process.
What Project Sunlight Requires
---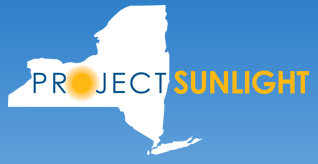 Project Sunlight requires certain college personnel designated as "decision-makers" and any individuals or firms who could influence the college's decision-making process to report interactions to the Project Sunlight database within five business days of the interaction. It also requires those individuals to complete training.
When is Reporting Required?
---
To qualify as an interaction that must be reported, it must meet all three of the following conditions:
Be an in-person meeting or video conference
Be between decision-makers or their advisors AND representatives of an entity, appearances by an individual appearing on behalf of him/herself, and appearances by advocacy groups or organizations or entities representing the interests or concerns of the organization or entity or of its members
Concern one of the following five subject matters:

procurement of real property, goods, and services valued at $25,000 or above;
rate-making;
regulatory matters;
agency-based judicial or quasi-judicial proceedings; or
adoption or repeal of a rule or regulation.
In most cases, the obligation will be triggered by a meeting with representatives to discuss procurements valued at $25,000 or more.
When is Reporting Not Required?
---
Examples of times when reporting is not required can be found below:
When the communication is by phone, email, letters, faxes, etc.
When the meeting occurs in locations that are open to the public (such as conferences or meetings subject to Open Meetings Law, or where a record of the meeting is otherwise publicly available.
Employee and student disciplinary hearings
Meetings with vendors to discuss a contract that has been awarded (as long as the content covered is within the scope of the contract).
Who is a Decision-Maker? Who is an Advisor?
---
The Administration and Finance Division will designate campus decision-makers based on title and job function, according to guidance provided by SUNY and in consideration of the employees scope of responsibilities. Examples of titles that may be designated can be found in the link below. As advisors may differ depending upon the procurement, it is the responsibility of the advisor to contact the purchasing department to receive access to the training.
When & How Do I Report?
Within three days of an interaction that must be reported, you need to report to the purchasing office using the form below. Purchasing will then report to the Project Sunlight database on your behalf.
Responsibilities
---
Regional Procurement Services
The Regional Procurement Services department is responsible for coordinating campus compliance with Project Sunlight, providing training and education to the campus community on Project Sunlight, and assisting decision makers and their advisors in reporting qualified campus interactions, referred to as "appearances", to the public database within five business days of the appearance. While there are five circumstances that trigger a report, the majority involve meetings of influence ("appearances") having to do with procurement and large scale contracts over $25,000.
Decision Makers & Advisors
Employees who are identified as potential "decision makers" and their advisors are required to complete Project Sunlight training and report any qualified appearances to the purchasing department using the form below within three days. Meeting this internal deadline will allow us to meet our statutorily required deadline of five business days.
Report an Appearance for Project Sunlight
---
Have Questions?
Questions pertaining to Project Sunlight should be directed to the director of contracts and purchasing services at ext. 4604.